The Fairmont San Francisco Hotel Celebrates Music Legend Tony Bennett With His Own Signature Luxury Suite
The Fairmont San Francisco's Diplomat Suite to Be Dedicated to Bennett Beginning May 27 to Coincide With the 75th Anniversary of the Golden Gate BridgeNew Bennett Giclee Print "Golden Gate Bridge" Will Be Released in Conjunction With the 75th Annivers
(May 22, 2012)

SAN FRANCISCO, CA -- (Marketwire) -- 05/22/12 -- The Fairmont San Francisco hotel is celebrating one of its most iconic guests, Tony Bennett, with a special suite dedicated to him and his unique place in the hotel's storied history. The Fairmont San Francisco's famed Diplomat Suite, Bennett's favorite "home away from home," will now be dedicated to giving guests a one-of-a kind opportunity to experience luxurious accommodations characterized by elegant décor inspired by the world-renowned performer and his connection to the City by the Bay. A just released new giclée print of one of Bennett's original paintings entitled "Golden Gate Bridge" will be launched during the anniversary weekend and will be available for purchase exclusively in San Francisco at The Fairmont San Francisco hotel's Front Desk, as well as through www.tonybennett.com.
In December 1961, Tony Bennett took the stage of The Fairmont San Francisco's famed Venetian Room and performed his version of "I Left My Heart in San Francisco" for the first time. His lauded rendition of the beloved song has generated worldwide adoration and nostalgia for the city and is one of its official anthems.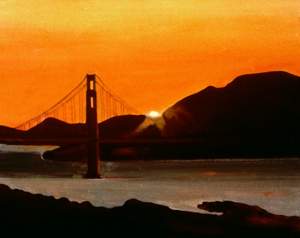 The spacious Diplomat Suite, one of The Fairmont San Francisco hotel's renowned Presidential signature suites, is situated on the 22nd floor of the Tower Building and includes breathtaking views of the City and Bay that epitomize the visuals associated with the song's wistful lyrics. This luxury San Francisco hotel suite offers guests an ambience that perfectly represents the city, as well as Bennett, who has served as an ambassador for San Francisco and The Fairmont San Francisco throughout the world for five decades.
A 17-time Grammy Award-winner, who has sold millions of records, Bennett is also a distinguished visual artist, with several of his paintings in the permanent collection of the Smithsonian Institution. His multifaceted artistic talent will be featured in the suite through three signed prints of his paintings, including the newly released giclée of the Golden Gate Bridge, which celebrates its 75th anniversary on May 27, 2012. The hotel will have a limited number of giclée prints of Bennett's Golden Gate Bridge painting available for purchase and is the only brick-and-mortar location in San Francisco where they will be for sale.
Guests of The Diplomat Suite who elect to purchase "The Tony Bennett Suite at The Fairmont San Francisco" package, will receive a box set of Bennett's CDs, including a copy of his recent Grammy Award-winning Duets II, which they can enjoy along with a bottle of champagne and heart-shaped dessert amenity. The starting rate for "The Tony Bennett Suite at The Fairmont San Francisco" hotel package, a true treat for all the senses, is $4,999 per night, subject to availability.
Guests and visitors alike will also be able to enjoy a new Tony Bennett wall display on The Fairmont San Francisco hotel's lobby level near its historic Venetian Room. A special collection of Bennett's personal family and historic career photos, music memorabilia and three prints of his paintings will be featured. These exclusive items have been expertly arranged by Bennett's niece, distinguished Bay Area interior designer Nina Chiappa.
Bennett has returned to The Fairmont San Francisco several times to perform in the years since he debuted his signature song there. On February 14, 2012, the entire city of San Francisco celebrated "Tony Bennett Day" to mark the 50th Anniversary of "I Left My Heart in San Francisco." Following a tribute at City Hall, where he received a key to the city, Bennett performed a special once-in-a-lifetime concert in the Venetian Room, to benefit the UCSF Division of Cardiology.
For more information on The Diplomat Suite and "The Tony Bennett Suite at The Fairmont San Francisco" package, please call 1-800-441-1414 or visit www.fairmont.com/sanfrancisco.
For information on purchasing a giclée print of Bennett's "Golden Gate Bridge" painting, please call 415-772-5000.
ABOUT TONY BENNETT
Entering his seventh decade as a recording artist with over 100 albums and 17 Grammy Awards including the Grammy Lifetime Achievement Award, Bennett has earned his legendary status many times over. He remains the Columbia recording artist with the greatest longevity at the label. In celebration of his 85th birthday, DUETS II was released and marked the singer's first #1 CD, making music history with the singer being the oldest artists to achieve a #1 CD and won three Grammy Awards. This spring, a new documentary on Bennett, conceived and created by his son and manager Danny Bennett, THE ZEN OF BENNETT, was premiered at the Tribeca Film Festival 2012. Bennett's Grammy winning 2006 DUETS CD was his biggest selling CD to date. His 2007 prime-time special, "Tony Bennett: An American Classic," won seven Emmy Awards and was directed by Academy Award winner Rob Marshall. He has performed for 10 US Presidents, from Presidents Eisenhower, Kennedy, Johnson, Carter, Reagan, Bush Sr, Clinton, Bush Jr. and Obama. He also worked with and marched alongside Martin Luther King in his 1965 civil rights march and was honored with the Martin Luther King's Salute to Greatness Award. In addition to performing, he is a visual artist as well, with three of his original paintings featured in the permanent collection at the Smithsonian, including his portraits of Ella Fitzgerald and Duke Ellington. His humanitarian efforts are renowned and the United Nations honored him with their Humanitarian Award in 2007. He has published three books -- his autobiography, "The Good Life," and two books of his paintings, "Tony Bennett: What My Heart Has Seen," and "Tony Bennett In the Studio: A Life of Art and Music." Bennett founded, in association with the Department of Education in New York City, the Frank Sinatra School of the Arts -- a public arts high school in his hometown of Astoria, Queens. With his wife, Susan, he established Exploring the Arts, a charitable organization which supports arts education in NYC public high schools. Exploring the Arts supports 14 public high schools throughout New York City. For more information please visit www.tonybennett.com, www.zenofbennett.com and www.exploringthearts.org.
THE FAIRMONT SAN FRANCISCO
Since 1907, The Fairmont has served as the San Francisco residence for U.S. presidents, world leaders and entertainment stars. The landmark hotel offers 591 newly renovated guest rooms and suites, three distinctive restaurants, a health club and easy access to the city's most popular attractions. The Fairmont San Francisco is located atop Nob Hill at 950 Mason Street. For reservations, please call 1-800-441-1414 or visit www.fairmont.com/sanfrancisco
Image Available: http://www2.marketwire.com/mw/frame_mw?attachid=1990764

Add to Digg Bookmark with del.icio.us Add to Newsvine
Copyright @ Marketwire
Page: 1
Related Keywords:
san francisco hotels, san francisco hotel suites, luxury san francisco hotels, Display, Camera/Film, USA, Marketwire, , Restaurants, Film, Music, Medical, Entertainment, Family,
---