TextnDrive Voice Texting App Now More Popular than Angry Birds Free On the US App Store
(March 23, 2011)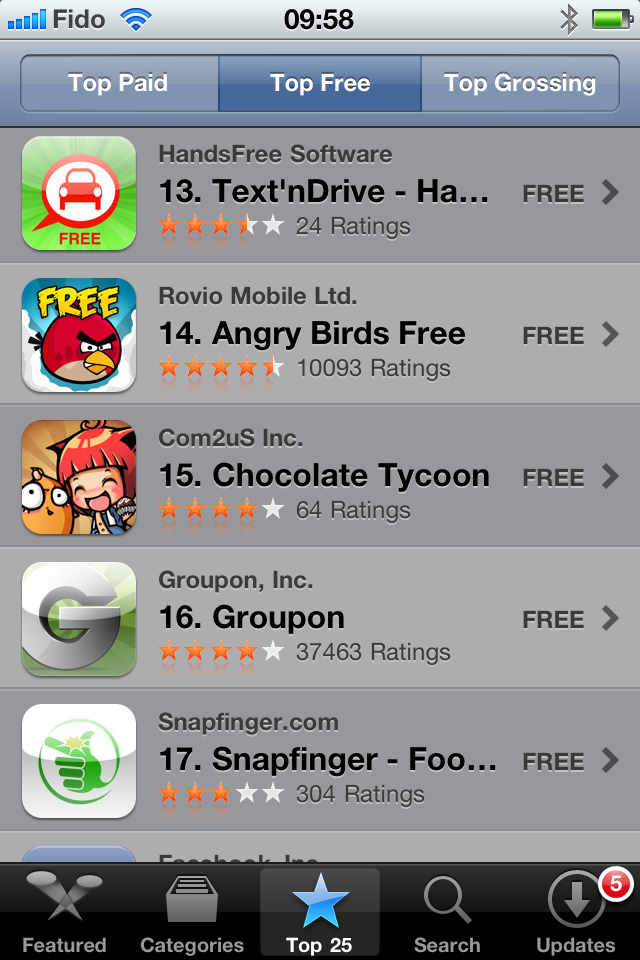 (PRWEB) March 23, 2011
TextnDrive is now the 13th most downloaded free app on the Appstore ahead of apps like Angry Birds Free, Facebook and Groupon App. TextnDrive was the first iPhone application to read and reply to messages with intelligent speech technology and it has more than one million users.
Designed to help reduce the number of accidents caused by drivers distracted by their cell phones, TextnDrive (http://www.textndrive.com) uses an intelligent, multilingual text-to-speech technology. This allows motorists to listen to and respond to incoming messages by voice using any hands-free device, while keeping their focus on driving.
Compatible with all mobile carriers and with any hands-free device speakerphone, wired and Bluetooth headset, and vehicle hands-free kits TextnDrive allows workers and professionals to stay productive while being safer and more responsible drivers.
As of February 2011, 30 states and the District of Columbia, as well as all 10 Canadian provinces have created legislation to ban texting while driving. A recent study from the University of Utah finds that people who send text messages while driving are six times more likely to be in an accident.
On iPhone TextnDrive offers a safe alternative to emailing and driving in order to reduce the number of car crashes. On Android & BlackBerry the application can also read and reply to SMS messages by voice in addition to emails.
Users may download the free version of the TextnDrive app from the iTunes Store, the Android Market or the BlackBerry App World and upgrade to the Pro Version for more features.
For more information on TextnDrives features and benefits, please visit http://www.TextnDrive.com.
About TextnDrive
TextnDrive is the leading innovator of software solutions that prevent distracted driving and reduce the risk of accidents. TextnDrive is the safest way to use your phone while driving and is uniquely designed for todays highly mobile, text-happy, and hyper-connected society. TextnDrive offers safe driving solutions for consumers, corporations, and government organizations.
###
Read the full story at http://www.prweb.com/releases/2011/03/prweb5191824.htm.
Page: 1
Related Keywords:
economy, business and finance, financial and business service, business enterprises, business (general), computer crime, medical procedure/test, medical research, medical staff, medical specialisation, medical service, medical conditions, internet, computing and information technology, satellite technology, wireless technology, science and technology, technology (general), identification technology, agricultural research and technology, computer crime, computing and information technology, satellite technology, wireless technology, science and technology, technology (general), identification technology, agricultural research and technology, computing and information technology,
---