Tempcover Release New iPhone Insurance App
(March 01, 2011)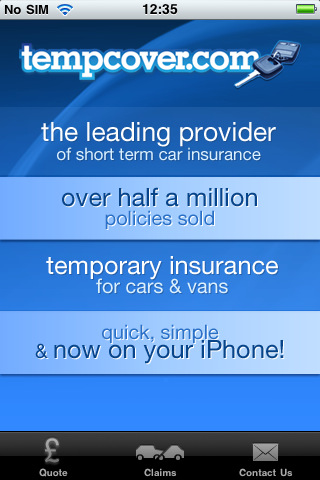 (PRWEB) March 1, 2011
Tempcover, the auto insurance company specialising in temporary car insurance and short term van insurance, has announced the release an iPhone app. The app will be available to download FREE from Apples iTunes store and will be compatible with all iPhone and iTouch models. The Tempcover iPhone app has a number of key features including the ability to get a quote or make a claim while on the go.
There is a growing market for such mobile applications but many company-branded apps appear to be little more than a vacuous marketing ploy with little or no real value to an end user. With the Tempcover app, the unique practical benefit of being able to get a quote and make a claim straight from the phones interface, without having to make a call, represents a step in the right direction in terms of functionality and usability.
Upon launching the Tempcover app users will be greeted with a home screen from which they can navigate to the various functions via three tabs located on a strip at the bottom of the screen. Navigating the interface is simple and clutter-free, meaning the user can find exactly what they are looking for with a few taps. The app features a facility for getting a quote and a function that allows you to make a claim on the spot, providing you have a Tempcover short term car insurance policy.
The app should make dealing with claims after an accident much less stressful as it automatically collects the GPS location of the accident and allows the client to upload photos of the incident and any damage using the iPhones camera. Since very few people are at their most mentally composed after an accident, the app also provides a useful prompt list of all the other details that should be gathered: date and time, purpose of journey, other drivers name, registration and contact details if required and how the accident occurred.
Clients can simply enter all this data into their phone, along with an image, and send it straight to Tempcover or save it for submission at a later date. This will cut out much of the worry associated with the claims process and speed things up considerably.
Tempcovers app is available at iTunes store now and should prove to be an essential tool for anyone taking out temporary car insurance cover with the insurer. For more details and instructions on how to download, visit the Tempcover iPhone app page on the Tempcover website.
Note To Editors
Tempcover Temporary Car and Van Insurance
If another driver urgently needs to borrow your car or you must drive a vehicle that isnt yours for a few days or a few hours, temporary car insurance provides complete protection. Tempcover offers immediate, short term insurance cover that will safeguard your no-claims bonus and let you insure your motor vehicle for additional drivers for a period of 1 to 28 days.
Tempcover can also supply daily car insurance if you are not a named driver on an existing policy held by the person whose car you need to borrow. Tempcovers policies let any qualified motorist drive a car that is not theirs, provided the vehicle has not been modified, has no more than eight seats in total, is registered in Great Britain, Northern Ireland or the Isle of Man and has a minimum market value of £1,500.
A one day car insurance policy is perfect for certain situations that may arise where you need to drive another vehicle for a short period of time when your car is getting repaired for example or when you dont have the use of your own vehicle for whatever reason. One day insurance is also ideal drive away cover if you have just bought a car, so you have more time to make changes to your regular car insurance policy at a later date. With Tempcover, almost anyone can get excellent value, immediate, short-term insurance to drive any vehicle, anywhere in the United Kingdom.
###
Read the full story at http://www.prweb.com/releases/2011/03/prweb5107744.htm.
Page: 1
Related Keywords:
automotive equipment,consumer goods,consumer issue,consumer confidence,automotive equipment,consumer issue,automotive equipment,recreational and sporting goods,restraint of trade,international (foreign) trade,trade dispute,trade agreements,trade policy,trade balance,automotive equipment,economy, business and finance,banking,personal investing,personal service,,personal income,finance (general),campaign finance,public finance,personal weapon control,personal data collection,family,family planning,
---