Technomedia-Hodes iQ Executive to Discuss Building a Strong Metrics Program at ERE Expo
(March 21, 2012)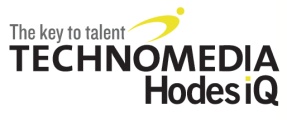 NEW YORK, NY -- (Marketwire) -- 03/21/12 --

WHO:
Dwaine Maltais, executive vice president of Technomedia-Hodes iQ, a leading provider of Talent Management Solutions
WHAT:
Will participate in a panel discussion titled "Metrics 2012" during ERE Expo 2012 Spring.
WHEN:
The ERE Expo will take place from Wednesday, March 28 - Friday, March 30, 2012. The "Metrics 2012" session will be held on Friday, March 30, 2012 from 2:45 p.m. - 3:45 p.m. PDT.
WHERE:
ERE Expo 2012 Spring
Manchester Grand Hyatt
One Market Place
San Diego, California
DETAILS:
During the "Metrics 2012" breakout session at ERE Expo 2012 Spring, Dwaine Maltais, executive vice president of Technomedia-Hodes iQ, will join fellow talent acquisition leaders Scotty Morrison, director of Global Onboarding Programs for Salesforce.com, and Cleo Stockhoff, associate director of Verizon Wireless for a panel discussion on how to build a strong metrics program. The 60-minute session promises to be a robust dialogue and sharing of experiences on the best practices for boosting metrics and analysis methods.
Participants will learn how to set up a strong foundation for their metrics program; how to translate metrics to business leaders; and the importance of visualization. Attendees are encouraged to bring their actual scorecards, metrics and visuals to this interactive session.
HR, recruitment and staffing professionals interested in learning the latest tactics used by talent acquisition leaders to build robust metrics programs are encouraged to attend this discussion.
Registration details for ERE Expo 2012 Spring can be found at: http://www.ereexpo.com/2012spring/register/
ABOUT TECHNOMEDIA-HODES IQ
Since 1996, Technomedia-Hodes iQ has developed and delivered the integrated global talent management solutions that enable organizations to drive high-performance business results by unifying the collaboration between employees, managers and candidates. Committed to the highest levels of customer satisfaction and ranked No. 1 in this category by Bersin & Associates, Technomedia-Hodes iQ provides the innovative technology, proven solutions and agile support to help clients create the world's most successful workplaces.
The full power of Technomedia-Hodes iQ's customer-centric focus is integral to every client relationship. The company's comprehensive talent management offerings are designed to complement existing systems, while bringing deep functionality to critical aspects of talent acquisition, performance management, succession planning, compensation, talent profile management, and learning and development. Hundreds of clients in more than 70 countries rely on Technomedia-Hodes iQ to analyze and recognize improved talent results. For more information, visit www.Technomedia-HodesiQ.com.
Add to Digg Bookmark with del.icio.us Add to Newsvine
Copyright @ Marketwire
Page: 1
Related Keywords:
Technomedia, Hodes iQ, metrics, recruiting, ERE, HR, recruitment, staffing, Marketwire, , Business,
---