Tealium Now Offers Turnkey Tag Management Integration With 250+ Digital Marketing Vendors
Leader in Tag Management Systems Integrates Latest Vendor Partner, Visual Revenue, in Less Than Two Hours
(January 30, 2012)

SAN DIEGO, CA -- (Marketwire) -- 01/30/12 -- Tealium, the leader in enterprise tag management, today announced that it now offers turnkey integration with more than 250 digital marketing vendors, making it easier than ever for marketers to deploy and manage their online campaigns.
Tealium's seamless vendor integration gives marketers and business users the ability to easily add, modify or edit the web page tags (also known as pixels) of any vendor through a convenient web interface. To add a vendor tag, users simply search or scroll through a comprehensive list, select the appropriate vendor, fill out their account data and other information, and hit publish. The vendor's tags are instantly added to the web site via Tealium's proprietary technology, and the marketer is ready to use the solution to help increase online business results.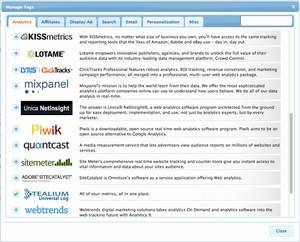 "Tealium makes the complex simple, by giving us complete control over our tag implementations," said Jeremy Hermanns, vice president of performance marketing for Onestop Internet, which runs the e-commerce operations for several major apparel retailers, including Nicole Miller, Hudson Jeans, Reef and many more. "We can add any vendor in minutes, and then easily manage those tags on our own without requiring IT assistance. Tealium has saved us hundreds of man hours by simplifying the entire tag management process."
Tealium's roster of integrated vendors spans nearly every type of solution, including web analytics, affiliate marketing, personalization, display advertising, email, search and much more. Tealium can integrate with nearly any vendor in days, even hours. Tealium's latest vendor partner, Visual Revenue, was able to integrate in less than two hours, helping the company win an important proof of concept deal with a major publisher.
"The speed at which Tealium was able to implement us put us in a wonderful position with the client," said Charlie Holbech, co-founder of Visual Revenue, which provides predictive analytics solutions for the online media publications. "Tag management solutions are playing an increasingly important role in the digital marketing industry. We are pleased to integrate so quickly with one of the best."
Tealium integrates with vendor partners by assimilating their tags (snippets of code) and their implementation guides directly into its platform. It then creates a visual representation for how the tags are implemented and managed, including providing mapping charts to see how the data flows in and out of the tags. Each vendor tag is regression tested to ensure there are no conflicts with other tags.
"We have taken 250 vendors and created a consistent look and feel for the way in which marketers can implement and manage their digital marketing tools," said Mike Anderson, co-founder at Tealium. "It's because of this unique methodology that an enterprise client was recently able to customize an entire Omniture implementation in just four hours."
For more information about Tealium, please visit www.tealium.com.
About Tealium
Tealium is the leader in enterprise tag management, serving some of the most demanding clients worldwide. Tealium can be implemented in days instead of weeks or months, reducing tagging costs for organizations. Through the Tealium Tag Management Console, business users can manage their tag implementations in a simple drag-and-drop interface, without further taxing their IT department. Tealium's solutions lets customers save on IT costs, while improving their analytics, their digital marketing deployments and the performance of their web site. For more information about Tealium and its solutions, visit: http://www.tealium.com/ and follow the company on Twitter.
Image Available: http://www2.marketwire.com/mw/frame_mw?attachid=1869416

Contact:
Erik Bratt
Tealium
Email Contact
858-775-0882


Copyright @ Marketwire
Page: 1
Related Keywords:
tag management, enterprise tag management, tag management systems, tag management solutions, TMS, Marketwire, , Internet Technology, Business, Email, Other,
---