Taptera Announces Serendipity, the First Apple iOS Application to Revolutionize Sales Performance
Salesforce.com Users on iOS Discover "Chance" Interactions With Valuable Opportunities via Curated, Real-Time Social and Local Data
(April 18, 2012)

SANTA CLARA, CA -- (Marketwire) -- 04/18/12 -- Taptera, a leading developer of consumer-inspired mobile enterprise applications, today announced its latest offering, Serendipity, at the DEMO Spring 2012 conference. Serendipity increases professional and enterprise Salesforce.com users' interactions with Opportunities by linking to curated, real-time, location-aware data from social networking platforms including Twitter with support for Facebook, LinkedIn and Foursquare coming later this year. Today, Salesforce.com users on iOS can request an invitation to Serendipity.
Serendipity launches sales person performance by improving the odds of unexpected interactions with valuable targets. The application delivers the consumer experience that users want with the back end that enterprises already know and trust. Taptera's existing productivity and marketing optimization applications, Colleagues, Rooms, Events, and Collateral are also based on this principle.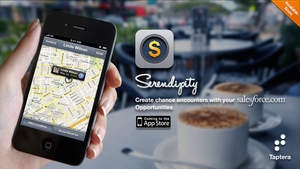 "The overall increase in enterprise mobility and social networking is a boon for savvy salespeople who are constantly on the road closing deals. Serendipity heightens their awareness of nearby Opportunities allowing them to capitalize on those 'chance' interactions. As a result salespeople will make more money by using this application," said Chris O'Connor, co-Founder and CEO, Taptera. "In our experience, the ability to close deals is based on accessibility to the best information possible. Now, with untethered intelligence via Serendipity, these dedicated salespeople can truly, 'always be closing.'"
Built initially for the iPhone, with iPad and Android support to come in 2012, Serendipity is intuitive to use for the four million, and growing, professional and enterprise Salesforce.com users. The application, publicly available mid-May in the Apple App Store, is free to download with in-app subscription options for qualified users. For $9.99 per month (less with 6-month and one year packages), Serendipity provides real-time insight into where nearby targets are alongside their Opportunity value gleaned from users' Salesforce.com accounts. Once subscribed, the app compares a user's social networking contacts with Salesforce.com Contacts, Leads and Opportunities enriching them with a multitude of up-to-date social, local and mobile (SoLoMo) data points in minutes.
"The tremendous advances in mobile computing provide new opportunities to dramatically improve anywhere, anytime access to critical information, which will positively impact the client experience, employee productivity and flexibility while enhancing collaboration across the enterprise," said Ben Allen, Chief Innovation & Information Officer, Marsh & McLennan. "The demand for mobile solutions continues to increase and we are pleased to be partnering with Taptera to provide innovative and integrated solutions like Serendipity."
Improve performance with real-time, contextual and untethered information
Relevant, Passive Discovery -- Push notifications alert users to value, proximity, and contact information of an Opportunity eliminating guesswork and manual cross checking. Users will be able to dictate their preferred proximity, value and the companies for which they receive alerts.
Meaningful Data -- Leverage existing knowledge of, and time spent, social networking to benefit sales efforts by correlating social data and sales opportunities.
Always On -- Salespeople never leave home without their phone. Serendipity maximizes that fact by providing real-time alerts. Salespeople don't launch the application; it launches them.
Low cost -- For subscribers, plans start at $9.99 for one month, $49.99 for a six-month commitment and $99.99 for a one-year agreement.
The availability of Serendipity follows the recent launch of Taptera's fourth enterprise application, Collateral. Collateral delivers Salesforce.com Content and Chatter files onto users' iPads, keeping the files up to date and offering offline accessibility. With an emphasis on aesthetics, functionality and usability, the application is another example of Taptera's deep commitment to supporting salespeople and executives on devices and platforms where they're already both personally and professionally at ease.
"Serendipity combines an elegant user experience with a trusted and familiar back end essentially increasing the odds for sales representatives to have the opportunity to close a deal," said Matt Marshall, executive producer of DEMO. "I'm glad that we get to usher in this new approach to social CRM on the DEMO stage as the market's need for a 'secret weapon' for sales is strong."
About Taptera
Founded in 2011, Taptera builds fast, beautiful, secure and scalable off-the-shelf mobile apps for the enterprise and growing mobile workforce to capitalize on the proposition of untethered intelligence. The company, which also offers options for service integration and custom builds, is headquartered in San Francisco. The leadership and development teams have strong records of entrepreneurial success and come from companies including Genentech, Inc., Salesforce.com and Mobiata (acquired by Expedia.) In addition to strategic investor Salesforce.com, Taptera's investors include Silicon Valley veterans Terry Garnett (Garnett Ventures), MR Rangaswathan (Sandhill), John Thompson, David Murphy, and more. For more information visit www.taptera.com/
About DEMO
Produced by the IDG Enterprise events group, the worldwide DEMO conferences focus on emerging technologies and new products innovations, which are hand-selected from across the spectrum of the technology marketplace. The DEMO conferences have earned their reputation for consistently identifying cutting-edge technologies and helping entrepreneurs secure venture funding and establish critical business. For more information on the DEMO conferences, visit http://www.demo.com/.
All product and company names herein may be trademarks of their registered owners.
Image Available: http://www2.marketwire.com/mw/frame_mw?attachid=1952996

Add to Digg Bookmark with del.icio.us Add to Newsvine
Media Contact:
Kate Pokorny
Taptera, Inc.
Email Contact
617-797-5174


Copyright @ Marketwire
Page: 1
Related Keywords:
scalable mobile apps, trusted enterprise apps, secure mobile enterprise apps, application development, Sales,Applications,Marketing,CRM - Customer Relationship Management,Sales & Marketing,Productivity Applications,Networking,Software Development,Other Applications,Platforms,Sales,Sales,Marketwire, Inc., ,IT (Information Technology),Enterprise Applications,Networking,Apple Computer,Business,Social Networking,
---