Tango Raises $40 Million in Series C Financing
Investment Will Help Company Execute on Its Vision and Expand Its Product Strategy
(April 19, 2012)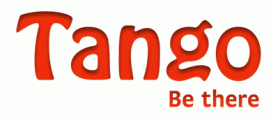 PALO ALTO, CA -- (Marketwire) -- 04/19/12 -- Tango, the leader in mobile video communications, today announced it has closed a $40 million Series C round of funding with investment that included new investors Qualcomm Incorporated, acting through its venture arm, Qualcomm Ventures, and Access Industries, Inc., the industrial holding company founded by Len Blavatnik. The financing brings the company's total funding close to $100 million. The capital will be used to execute on the company's vision of keeping people close to those they care about by delivering new products and services that improve their lives.
"Qualcomm recognizes the importance of video on mobile devices and has been working closely with Tango's team to help enhance video quality and performance," said Nagraj Kashyap, Vice President of Qualcomm Ventures. "Tango is a clear leader in this space and we are proud to play a role in helping boost the company's growth."
"We are excited to be a partner with Tango's exceptional management team," said Blavatnik, Chairman of Access Industries. "We look forward to the continued development of visionary products and services."
This round also sees additional investment from members of co-founder Eric Setton's family who have been supporters of the company since the early days. Other prominent Tango investors include Draper Fisher Jurvetson, Michael Birch, Andy Bechtolsheim, and Bill Hambrecht.
Tango's Growth and Engagement Skyrockets As Company Delivers New Features
Tango has seen record growth and usage in the last few months. The number of daily calls has doubled in the past four months and daily registrations have doubled since July 2011. In just 18 months, 45 million people have started using Tango, over 10 percent of them use Tango every day, and 44 percent are active.
The company launched two unique features in December: Video Messages and Tango Surprises. These features allow members to easily exchange video messages on any of the hundreds of phones supported by Tango and to add video animations to their calls. Both features have seen massive appeal and usage has increased rapidly: tens of millions of messages and surprises have already been shared on the service.
Today, Tango is giving Video Messages a boost with several new features, including group messaging. This allows Tango members to easily share a video message with anyone in their phone's address book, which extends the reach of the service to a community of over 1.5 billion people.
Tango Surprises give people more ways to have fun together on a call, helping to spike engagement with the service and increase the average call length by 40 percent. To fuel this engagement, Tango is also introducing today a publishing platform and a storefront that gives the company the ability to release new content regularly. As a showcase, 15 new animations are being introduced in the Tango Surprises store.
"When we launched Tango 18 months ago, we were focused on building the leading consumer video calling service. Today, we have accomplished this goal and expanded our vision," said Uri Raz, co-founder and CEO of Tango. "Tango holds a special place for our members as it allows them to stay in touch with their closest friends and family. The same way people interact in the physical world by sharing photos and videos, sending text messages, and making calls, our mission is to provide these same services on smartphones and we're excited to give our members more."
To try these new features, download Tango in the App Store or Android Market.
About Tango
Launched in October 2010, Tango is the leading mobile video communication service that enables people to connect with friends and family around the world in a way that is fun, easy, and spontaneous. Tango allows you to make free video calls, free phone calls, and send free video messages, and provides the highest quality experience over 3G, 4G, and Wi-Fi. Over 45 million people in 210 countries already use the service. Tango delivers millions of minutes of voice and video calls each day, of which approximately 80 percent are video.
Tango works on iPhones, iPod touches, iPads, hundreds of Android phones and tablets, Windows Phones, and PCs. Tango is available as a free download in the App Store, Android Market and Window Phone Marketplace. Tango for the PC is available at www.tango.me.
Learn more at http://www.tango.me/
Follow us on Twitter at http://www.twitter.com/tangome
Like us on Facebook at http://www.facebook.com/tangome
Watch us on YouTube at http://www.youtube.com/tangome
Media Contact:

Jennifer Nielsen
(415) 828-2790
Email Contact


Copyright @ Marketwire
Page: 1
Related Keywords:
TangoMe, Inc, Audio/Sound, Family, IPod, Family, Communications, WiFi, Digital Audio, Movies & Music, Smart Phone, iPods, Business Issues, Management, CEO/CFO, Pro AV, Management, Prosumer/Consumer, Phone, Internet Media, Mobile Video, Marketwire, Inc., , Family, Other,
---