Tango Expands Its Service by Unveiling Video Messages and Tango Surprises in Time for the Holidays
Latest Features Give People New Ways to Interact and Have Fun
(December 20, 2011)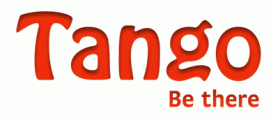 PALO ALTO, CA -- (Marketwire) -- 12/20/11 -- Tango, the leader in mobile video communications, today made available two new features -- Video Messages and Tango Surprises. People can now send and receive Video Messages on Tango. This feature gives people a new way to keep personal videos to watch and share time and time again. With Tango Surprises, people can share video animations during a call to have fun together, express themselves, entertain their kids, or celebrate any occasion.
"Today's release of Video Messages and Tango Surprises marks the next step toward giving our members more ways to connect, have fun and be entertained with Tango," said Uri Raz, co-founder and CEO of Tango. "We're excited to see how these new features will create richer interactions for Tango members to actively participate with one another in their video calls. These are the first of many new features that transforms video calling from a utility to a more interactive experience."
Video Messages: Capture Every Occasion
Video Messages allow people to record and send high-quality video content to their friends on Tango. Now even when a Tango call is missed, people can leave a video message to complete the experience.
"Video messages make our core offering even more exciting with new ways to stay connected to friends and family," said Eric Setton, co-founder and CTO of Tango. "Once you start using this product, you realize that it's the best way to watch and share your favorite video moments, similar to how people interact with photos on their phone. It's addictive."
Video Messages is simple to use and works seamlessly across platforms. People with iOS and Android phones and tablets can send video messages within the Tango application. People with Tango for Windows Phone and on PCs can receive video messages which can be played in mobile and web browsers.
Tango Surprises: A Fun New Way To Connect
Tango Surprises allows people to personalize their video calls with a series of video animations including a ninja that slices the screen, a monkey that entertains young ones, beating hearts to express love, and more.
"The burgeoning virtual goods market up to now has been focused on social gaming and we're extending it to mobile video calling," said Setton. "Our vision for Tango Surprises is to merge entertainment and media into the Tango experience to allow people to express themselves in unique and interesting ways."
New categories of content will be added to Tango Surprises regularly. People can send Tango Surprises from their iPhones, iPod touches, and iPads to other Tango members. Tango Surprises will arrive on Android and other mobile platforms soon.
Basic features in Video Messages and Tango Surprises are free and extended functionality is available as in-app purchases. With Video Messages, Tango members can send and receive an unlimited number of video messages for free and the five most recent video messages are always playable. People can purchase access to an additional five messages in increments of 99 cents. With Tango Surprises, every Tango member gets one of the animations for free. People can purchase the entire set of animations for $1.99.
To try these new features, download Tango in the App Store or Android Market.
About Tango
Founded in September 2009, Tango is the leading mobile video communication service that enables people to connect with friends and family around the world in a way that is fun, easy, and spontaneous. Tango allows you to make free video calls and free phone calls on iPhones, iPod touches, iPads, hundreds of Android phones and tablets, Windows Phones, and PCs, and provides high quality experience over 3G, 4G, and Wi-Fi. Tango lets people share everyday and special moments as they happen. Tango is available as a free download in the App Store, Android Market and Window Phone Marketplace. Tango for the PC is available at www.tango.me.
Over 30 million people in 190 countries already use the service. Tango delivers millions of minutes of voice and video calls each day, of which approximately 80 percent are video. Tango has raised over $47 million from leading venture capital firms and individual investors.
Learn more at http://www.tango.me/
Follow us on Twitter at http://www.twitter.com/tangome
Like us on Facebook at http://www.facebook.com/tangome
Watch us on YouTube at http://www.youtube.com/tangome
Media Contact:

Jennifer Nielsen
(415) 828-2790
Email Contact


Copyright @ Marketwire
Page: 1
Related Keywords:
TangoMe, Inc, Internet, Business Issues, Pro AV, Internet Media, Mobile Video, Marketwire, , Internet Technology, Entertainment, Browsers, Family, Other,
---