Tango Delivers Exceptional Video Calling Experience on High-End Devices Running Qualcomm's Snapdragon Chipsets
The Newest Version of Tango Will Take Advantage of Video Encoding Optimizations to Deliver a TV-Like Experience on Android
(March 22, 2011)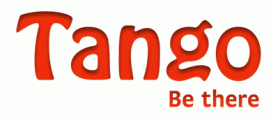 ORLANDO, FL -- (Marketwire) -- 03/22/11 -- Tango, a free mobile video calling service, today announced that the new version of its service will bring high resolution video calling to Android devices running on Qualcomm Incorporated's Snapdragon™ chipsets. People will enjoy superior video quality with the new version of Tango, which will be demonstrated in Qualcomm's booth (#3419) at CTIA 2011.
"Working with Qualcomm really helped us push the envelope of what is possible on mobile devices today. We significantly improved overall quality and performance by taking full advantage of the video capabilities in the Snapdragon chipsets. Quality and user experience has always been our priority and interfacing directly with the hardware creates a TV-like experience that people will love," said Eric Setton, co-founder and CTO of Tango.
Qualcomm's Snapdragon chipsets powers high-end Android smartphones such as HTC Thunderbolt and HTC EVO 4G. This new capability will be available in the next version of Tango coming to the Android Market in April.
"Tango is an outstanding example of how Qualcomm empowers application developers to create great user experiences by optimizing performance for our Snapdragon chipset," said Liat Ben-Zur, senior director of software strategy and ecosystems for Qualcomm. "The Tango team was able to quickly integrate the video technology available on Snapdragon into their video calling service, and we are pleased to demonstrate their newly enhanced service in our booth at CTIA."
Tango has seen explosive growth since its launch six months ago. Ten million people in 190 countries are using Tango to make free mobile video calls wherever they are. Tango is adding a million people to the service every two weeks.
Tango supports all of the latest iOS devices including the iPhone 3GS, iPhone 4, and iPad 2, and Android devices from HTC, Motorola, Samsung and LG. Tango works with carrier data plans, and on Wi-Fi networks.
Tango is a free download in the App Store and Android Market. You can Tango with anyone in your contact list that has downloaded the application to his or her phone.
About Tango
Founded in September 2009, Tango is a free mobile video calling service that connects family and friends wherever they are. Tango offers high-quality video calling for iOS and Android devices and works over 3G, 4G, and Wi-Fi. More than 10 million people in 190 countries are using Tango to communicate every day, stay connected, and share special moments as they happen. Download the Tango application for free in the App Store and Android Market. Tango is based in Palo Alto, California.
Learn more at http://www.tango.me/
Follow us on Twitter at http://twitter.com/tango_me
Like us on Facebook at http://www.facebook.com/tangome
Watch us on YouTube at http://www.youtube.com/tangome
Qualcomm is a registered trademark of Qualcomm Incorporated. Snapdragon is a trademark of Qualcomm Incorporated. All other trademarks are the property of their respective owners.
Media Contact:

Jennifer Nielsen
(415) 828-2790
Email Contact


Copyright @ Marketwire
Page: 1
Related Keywords:
Tango, Family, Family, Digital Media Software, Communications, WiFi, Digital Audio, Smart Phone, iPods, iphone, iPad, Internet Media, Mobile Video, Marketwire, Apple Computer, Family, Other,
---