Taleo Ushers in the Age of Talent With Taleo 10
Delivers New Solution and First-Ever Cloud Community for Talent Management; Extends Access via Facebook, and iPhone
(September 15, 2009)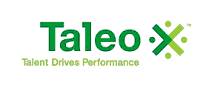 LAS VEGAS, NV -- (Marketwire) -- 09/15/09 -- TaleoWORLD -- At its annual gathering of customers and partners here today, Taleo (NASDAQ: TLEO) unveiled Taleo 10(TM). Taleo 10 pairs product and perspective: the newest version of Taleo's industry-leading Talent Management solution with access to the world's best domain knowledge via a new online marketplace, the Taleo Talent Grid(TM).
Taleo 10's new Talent Management solution helps companies hire better, manage more effectively and accelerate development of their workforce. It is built on 10 years of collective talent management domain expertise from Taleo and the world's largest ecosystem of Talent Management experts. This includes 2.9 million users, 175 million candidates, and dozens of partners who are now connected online via the Talent Grid cloud community launched last week.
Talent Management for the Next 10 Years: Taleo 10
In a recent Bersin & Associates analysis, companies practicing good talent management drove direct business performance results, including: 26% more revenue per employee and 41% less turnover in high-performing staff. Bersin defines good talent management as a strategy for unifying all talent-related processes to better understand key talent and improve its impact on the businesses performance.
Taleo 10 delivers unification with one holistic Talent Management solution and an integrated community of expertise, to help make great talent management insightful, easy and accessible for companies of all sizes. Central to the Taleo 10 design, is a powerful but effortless user experience, designed to be a radical departure from usability found in current ERP systems and most talent management systems. Key attributes include:
-- Social: leverage collaboration to more effectively recruit and develop your workforce -- Mobile: make talent management solutions easily available, everywhere you work -- Cloud: remove the barriers to accessing technology and expertise -- Speed: power agility and productivity with efficient systems
Taleo 10 is a Talent Management Solution for finding, keeping and developing the very best performers in an organization. Built on a single platform, this release also enables:
-- Faster recruiting: Taleo Recruiting(TM) includes a completely updated Web 2.0 user interface and more than 100 new features for "walk up" usability. Taleo Recruiting 10 can improve productivity 33% by streamlining key activities such as search, assessment and selection of candidates. It is also linked to the Talent Grid's free online Talent Exchange, giving recruiters access to a huge candidate sourcing pool.
-- 80% better staff development: Taleo Development(TM) is a new offering from Taleo that enables informal "social learning" and job shadowing, with access to more traditional or "formal learning." Until now, most learning software has been focused on formal courses. Yet this only addresses 20% of an employee's developmental learning needs. Taleo Development empowers the whole learning cycle and gives businesses a view of employees' development plans -- and progress -- mapped to goals, competencies and performance reviews.
-- Measurable business value: Taleo Analytics(TM) powers workforce insights in minutes with more than 70 pre-built metrics and a Metrics Configurator. Taleo 10 can track performance across the entire workforce with metrics that include insight into quality of hire, high performer retention and goal alignment. The Metrics Configurator enables customized analyses for driving actionable insights on emerging workforce trends.
-- Mobile and social access: Taleo Anywhere(TM) allows customers to access Taleo 10 and the Talent Grid where and how they work via mobile, social and pervasive devices such as iPhone, Blackberry, Microsoft Outlook, Internet Explorer, and social networks such as LinkedIn, Facebook and Twitter via RSS.
Additionally, at today's TaleoWORLD, the company shared a prototype iPhone application from Taleo's Innovation Lab that functions as a mobile career site. The vision is to enable candidates to review online jobs, easily communicate with hiring managers and track application status. This candidate-focused extension to Taleo Anywhere is planned for early-mid 2010.
"Tracking salary, headcount and benefits information is fine for driving payroll, but to drive a business, executives and managers need real-time insight about knowledge, work history, promotability, and career goals," said Michael Gregoire, Chairman and CEO of Taleo. "Yesterday's ERP solutions focus on fixed assets and support static business models. Taleo 10 is built for agile businesses and for understanding people in the Age of Talent. It is architected for speed, mobility, collaboration and ease of use, so it becomes a natural part of the business management process."
Customers Comment on Taleo 10
Ken MacFerrin, Director of Global Staffing and Talent at InfoPrint Solutions Company, a $1 billion joint venture between IBM and Ricoh, and a Taleo 10 beta user, said: "Usability can't be under-estimated. I've been at companies that spent millions to implement ERP, only to have to pull them a year later when the usability issues caused an unacceptably sharp decline in candidate applications. Taleo is built for people, not fixed assets. That is key for us, and was instrumental in getting fully deployed with Taleo in a few months -- without one IT resource."
"Key to our business in natural gas pipeline and production is managing a constantly changing business environment," said Valencia Amenson, HR Manager, Staffing at El Paso Corporation. "So, everything we do, from our hiring to our systems to our processes, has to be agile. Taleo has proven itself as a strategic partner in meeting our changing needs. Taleo 10 is an extension of the innovation we've come to expect, which is why Taleo is the benchmark by which we judge other vendors."
Availability
Taleo 10 will be in limited availability this month, with general availability planned for Q4, 2009. Pricing, self-service demonstrations and additional information is available at www.Taleo.com/10.
About Taleo
Taleo (NASDAQ: TLEO) is the leader in on demand unified talent management solutions that empower organizations of all sizes to understand and engage their best talent for improved business performance. More than 4,100 organizations use Taleo for talent acquisition and performance management, including 46 of the Fortune 100 and over 3,400 small and medium sized businesses across 200 countries and territories. Known for its strong configurability and usability, Taleo runs on a world-class infrastructure and offers 99.9% availability. Taleo's Talent Grid harnesses the resources of the Taleo community of customers, candidates, and partners to power the talent needs of companies around the world.
Forward-looking Statements
This release contains forward-looking statements, including statements regarding the demand for Taleo's solutions, results from use of Taleo's solutions and general business conditions. Any forward-looking statements contained in this press release are based upon Taleo's historical performance and its current plans, estimates and expectations and are not a representation that such plans, estimates, or expectations will be achieved. These forward-looking statements represent Taleo's expectations as of the date of this press announcement. Subsequent events may cause these expectations to change, and Taleo disclaims any obligation to update the forward-looking statements in the future. These forward-looking statements are subject to known and unknown risks and uncertainties that may cause actual results to differ materially. Further information on potential factors that could affect actual results is included in Part II, Item 1A of Taleo's Quarterly Report on Form 10-Q, as filed with the SEC on August 7, 2009, and in other reports filed by Taleo with the SEC.
Add to Digg Bookmark with del.icio.us Add to Newsvine
Media Contact:
Jaime Spuhler
Tel: 904.520.6251
E-mail: jspuhler@taleo.com


Copyright @ Marketwire
Page: 1
Related Keywords:
Taleo, recruitment, SaaS, talent management, performance management, ondemand software, talent grid , Marketwire, Apple Computer, Internet Technology, Business, Internet, Web 2.0, Other,
---