Taleo Report Links Aging National Workforce, Lack of Corporate Training and Development to Mounting US Critical Skills Shortages
"Social Recruiting" Continues to Drive Corporate Hiring
(January 30, 2012)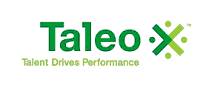 DUBLIN, CA -- (Marketwire) -- 01/30/12 -- Taleo Corporation (NASDAQ: TLEO), the global leader of SaaS-based Talent Management solutions, today released a report summarizing the 2011 business climate and related talent management trends for 2012. After an extremely challenging and unpredictable 2011, businesses today operate in a market of thinner margins, lighter demand, credit and liquidity challenges and an uncertain outlook going into 2012. Talent decisions have taken on increased importance in the face of these challenges as companies failing to effectively manage the flow of critical talent are risking their growth and in some cases even their survival. Social networks, on the other hand, are growing increasingly important in the endeavor to identify new talent. Trends highlighted in the report include:
Continued economic uncertainty will increase focus on existing talent to drive growth and innovation.

The potential for recession and the debt crisis in Europe, as well as significantly reduced US government spending, suggests rough seas ahead. Yet corporate profits remain high and recent economic figures show early signs of growth in the US. In response, leading organizations are striving to be more agile and prepare for every eventuality. A key strategy will be to deepen the awareness and understanding of existing organizational talent.

As very few businesses expect to increase their workforce in 2012, they will rely more heavily on developing their current workforce for critical roles rather than hiring external talent. In evaluating whether they have the right people in the right positions to drive growth, many employers are finding that they lack the necessary data, processes, culture, and technology to deliver true insight into their most valuable company asset -- employees. This lack of 'talent intelligence' will hold companies back and limit growth until it is addressed.

Taleo anticipates a key area of focus in 2012 will be on building out talent profiles. While talent management programs have historically focused on executives and senior management, 2012 will see a shift to include line managers and rank-and-file employees as businesses seek to better leverage talent throughout their organizations.


Significant increases in social recruiting.

The use of professional networks for sourcing will continue to expand as the rapid adoption of social and professional networks like Facebook and LinkedIn continue their exponential growth, impacting businesses on a number of different levels. While both networks will grow in importance, Facebook will emerge as a cornerstone sourcing tool in the battle to attract Millennials and blue collar workers.

With an ability to present up-to-date company information, job postings, discussion forums, videos, and all forms of rich content in a social network with 150 million US subscribers, Facebook's rise as a social recruiting pillar is inevitable. Corporate career sites will continue to lessen in importance as candidates leverage networks to find information on prospective employers rather than traditional channels, and budgets will continue to shift significantly toward social media.


An aging population and a lack of investment in training and development will result in continuing skills shortages.

Taleo anticipates increased friction between businesses' global ambitions for expansion and varying quality and quantity of local labor. In the US, labor participation rates among younger workers continue to fall while rates among older workers rise. In the short-term, this skews the balance of the workforce toward more experienced, more expert workers. In the mid to long-term, this lack of investment and hiring of younger workers is going to exacerbate talent shortages related to boomer retirements. Smart companies are looking to rebalance their mix of new hires to focus more on emerging and potential talent.


"As the era of economic uncertainty continues, the ability to collect talent data, gain insight, and make informed decisions about people and processes will become increasingly important," said Dave Wilkins, vice president of Taleo Research. "US business leaders are becoming more involved in the definition of talent management system requirements and even the selection process, triggering a dramatic increase in the adoption of solutions that satisfy their data, analysis, and reporting demands. For these companies, talent data and processes will be held in the same regard as critical business data and processes."
The Taleo report underscores the fact that organizations are looking to maximize the value of their people given the global economic climate and the potential for serious systemic shock. With an ability to consider the complete talent picture, leading companies will be able to hire and retain highly-engaged talent regardless of macro-economic forces, enabling greater organizational continuity and teamwork during periods of growth or recession. View the report by going to: http://www.taleo.com/researchpaper/us-talent-trends-2012.
About Taleo
Taleo (NASDAQ: TLEO) helps organizations improve the performance of their business by unlocking the power of their people. Taleo is the only company to provide industry leading solutions in every category of Talent Management. Through its cloud-based platform, Taleo optimizes recruiting, performance management, learning and compensation -- and integrates them all so managers have the insights they need to achieve Talent Intelligence. Customers also plug into Taleo's unique Talent Grid community to harness proven best practices, millions of candidates, and Taleo-ready partner solutions. From small and medium sized businesses to large enterprises, more than 5,000 organizations rely on Taleo every day to pursue growth, innovation and customer success.
Forward-looking Statements
This release contains forward-looking statements, including statements regarding the demand for and benefits from the use of Taleo's solutions and general economic conditions. Any forward-looking statements contained in this press release are based upon Taleo's historical performance and its current plans, estimates and expectations and are not a representation that such plans, estimates, or expectations will be achieved. These forward-looking statements represent Taleo's expectations as of the date of this press release. Subsequent events may cause these expectations to change, and Taleo disclaims any obligation to update the forward-looking statements in the future. These forward-looking statements are subject to known and unknown risks and uncertainties that may cause actual results to differ materially. Further information on potential factors that could affect actual results is included in Part II, Item 1A of Taleo's Quarterly Report on Form 10-Q, as filed with the SEC on November 9, 2011, and in other reports filed by Taleo with the SEC.
Copyright @ Marketwire
Page: 1
Related Keywords:
talent management, talent intelligence, recruiting, performance management, Marketwire, ,Business,Other,
---