Taleo Learn Helps Companies Sharpen Competitive Edge by Transforming Talent Training and Development
Organizations Turning to Taleo for Flexible, User-Friendly Platform That Links Learning to Business Results
(October 19, 2011)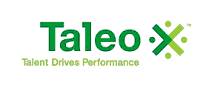 DUBLIN, CA -- (Marketwire) -- 10/19/11 -- Taleo Corporation (NASDAQ: TLEO), the global leader of SaaS-based Talent Management solutions, today announced that companies of all kinds are cultivating their key competitive advantage -- their people -- by deploying Taleo Learn, the company's comprehensive solution for delivering, tracking and managing formal and social learning content.
Taleo Learn is enabling organizations large and small to streamline learning and development and improve time to competency. Taleo achieves this by providing a single access point for the widest array of learning modes, including online, classroom, on the job training, blended learning, discussion forums and more.
"Our services are only as good as our people, so implementing Taleo Learn has become a strategic imperative for fully developing our more than 1,200 team members," said Jeff Buhler, Senior Vice President for Massey Services, Inc., the nation's fifth largest provider of pest prevention, termite protection and landscape services. "With Taleo, we can cost-effectively streamline training for management, sales and service technicians with carefully targeted programs featuring content that will engage our team members and ensure they remain at the forefront of industry best practices."
As companies like Massey Services quickly discover, Taleo reaches beyond traditional learning activities to cost-effectively make the most of existing resources and knowledge. For instance, social learning features such as discussions, ratings and reviews, and file sharing helps organizations to develop true learning communities where experts can share what they know with new hires and geographically distant colleagues. The Taleo LMS allows customers to embed and reuse informal learning content, including PDF files, videos and Microsoft Office files, directly within the Taleo Learn environment.
Taleo's innovative use of online portals allows customers to have total control over the look, feel and functionality of their learning environments. With its user-friendly editor and self-service configuration tools, Taleo makes it simple for LMS administrators to create specially targeted sub-portals to address specific projects, new product training, events or initiatives.
Administrators can quickly and easily distribute content across all portals with Taleo's user-friendly tools, content management capabilities and reusable components -- while retaining pixel-level control over branding, layout and workflows. Capabilities like these allow a typical customer to create a new portal in minutes. In fact, one medical device manufacturer deployed its global compliance initiative in over 20 languages while another regulatory consulting organization has rolled out more than 100 sub-portals to support the unique business requirements and training needs of the company's healthcare customers.
"Since we acquired Learn.com a year ago, we've delivered five new releases of our learning platform -- so clearly, Taleo is committed to driving innovation in talent development," said Jason Blessing, executive vice president of products and technology at Taleo. "Whether knowledge transfer comes from traditional and proven LMS content or rapidly emerging social learning channels, Taleo helps companies keep their edge by developing the best possible talent in the most effective ways."
Taleo Learn also works with other Taleo solutions to drive Talent Intelligence throughout the employee lifecycle. For instance, the latest edition of Taleo Enterprise gives employees, managers and training administrators the tools and flexibility they need to analyze workforce capabilities, uncover skill gaps, and refine development strategies. These include the ability to share learning metrics lets managers gauge how employees are adopting new training programs. Taleo has also added new tools for publishing, such as reports that can be tailored to answer specific business questions, so talent development strategies are informed by an understanding of how they align with key business imperatives. And learning histories have added training, completion data, and certificates from courses completed outside the organization -- resulting in more comprehensive insights into how and where talent is developing.
About Taleo
Taleo (NASDAQ: TLEO) helps organizations improve the performance of their business by unlocking the power of their people. Taleo is the only company to provide industry leading solutions in every category of Talent Management. Through its cloud-based platform, Taleo optimizes recruiting, performance management, learning and compensation -- and integrates them all so managers have the insights they need to achieve talent intelligence. Customers also plug into Taleo's unique Talent Grid community to harness the power of proven best practices, millions of users, and Taleo-ready partner solutions. From small and medium sized businesses to large enterprises, more than 5,000 organizations rely on Taleo every day to pursue growth, innovation and customer success.
Forward-looking Statements
This release contains forward-looking statements, including statements regarding the demand for and benefits from the use of Taleo's solutions. Any forward-looking statements contained in this press release are based upon Taleo's historical performance and its current plans, estimates and expectations and are not a representation that such plans, estimates, or expectations will be achieved. These forward-looking statements represent Taleo's expectations as of the date of this press release. Subsequent events may cause these expectations to change, and Taleo disclaims any obligation to update the forward-looking statements in the future. These forward-looking statements are subject to known and unknown risks and uncertainties that may cause actual results to differ materially. Further information on potential factors that could affect actual results is included in Part II, Item 1A of Taleo's Quarterly Report on Form 10-Q, as filed with the SEC on August 8, 2011, and in other reports filed by Taleo with the SEC.
Media Contact
Ally Zwahlen
Senior Director | Corporate Communications
Taleo Corporation
taleo.com
T. 925.452.3394
email: [email protected]


Copyright @ Marketwire
Page: 1
Related Keywords:
taleo, learn, talent management, talent intelligence, Marketwire, , Business, Other,
---