Taleo 'Joining Forces' With White House to Connect America's Veterans With Jobs
Taleo Helps Veterans and More Than 5,000 Companies Participate in Nationwide Hiring Effort
(November 07, 2011)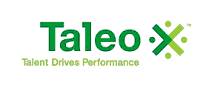 DUBLIN, CA -- (Marketwire) -- 11/07/11 -- Taleo Corporation (NASDAQ: TLEO), the global leader of SaaS-based Talent Management solutions, today joined with First Lady Michelle Obama and Dr. Jill Biden to assist their Joining Forces initiative to support U.S. military veterans and their families. Taleo also committed to helping meet President Obama's challenge to the private sector to hire or train 100,000 unemployed veterans and their spouses by 2013.
Taleo is helping more than 5,000 organizations participate in Joining Forces while making it easier for veterans to locate and apply for jobs associated with veteran commitments made by each hiring company.
"America's veterans risk everything on our behalf, and now that they're safely home and back with their families it's our turn to do what we can to repay their courage and sacrifice," said Michael Gregoire, Chairman and CEO at Taleo. "By working closely with our more than 5,000 corporate customers, Taleo is making it easier than ever for unemployed veterans to find jobs. And here at Taleo, we're committed to identifying open positions that will benefit from the unique experience that those who've served can bring to our corporate culture. We're proud to support the Joining Forces initiative and to help meet President Obama's challenge to the private sector."
"We ask our men and women in uniform to leave their careers, leave their families, and risk their lives to fight for our country," said Aneesh Chopra, United States Chief Technology Officer (CTO) and Assistant to the President. "The last thing they should have to do is fight for a job when they come home. That's why Joining Forces is so important to our veterans, their families, their communities, and the nation at large. We applaud the efforts of companies like Taleo, who recognize that connecting out-of-work veterans with a good job is an important step toward repaying the enormous debt we owe these brave men and women."
"This is exactly what we hoped for when the First Lady and Dr. Biden announced Joining Forces earlier this year -- private sector companies stepping up and making a positive impact for veterans and military families," said Brad Cooper, Executive Director of Joining Forces.
Taleo is supporting the Joining Forces initiative and President Obama's private sector challenge in three ways:
For hiring companies: Taleo will provide and promote a Quick Start guide to help its more than 5,000 customers implement a new HTML method for tagging positions that can quickly and easily be located by job-seeking veterans. When Taleo customers post these tagged positions, they instantly can appear on the customer's career website, Taleo's Talent Exchange™ candidate marketplace, and/or a wide array of popular social networks, including LinkedIn and Facebook. Postings that feature the special HTML tag will also be discoverable through the newly launched Veterans Job Bank, a search widget powered by the National Resource Directory and accessible across veterans-oriented federal websites. Taleo will also provide support for customers participating in Joining Forces through its Knowledge Exchange™, a trusted social network for Talent Management.
For veterans: Veterans can join Taleo's popular Talent Exchange™, a free online marketplace that brings candidates together with thousands of prospective employers. When they join Talent Exchange, veterans automatically become better prepared to quickly pursue new opportunities. Their first step is to create a Universal Profile™. The Universal Profile is an online resume that allows users to enter their information once and then apply for multiple jobs without re-entering the same information again and again. That information, which can highlight skills, experience and career goals, is also instantly viewable by the companies that use Taleo solutions to recruit and manage talent.
As an employer: Finally, Taleo itself is enlisting in Joining Forces, and has committed to identifying positions in its own ranks that would benefit from the experiences and skills of the men and women who have served their country, as well as military spouses who continue to provide invaluable support to those who continue to serve.
About Joining Forces
First Lady Michelle Obama and Dr. Jill Biden created Joining Forces to bring Americans together to recognize, honor and take action to support veterans and military families as they serve our country and throughout their lives. The initiative aims to educate, challenge, and spark action from all sectors of society to ensure veterans and military families have the support they have earned. The initiative focuses on key priority areas -- employment, education, and wellness while raising awareness about the service, sacrifice, and needs of America's veterans and military families. For more information, visit www.joiningforces.gov.
About Taleo
Taleo (NASDAQ: TLEO) helps organizations improve the performance of their business by unlocking the power of their people. Taleo is the only company to provide industry leading solutions in every category of Talent Management. Through its cloud-based platform, Taleo optimizes recruiting, performance management, learning and compensation -- and integrates them all so managers have the insights they need to achieve talent intelligence. Customers also plug into Taleo's unique Talent Grid community to harness the power of proven best practices, millions of users, and Taleo-ready partner solutions. From small and medium sized businesses to large enterprises, more than 5,000 organizations rely on Taleo every day to pursue growth, innovation and customer success.
Copyright @ Marketwire
Page: 1
Related Keywords:
Taleo Corporation, USA, Marketwire, , Business, Military, Men, Women,
---