Taleo Gives Enterprises More Ways to Find and Develop Tomorrow's Leaders
Latest Release of Taleo Enterprise Adds a Retooled User Interface That Simplifies and Unifies Access to Talent Intelligence and New Capabilities for Learning
(February 21, 2012)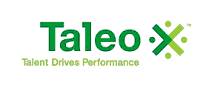 DUBLIN, CA -- (Marketwire) -- 02/21/12 -- Taleo Corporation (NASDAQ: TLEO), the global leader of SaaS-based Talent Management solutions, today unveiled the latest release of Taleo Enterprise, which gives organizations powerful new ways to source top performers and develop them into the next generation of leaders. Taleo also redesigned the user interface of its popular enterprise-class Talent Management suite. The result is a simple, unified environment that makes it easy to access talent intelligence across all Talent Management dimensions, from recruiting and learning to performance management and succession planning.
"This latest release of Taleo Enterprise delivers a new set of tools built into a newly unified user experience. Taleo continues to aggressively enhance its Talent Management platform to help companies attract and engage top talent, build better teams and optimize development strategies," said Jason Blessing, executive vice president of products at Taleo. "Organizations across the globe continue to realize that talent has become a strategic weapon for corporate success."
Key highlights of the latest release include enhancements to sourcing, learning and ease of use.
Taleo Recruiting helps keep pipelines filled with qualified candidates
Taleo Recruiting incorporates new features that help organizations proactively build pipelines filled with qualified candidates. With new contact management tools, organizations can reach beyond the existing application pool to source and pre-qualify top prospects before they become active candidates. Enhanced support for talent pipelines enable recruiters to continuously engage qualified talent before hiring needs become critical. Sourcing internal candidates is also easier because Taleo has streamlined access to internal talent pools and manager nominations. And managers can now assign preferred successors to open positions via Taleo's improved Talent Browser.
"Taleo's new pipeline management capabilities will enable us to proactively source business-critical candidates and to quickly hire and onboard exceptional talent, increasing business productivity," said Keith Abernathy, manager of human resources for Moss Adams.
Taleo Learn reveals how development impacts performance
The new release includes improvements to Taleo Learn that address the crucial need for enterprises to find the most effective ways to develop top performers. For instance, Taleo provides faster access to relevant learning content and opportunities by giving employees, managers and HR practitioners the ability to search their organization's learning catalog (based on the competencies they need to develop) and launch their learning activities directly from their development plans. Offering a vastly more comprehensive learning environment, Taleo links learning activities to specific goals and now includes learning histories in employee profiles. And to help managers better understand how learning impacts performance, Taleo now combines data from Taleo Learn, Taleo Performance and Taleo Recruiting into the world's largest Talent Management data warehouse. Across the board, managers can rely on Taleo Learn to ensure their employees have the foundational, job-specific skills that lead to results.
Retooled interface unifies and simplifies the Taleo user experience
Anchoring the latest release of Taleo Enterprise is a redesigned user interface that streamlines the Taleo experience across all Talent Management modules, from recruiting to succession. The redesign includes new versions of the Talent Browser and Employee Snapshot, which combine to create a single place for managers and HR professionals to instantly gain a comprehensive view of their organization and their talent, and then take action to ensure they meet their business objectives. The Employee Snapshot is now available across multiple views -- including Talent Pools, Succession Planning, and Talent Browser -- so managers and HR staff can instantly access an employee's most vital information without having to navigate to other pages. Throughout the suite, Taleo provides native reporting so users can pull data and generate reports on demand to immediately gather useful insights.
About Taleo
Taleo (NASDAQ: TLEO) helps organizations improve the performance of their business by unlocking the power of their people. Taleo is the only company to provide industry leading solutions in every category of Talent Management. Through its cloud-based platform, Taleo optimizes recruiting, performance management, learning and compensation -- and integrates them all so managers have the insights they need to achieve talent intelligence. Customers also plug into Taleo's unique Talent Grid community to harness the power of proven best practices, millions of users, and Taleo-ready partner solutions. From small and medium sized businesses to large enterprises, more than 5,000 organizations rely on Taleo every day to pursue growth, innovation and customer success.
Forward-looking Statements
This release contains forward-looking statements, including statements regarding the demand for and benefits from the use of Taleo's solutions. Any forward-looking statements contained in this press release are based upon Taleo's historical performance and its current plans, estimates and expectations and are not a representation that such plans, estimates, or expectations will be achieved. These forward-looking statements represent Taleo's expectations as of the date of this press release. Subsequent events may cause these expectations to change, and Taleo disclaims any obligation to update the forward-looking statements in the future. These forward-looking statements are subject to known and unknown risks and uncertainties that may cause actual results to differ materially. Further information on potential factors that could affect actual results is included in Part II, Item 1A of Taleo's Quarterly Report on Form 10-Q, as filed with the SEC on November 9, 2011, and in other reports filed by Taleo with the SEC.
Copyright @ Marketwire
Page: 1
Related Keywords:
talent managment, Taleo, talent intelligence, Talent Grid, industry leading, , Marketwire, ,Business,Other,
---