Taleo Expands Its Presence in Germany
Global Provider of Talent Management Solutions Responds to Continuous Market Growth
(November 08, 2011)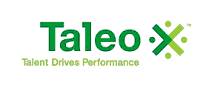 DUBLIN, CA -- (Marketwire) -- 11/08/11 -- Taleo Corporation (NASDAQ: TLEO), the global leader of SaaS-based Talent Management solutions, today announced the broadening of its presence in Germany by expanding its facilities and staff in Taleo's Frankfurt offices and datacenter. The expansion efforts build on Taleo's July acquisition of Jobpartners, a move that doubled the company's European customer base and professional staff.
"As social media and mobile technologies move Talent Management processes from the filing cabinet to the cloud, SaaS-based Talent Management is becoming an integral part of successful business management," said Michael Gregoire, Chairman and CEO of Taleo. "As today's announcement shows, Taleo is committed to a sustained, long-term investment strategy to pursue the opportunities we have identified in Germany. In fact, our goal is to generate a significant amount of new bookings from Germany over the next three years."
Investments in Local Team and Facilities
Even before the Jobpartners acquisition, Taleo maintained numerous international customers deployed in Germany. Now, by leveraging the combined presence and expertise of Taleo and Jobpartners, the company can offer its German clients broader product and service capabilities. For example, Taleo will expand its existing datacenter presence in Germany and intends to further grow its Frankfurt-based team. Taleo will expand existing German-speaking technical support, sales, client executive, and implementation consulting resources, and is already hiring new positions for marketing leadership, inside sales and solution consulting in Germany.
Established Provider for Talent Management Solutions
Taleo has a European customer base of more than 250 clients. With more than 5,000 customers worldwide, Taleo supports dozens of large enterprise-class clients in Germany, including Deloitte, Ernst & Young, Mars, Merck, Procter & Gamble, and Roche. Globally, Taleo serves customers in 187 countries and employs more than 1,500 people worldwide.
Taleo's SaaS-based Talent Management solutions optimize recruiting, performance management, learning and compensation, and arm organizations with Talent Intelligence, which is the insight companies need to grow their business by capitalizing on their most critical asset -- their people. By tapping the world's largest and most scalable Talent Management Cloud, Taleo delivers up-to-date information and increased visibility into candidates and employees so managers can see the talent that is powering their organization and better understand how to recruit, retain, and mobilize that talent. Every day, Taleo customers rely on Talent Intelligence to identify, develop, compensate, and retain the top performers that drive business results.
About Taleo
Taleo (NASDAQ: TLEO) helps organizations improve the performance of their business by unlocking the power of their people. Taleo is the only company to provide industry leading solutions in every category of Talent Management. Through its cloud-based platform, Taleo optimizes recruiting, performance management, learning and compensation -- and integrates them all so managers have the insights they need to achieve talent intelligence. Customers also plug into Taleo's unique Talent Grid community to harness the power of proven best practices, millions of users, and Taleo-ready partner solutions. From small and medium sized businesses to large enterprises, more than 5,000 organizations rely on Taleo every day to pursue growth, innovation and customer success.
More information about Taleo: www.taleo.de
Forward-looking Statements
This release contains forward-looking statements, including statements regarding the demand for and benefits from the use of Taleo's solutions. Any forward-looking statements contained in this press release are based upon Taleo's historical performance and its current plans, estimates and expectations and are not a representation that such plans, estimates, or expectations will be achieved. These forward-looking statements represent Taleo's expectations as of the date of this press release. Subsequent events may cause these expectations to change, and Taleo disclaims any obligation to update the forward-looking statements in the future. These forward-looking statements are subject to known and unknown risks and uncertainties that may cause actual results to differ materially. Further information on potential factors that could affect actual results is included in Part II, Item 1A of Taleo's Quarterly Report on Form 10-Q, as filed with the SEC on August 8, 2011, and in other reports filed by Taleo with the SEC.
Media Contact
Ally Zwahlen
Senior Director | Corporate Communications
Taleo Corporation
taleo.com
T. 925.452.3394
azwahlen@taleo.com


Copyright @ Marketwire
Page: 1
Related Keywords:
talent management, talent intelligence, recruiting, performance management, Germany, Marketwire, , Business, Other,
---