Tagwhat Unveils Augmented Reality as a New Personalized Experience
Launches AR Network Powered by Location and Social Engagement; Lets People Explore the World and Communicate With Friends in an Entirely New Dimension
(May 06, 2010)

BOULDER, CO -- (Marketwire) -- 05/06/10 -- Tagwhat (http://Tagwhat.com) publicly launches today a new augmented reality (AR) experience that fuses the very best of mobile, augmented reality, and location-based social networking services for everyday use and appeal. Tagwhat's free community application aims to place users right inside their own personalized global canvas where they can discover, explore and share what matters with friends and followers.
Tagwhat users place digital tags anywhere on the Earth, from their street corner to another continent. By simply holding up the camera view of a mobile device (iPhone or Android), geo-contextual tags from pre-selected friends and community members become visible. Walk down the street and Tagwhat reveals a wealth of relevant information, discussions, and deals -- such as a coupon for a nearby establishment, a discussion thread for a meet-up with friends, and a restaurant review about a sushi place around the corner.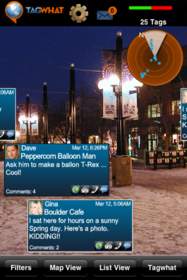 At the heart of the Tagwhat network is its patent-pending augmented reality technology that lets users leave behind digital crumbs (tags) for any location, place or thing, anywhere in the world for friends and followers to discover. Each marker is an interactive social object, and can include direct action links to email, phone, SMS, photos, URL's, cross-posting to Twitter, Facebook, and more. As a result, friends are able to easily interact and share information with one another with the added benefit of location and AR. Suddenly, "checking in" at a particular coffee shop, dropping pictures at several bar locations from last night's pub crawl, or creating blog entries from personal favorite locations as they are discovered or re-visited, opens up a whole new realm of possibilities. With a single click, users are able to easily let friends know where they'll be in 5 minutes, then get turn-by-turn directions to the tagged destination, and flip through photos of a friend's night out on the way over.
Within the Tagwhat network, marker streams come alive with the digital crumbs and content a member chooses to follow from networks of friends, community members, and businesses. In addition, for a more expansive experience users can reach beyond their existing network and search for specific content and users by keywords. Like restaurants? Follow local culinary aficionados and merge their AR into yours. Like shopping? Find your favorite stores and follow them for the latest deals and events.
Tagwhat also marks an important milestone in the evolutionary path of AR technology, representing a shift from the static Web 1.0 world of AR browsers to the participatory interaction of Web 2.0. Tagwhat is 'create-and-share' mobile AR, and is the first mobile augmented reality distribution system where anyone, not just developers, can create their own AR content and share with their friends anywhere in the world, in seconds, for free.
The Tagwhat network is uniquely flexible, bringing broad base appeal to augmented reality. Mobile users can freely toggle between AR's immersive world where content is overlaid right on top of the actual surroundings in the camera, to an interactive map mode on the device's display. In addition, Tagwhat supports a robust online experience, where personal, interactive maps and social features of Tagwhat are accessible from any web browser. As a result, Tagwhat participation is open to everyone, and not just those with the latest smart-phone.
Channel Lineup
Tagwhat promises to make the AR tag the new "face" to the world for businesses and organizations revolutionizing e-commerce and information delivery. To further broaden and enrich the personal experience, Tagwhat offers opt-in free and premium subscription channels and "smart" advertising that expands the intrinsic value of the network catering specifically to the individual's tastes, needs and preferences of the community member. At launch, Tagwhat will include four channels: Eat, for finding local restaurants; Drink, a channel for finding pubs and nightlife; Wikipedia, an informational channel for acquiring useful local information; and Foursquare, a fully functional implementation of the game in mobile AR.
Channel and advertising potential for the Tagwhat network is virtually endless for retail, real estate, education and information, entertainment, premium gaming, applications related to the emerging Internet of Things, as well as many other fields. Shops can deliver special deals to nearby customers; universities can offer tours and educational information to visitors and students; application developers can create and market innovative AR-enabled social games.
"Tagwhat gives us a tool to connect stories and places," said Anne Dodge, Program Director, National Public Housing Museum. "It lets us reach the broadest possible audience in the most intimate way, expanding our reach and embedding our stories in the places where they actually happened. This is the technology we've been waiting for."
Tagwhat is free for users and it's easy to get started. New members can sign up for their personal accounts starting today at www.Tagwhat.com.
Note: The iPhone 3GS app has been submitted for review and approval and should be available in the near future.
About Tagwhat
The Go, See, Share Social Augmented Reality Network... Tagwhat is the first of its kind create-and-share augmented reality network powered by social principles. It is a personalized global canvas that lets members explore the world and interact with friends and surroundings like never before. Tagwhat is the creation of Iryss, a team that has developed more mobile augmented reality than just about anyone else. The patent-pending Iryss AR platform is fueling white-label AR-enabled applications that is revolutionizing the way consumers and enterprises access and share information on the web. Iryss is based in Boulder, Colorado. For more information, please visit www.tagwhat.com or www.iryss.com.
Image Available: http://www2.marketwire.com/mw/frame_mw?attachid=1246393
Youtube Video Available: http://www2.marketwire.com/mw/frame_mw?attachid=1246396

Add to Digg Bookmark with del.icio.us Add to Newsvine
Press Contact:

Allison Bethurem
1-510-508-4034
Email Contact


Copyright @ Marketwire
Page: 1
Related Keywords:
augmented reality, AR, social networking, mobile, iPhone, Android, smartphones , Camera,Displays,Internet,Communications,Digital Audio,Web,Smart Phone,iPods,iphone,Search,Applications,Educational,Video,browser,Blogs/videoblogs,EMail,Sales,Applications,Advertising,Education,Networking,Internet,Search,Internet Server Applications,E-mail,E-Commerce,Search Servers,Marketwire,Apple Computer,Restaurants,Internet Technology,Entertainment,Internet,Web 2.0,Social Networking,Browsers,Email,Other,
---