Tachyon® XC Releases THE GunCam
(May 17, 2011)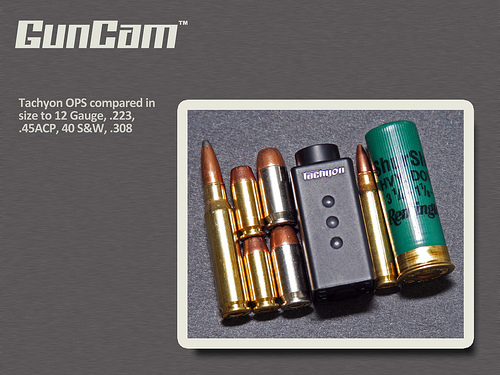 (PRWEB) May 17, 2011
Tachyon GunCam - the entire collection bundle, or a la carte - consists of a variety of mounts that will secure the Tachyon OPS and OPS HD cameras to almost any handgun, rifle, or shotgun. Tachyons Picatinny Rail mount can easily be mounted to any gun that is equipped with a Picatinny rail. For guns without rails, such as rifles and shotguns, they offer attachable rails designed specifically for each type of gun. They even have a rail mount designed for scopes.
The Tachyon OPS camera's patented symmetrical mounting design allows them, in their mounts, to rotate four ways and also reverse, giving the user a total of eight directions of mounting for a wide variety of video angles. The Picatinny rail mount is adjustable and small enough to fit onto the rail of a pistol. These GunCam mounts also include a rail for bolt action rifles that attaches to the sling stud, while still allowing the sling to be attached. No modification of the rifle is required. The accessories also include two rails for 12 gauge semi-auto and pump-action shotguns, a mount for ball-caps and goggle-straps, a mount for tripods, and a mount for the curved surfaces of helmets. These cameras can be easily mounted to just about anything. It can go hunting one weekend and then go on an ATV ride the next. Solid, zinc-alloy construction ensures a safe, secure and durable mount.
The Tachyon OPS camera weighs in at only one ounce and measures just .95 inches in width and height and is 2.25 inches long. The OPS HD is only slightly larger. The OPS cameras with their built-in rechargeable batteries, record over two hours of continuous high quality video. The OPS cameras use a 4GB 32GB Micro SD card, which is sold separately. They feature a high-dynamic light sensor with superior light gathering ability that makes them ideal for early morning hunts and indoor ranges.
The FBI estimates there are more than 200 million privately owned guns in the United States, and that number is rising., said John Chase, Sales Director for Tachyon, Inc. We noticed that the industry was lacking a legitimate way to secure a camera to a handgun, let alone rifles and shotguns. We saw a need and filled it. Our entire GunCam package of mounting accessories has been custom designed specifically for hunters, shooters, law-enforcement, and military.
The new OPS cameras, which fully integrate with the GunCam mounts, are a gun owners dream and couldnt be easier to use. They have a simple, one-button operation and are plug-and-play with a PC or a Mac. There is no software to download or drivers to install. For those who would like to buy the complete bundle, it is $149.99 for the OPS and $199.99 for the OPS HD.
For more information, or to pre-order a Tachyon OPS camera and GunCam accessories or the complete bundle, please visit http://www.tachyoninc.com/guncam.php
Tachyon invites all of those interested in our cameras and GunCam accessories to visit and "Like" our official Facebook GunCam page. https://www.facebook.com/pages/GunCam/162674943795403?sk=wall
Once you have "Liked" us, be sure to post your ideas and questions on our wall. We are always looking for suggestions on using and promoting the camera, ways we can help the customer get what they are looking for, as well as the best way to utilize the GunCam.com website. Once a month, a comment will be selected at random and awarded a complete GunCam bundle package.
GunCam is a registered trademark of Tachyon Inc.
Tachyon, Inc. is an accredited member of the Better Business Bureau.
For additional information, please visit http://www.tachyoninc.com/guncam.php
###
Read the full story at http://www.prweb.com/releases/2011/5/prweb8440119.htm.
Page: 1
Related Keywords:
sports organisations,sports event,sports disciplinary action,sports awards,internet,consumer goods,consumer issue,consumer confidence,consumer issue,society,computing and information technology,satellite technology,wireless technology,science and technology,technology (general),electronics,identification technology,agricultural research and technology,hunting,sports organisations,sports event,sports disciplinary action,sports awards,international military intervention,military equipment,crime, law and justice,law enforcement,international law,
---