TRUSTe Releases U.S. Consumer Findings From 2012 Online and Mobile Privacy Perceptions Report
Compared With 2011, 60% of Adults Are More Concerned About Online Privacy Today; 58% Do Not Like Targeted Advertising; 85% Won't Download Mobile Apps They Don't Trust
(July 16, 2012)

SAN FRANCISCO, CA -- (Marketwire) -- 07/16/12 -- Now celebrating 15 years of privacy innovation, TRUSTe, the leading privacy management solutions provider, today released the findings from its 2012 U.S. Online and Mobile Privacy Perceptions Report. Conducted online by Harris Interactive on behalf of TRUSTe between May 31 and June 6, 2012 among 1,033 U.S. adults and 554 U.S. smartphone users, ages 18 and older, the report shows online privacy remains a top concern with enormous business impact across all online and mobile platforms. Ninety-four percent of consumers consider privacy an important issue, and 58 percent expressly indicate they 'do not like' online behavioral advertising (OBA). Among smartphone users, 42 percent identify privacy and security as top concerns, and an overwhelming majority (85 percent) say they won't download mobile apps that they don't trust.
Also significant, the findings show that 60 percent of adults feel more concerned about their online privacy today than a year ago. While this rising level of concern shows a continued need for businesses to aggressively address privacy issues, the survey also reveals that consumer reliance on certifications and seals is growing. Forty-nine percent of consumers now check for independent privacy certification or seals (up from 41 percent in 2011) -- a clear sign that consumers are becoming more aware and diligent in looking after their privacy online.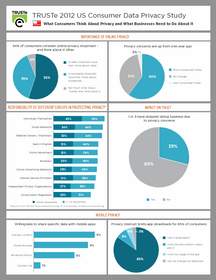 "Big data is exploding, causing monumental changes in the way that personal information can be accessed and used online -- through more pervasive and powerful mobile devices, emerging cloud services and the rapid growth of online behavioral advertising," said Chris Babel, CEO of TRUSTe. "Our 2012 findings show that managing consumer concerns through good privacy practices must remain on the forefront in order to stem mistrust. With increased understanding about choices, the survey also shows that consumers react more positively to the potential value of new online technologies, such as OBA."
The survey shows that negative feelings about OBA significantly decrease (from 69 to 40 percent) when users who believe otherwise are assured that their personally identifiable information (PII) is NOT linked to their browsing behavior. Also important, 61 percent (up from 55 percent in 2011) are inclined to do more business with a site that gives opt out choices for OBA.
However, OBA continues to be a source of worry among online adults, resulting in many 'opting out' altogether or simply refusing to do business online, findings that emphasize the continued need for more transparency and education.
General Findings
The TRUSTe 2012 report reveals that consumer concerns regarding online privacy are not slowing down and, in fact, are increasing compared to 2011.
94 percent think privacy is an important issue, with 55 percent saying that online privacy is a really important issue they think of often;
69 percent say that they trust themselves most when it comes to protecting their own personal information online (up sharply from 45 percent in 2011); and
Consumers take a variety of precautions to protect their privacy online, such as:

76 percent do not allow companies to share their personal information with a third party (up from 67 percent in 2011);
35 percent say that they have stopped doing business with a company or using their website because of privacy concerns; and
90 percent say they use browser controls to protect privacy, including deleting cookies (up from 84 percent in 2011).
OBA-specific Findings
40 percent say a targeted advertisement has made them feel uncomfortable;
50 percent will opt out of OBA to manage their privacy (when possible) -- almost double from 27 percent in 2011;
83 percent say they're aware of the OBA concept when provided with a written description (up from 70 percent in 2011);
53 percent (52 percent in 2011) believe personally identifiable information is attached to browsing behavior.
Mobile Concerns Continue to Grow
Trust continues to be a top concern when it comes to using mobile apps, with a whopping 85 percent of respondents saying they won't download an app if they do not trust it. Additionally, only 14 percent believe that mobile app stores only make available apps that safeguard their privacy. Also, while nearly one in three mobile users (31 percent) report that they would share information in exchange for free apps, users overall are slightly less willing to make this exchange compared to a year ago.
Behavioral advertising continues to raise warning signals for mobile users and remains highly unpopular. While 62 percent of smartphone users are aware advertisers track mobile activities for targeted ads, only a miniscule 1 percent likes it. Additionally, less than 10 percent of smartphone users are willing to share specific location information, web surfing behavior, their home address or list of contacts with mobile apps.
Privacy Certification and Seals Strengthen Consumer Confidence
In addition, the survey shows that privacy certifications and seals strengthen consumer confidence and trust levels for websites. Consumer awareness of the DAA's AdChoices Icon has nearly tripled since 2011 when it was first introduced (14% in 2012 vs. 5% in 2011 and today 37 percent of consumers report that they feel more positively about OBA when presented a sample ad with the icon. Awareness of the TRUSTe seal also jumped significantly, with 72 percent of consumers now familiar with the TRUSTe logo (up from 64 percent in 2011).
Methodology
Conducted online by Harris Interactive on behalf of TRUSTe, the surveys were completed within the U.S. between May 31 and June 6, 2012. A total of 1,033 surveys were conducted among U.S. adults 18 and older and 554 smartphone users ages 18 and older for mobile data. The online surveys are not based on probability sample and therefore no estimate or theoretical sampling error can be calculated. For complete survey methodology, including weighting variables, please email mediarelations@truste.com.
About TRUSTe
TRUSTe is the leading privacy management solutions provider and offers a broad suite of solutions that enable companies to safely and efficiently handle the customer data powering their online businesses -- including advertising, cloud services, mobile applications, and websites. Over 5,000 web properties from top companies like Apple, AT&T, Disney, eBay, HP, Microsoft, and Nationwide rely on TRUSTe to ensure compliance with evolving and complex privacy requirements. TRUSTe's mission, based on a "Truth in Privacy" framework, is built on a solid foundation of transparency, choice and accountability regarding the collection and use of personal information. TRUSTe's privacy seal is recognized and trusted by millions of consumers as a sign of responsible privacy practices. For additional information on TRUSTe and its offerings, please visit http://www.truste.com.
Image Available: http://www2.marketwire.com/mw/frame_mw?attachid=2039140

Add to Digg Bookmark with del.icio.us Add to Newsvine
Media contact:
Kim Barsi
Storyboard PR for TRUSTe
(415) 516-5863
trustepr@storyboardpr.com


Copyright @ Marketwire
Page: 1
Related Keywords:
Online Privacy, Mobile Privacy, TRUSTe, OBA, privacy and security, mobile apps, privacy management, Home, Internet, Security, Adults, Communications, Web, Smart Phone, Applications, Security, browser, EMail, Sales, Applications, Advertising, Education, Security, Internet, Security, Internet Server Applications, E-mail, Management, CEO/CFO, Prosumer/Consumer, Business, Handheld PC/PDA, PDA/Smartphone, email, USA, Marketwire, HP, Internet Technology, Business, Email, Adults,
---