TRUSTe Releases Great Britain Privacy Research; Expands EU Team to Address Growing Privacy Concerns and Support Business Needs
Privacy Research Reveals Alarming Lack of Confidence and Trust
(March 20, 2012)

LONDON -- (Marketwire) -- 03/20/12 -- Today, at the iMedia UK Digital Summit, TRUSTe, the leading privacy management solutions provider, issued the British Consumer Confidence Edition of its ongoing TRUSTe Privacy Index Series, measuring consumer privacy issues and their corresponding business impact. Conducted online by Harris Interactive on behalf of TRUSTe between February 28 and March 7, the Great Britain study shows widespread concern among online British adults: 90 percent of British adults worry about their online privacy at least sometimes; 37 percent do not trust most companies with their personal information online; and 88 percent avoid companies that they believe do not protect their privacy.
In addition, TRUSTe today announced it has expanded its EU team to meet increasing consumer concerns in Europe, as well as address evolving business compliance requirements, such as the imminent "EU Cookie Directive" deadline. As part of its expansion, the company has appointed Danilo Labovic to the newly created position of EMEA Managing Director (previously EMEA Enterprise Sales Director in Symantec's Trust Services business unit) and named Richard Foster Director of Ad Solutions, UK (previously Digital Director at Future Publishing Ltd.). Labovic will drive TRUSTe's expansion across EMEA to address the surging demand for privacy management solutions and Foster will direct TRUSTe's advertising solutions team across the EU in order to better support regional customers.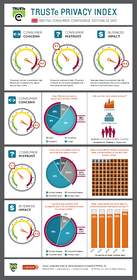 "The findings of our Great Britain study mirror TRUSTe's findings in a U.S. based study conducted earlier this year," said Chris Babel, CEO of TRUSTe. "Clearly, consumers around the world are overwhelmingly concerned about their privacy online. By strengthening TRUSTe's presence in the EU, we can better support our European clients and help them build the trust and confidence of their customers."
The TRUSTe announcements come just two weeks following the introduction of its powerful EU Cookie Audit service (see release here) and reinforce TRUSTe's ongoing commitment to provide the privacy expertise, technology, and support companies need to do business in the EU.
Great Britain Consumer Confidence Privacy Index (Q1 2012)
The index provides insights and analysis in three key areas: consumer concern; consumer trust; and business impact. Key findings include:
Consumer Concern - Meter reading of 9.0
Ninety percent of online British adults surveyed are worried about their privacy online
Londoners, 25-34 year olds, and adults with children worry the most
Consumer Trust - Meter reading of 3.7
Thirty-seven percent of those surveyed do not trust most companies with their personal data online
Yet, 95 percent of British adults believe companies have a responsibility to protect their privacy online
Business Impact - Meter reading of 8.8
Eighty-eight percent of those surveyed avoid doing business with companies they do not feel protect their privacy
Further, older British adults are significantly more likely to avoid doing business with companies they do not trust
To view the latest TRUSTe Privacy Index: Great Britain Consumer Confidence Edition, click here.
Survey Methodology
These studies were conducted online by Harris Interactive on behalf of TRUSTe among a total of 2,012 adults aged 16 and older within Great Britain from February 28 - March 7, 2012 via its Global Omnibus product and online among 2,415 U.S. adults aged 18 and older within the United States via its QuickQuery omnibus product. Figures for age, sex, education, region, and Internet usage were weighted where necessary to bring them into line with their actual proportions in the population. This data was weighted to reflect the composition of the online adult population. For complete survey methodologies, including weighting variables, please contact [email protected].
New TRUSTe Executive to Speak at iMedia UK Digital Summit
Labovic will speak at the iMedia UK Digital Summit in a session scheduled for Wednesday, March 21, where he will share more analysis and insights gained from TRUSTe's latest Privacy Index.
"Numerous changes are taking place in the EU market, and there is no company better prepared to meet them than TRUSTe," said Labovic. "I am thrilled to join TRUSTe at this critical time and bring its innovative privacy solutions to companies in the EU. TRUSTe gives companies the ability to respond to evolving regulatory requirements and offers an unparalleled foundation for ensuring consumer trust and transparency. This allows companies to focus on their core business, while continuing to safely pursue emerging online opportunities."
About TRUSTe
TRUSTe is the leading privacy management solutions provider and offers a broad suite of solutions that enable companies to safely and efficiently handle the customer data powering their online businesses -- including advertising, cloud services, mobile applications, and websites. Over 5,000 web properties from top companies like Apple, AT&T, Disney, eBay, HP, Microsoft, Nationwide, and Yelp rely on TRUSTe to ensure compliance with evolving and complex privacy requirements. TRUSTe's mission, based on a "Truth in Privacy" framework, is built on a solid foundation of transparency, choice and accountability regarding the collection and use of personal information. TRUSTe's privacy seal is recognized and trusted by millions of consumers as a sign of responsible privacy practices. For additional information on TRUSTe and its offerings, please visit http://www.truste.com.
Image Available: http://www2.marketwire.com/mw/frame_mw?attachid=1920565

Add to Digg Bookmark with del.icio.us Add to Newsvine
Media contact:
Kim Barsi
Storyboard PR for TRUSTe
(415) 516-5863
[email protected]


Copyright @ Marketwire
Page: 1
Related Keywords:
privacy management solutions provider, TRUSTe, privacy issues, online privacy, consumer confidence, USA, Marketwire, , HP, Internet Technology, Business, Internet, Adults, Children,
---