THOUGHT REVOLUTION: HOW TO UNLOCK YOUR INNER GENIUS Hits New York Times, Wall Street Journal, USA Today, Nielsen, and Publisher's Weekly Best Seller Lists in One Week Upon Publication
Groundbreaking Work by William A. Donius Dispels the Mystique of Creativity and Intuition With Instant Results (March 27, 2012)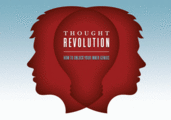 NEW YORK, NY -- (Marketwire) -- 03/27/12 -- THOUGHT REVOLUTION: HOW TO UNLOCK YOUR INNER GENIUS by William A. Donius (March 2012, Changing Lives Press) rocks the publishing world by hitting all the major bestseller lists upon publication. The New York Times, Wall Street Journal, USA Today, Nielsen, and Publisher's Weekly all report heavy sales landing the groundbreaking work solidly on their coveted lists.
THOUGHT REVOLUTION demonstrates how to tap into the right brain -- the place where intuition and creativity exist -- in a simple, easy and dramatic fashion. The author, Bill Donius, (www.williamdonius.com) takes readers on a journey that will set them free -- and it all begins with moving the pen from one hand to the other. Donius' method draws upon the work of Nobel Prize winning Roger Sperry, MD, who, in the mid-fifties, demonstrated the lateralization of brain functioning.
Thought leaders agree that in order to compete in the global economy of the 21st Century, it is imperative that we think creatively to boost innovation. The problem: Neither the neuroscientists nor the thought leaders are giving us what we really need -- the HOW to -- HOW to think differently -- HOW to use our innate creativity -- HOW to tap into our inborn intuition.
The process in THOUGHT REVOLUTION is simple. It involves using an individual's non-dominant hand as the neural pathway to the right brain. THOUGHT REVOLUTION becomes the guidebook for all those who become paralyzed at hearing the word "creative."
Donius rose through the ranks of corporate America, ultimately becoming Chairman and CEO of a major St. Louis bank. He also served on the U.S. Federal Reserve Board-TIAC Council in Washington, D.C. with Ben Bernanke for two years.
Donius also uses the work of Dr. Lucia Capacchione who wrote the forward to the book. Author of RECOVERY OF YOUR INNER CHILD and THE POWER OF THE OTHER HAND, Dr. Capacchione says, "After doing all the exercises in Part Two of Bill's book, I can attest that it delivers on its promise: You can change the way you think and find your truth in whatever challenges you... THOUGHT REVOLUTION will set you free."
Add to Digg Bookmark with del.icio.us Add to Newsvine
Roberta Greene
Email Contact
917-957-3415


Copyright @ Marketwire
Page: 1
Related Keywords:
Author William A. Donius, USA,Marketwire, ,Lifestyle,Other,
---