TEC Accreditation: UNIT4 Reinvents Cloud Multi-Tenancy
New category of ERP multi-tenancy for mid-and large sized organizations accredited by TECLow risk, change-ready SaaS delivers all the benefits of multi-tenancy with the security of separate databases
(June 29, 2012)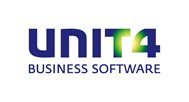 SLIEDRECHT, THE NETHERLANDS -- (Marketwire) -- 06/29/12 -- UNIT4 (EURONEXT AMSTERDAM:UNIT4), a global business software group, announced today that its multi-tenant cloud deployment model has been accredited by Technology Evaluation Centers (TEC) as "reinventing cloud multi-tenancy" by delivering all the benefits of multi-tenancy while providing peace of mind for larger organizations that require a change-oriented platform with the security of a separate database. Its 'pure cloud' software-as-a-service (SaaS) deployment option has security and change features that are competitively unique - and advantageous - to organizations seeking low-cost business agility.
The TEC accreditation report "UNIT4 Multi-Tenancy SaaS Delivery Model Accreditation - June 2012" applies to UNIT4's Agresso ERP cloud deployment option, Vita Cloud Angel, housed on Agresso's change-centric Vita(TM) architecture backbone. Today, both single and multi-tenant Vita Cloud Angel implementations of Agresso are running globally in 200+ companies, and a fast-growing percentage of UNIT4's software revenue is now coming from cloud-based contracts.
UNIT4's unique multi-tenant approach: five advantages
UNIT4 has created a new category of multi-tenancy for larger organizations that are concerned about the risks associated with traditional multi-tenancy and require a more secure and more change-ready cloud solution. The multiple tenants share the application and database "servers", yet have a unique advantage over other ERP multi-tenant options: their information is protected and "move-ready" in separate databases. For sophisticated and highly configurable solutions such as ERP, many businesses and organizations want a much higher level of data/information security rather than being part of one pervasive database shared by all tenants.
By approaching multi-tenancy in this way, UNIT4 offers all the benefits of multi-tenancy with unique advantages for the customer and solution provider:
For the customer:
-- Improved Data Security/Lower Risk: Many large public sector and commercial organizations prefer to run separate databases and cite concerns that, even with partitions, a single database carries an inherent risk of exposing or mixing up information/data between customers. -- Post-Implementation Agility/Portability: UNIT4's approach makes it easy to move the whole system to different deployment models and/or physical locations, as business, cost, preference or other requirements change. This releases customers from fear of "lock in".
From the ERP suppliers perspective (which simultaneously provides stability and cost benefits to customers):
-- No re-architecting of the original (proven) product -- No maintenance required for two parallel versions of the system -- No limitations to moving large volumes of customers into the cloud
"UNIT4 has a global reputation for both supporting low-cost change and for providing choice," said Ton Dobbe, Vice President, Product Marketing at UNIT4. "We will always be the leader in supporting changing business requirements on every level. What could be better for an organization than to select a cloud deployment, and then decide it's not for you and switch easily to a traditional on premise model? Or how about easily being able to merge data and processes with an acquired company? Or handle changing tax or environmental regulations, reorganizations or market requirements seamlessly? We're not just delivering a security-optimized multi-tenant cloud option: we are delivering the optimum ERP solution for organizations to keep up with this fast-changing marketplace - both from a technology and cost perspective."
TEC accreditation report covers multiple requirements
As part of the accreditation process, TEC interviewed both UNIT4 architectural executives as well as current Agresso ERP users who are currently deployed in a cloud multi-tenant SaaS environment on areas including data security and compliance. UNIT4's software upgrades also all occur simultaneously and concurrently, with all clients automatically running on the same version of Agresso software. Agresso clients reported high levels of satisfaction with the quality of UNIT4's service-level agreements (SLA's) for uptime and security, for procedures and documentation, for its communications regarding any changes to the physical location of customers' data and UNIT4's overall cloud-based security strategies and methodologies.
UNIT4 is a leading provider of enterprise software for Businesses Living IN Change (BLINC)(TM). Organizations seeking Agresso's low-cost-of-change enterprise software capabilities can deploy Agresso via hardware servers that are located on site and/or off site; and via single or multi-tenant data environments in private and/or public clouds. The solutions can also be paid for via traditional software licensing agreements, or on usage-based service contracts.
The TEC Report, dated June 2012, states: "In conclusion, along with professional services delivered during implementation, UNIT4 also provides services to ensure that its customers understand the benefits and challenges of multi-tenancy, as well as guaranteeing uptime and data integrity, and helping clients deal with cloud computing legal issues that they may not be aware of."
About Technology Evaluation Centers
Technology Evaluation Centers (TEC), the leading advocate for the enterprise software purchaser, helps private- and public-sector organizations choose the best enterprise software solutions for their unique business needs - quickly, impartially and cost-effectively. TEC delivers an unmatched range of online software evaluation and selection services that minimize the costs, risks and duration of software selection projects, and bridges the gap between enterprise decision makers and the vendor/value-added reseller (VAR) community.
TEC's proven approach combines extensive online IT research; a proven software selection methodology; state-of-the-art Web-based software selection technology; and the experience of its analysis and software selection experts.
About UNIT4
UNIT4 is a global cloud-focused business software and services company aimed at helping dynamic public sector and commercial services organizations to embrace change simply, quickly and cost effectively in a market sector it calls 'Businesses Living IN Change' (BLINC)(TM). The Group incorporates a number of the world's leading change embracing software brands including Agresso Business World, our flagship ERP suite for mid-sized services intensive organizations; Coda, our best-of-class financial management software; and FinancialForce.com, the cloud applications company formed with investment from salesforce.com.
With operations in 17 European countries, as well as 7 countries across North America, Asia Pacific and Africa and sales activities in several other countries, revenue of EUR454.7 million was realized in 2011. UNIT4 is headquartered in Sliedrecht, the Netherlands and has over 4,000 employees. It is listed on Euronext Amsterdam by NYSE Euronext and is included in the Amsterdam Midcap Index (AMX). For more information on UNIT4 or any of its operating companies, please follow us on Twitter @UNIT4_Group, visit our Facebook page http://www.facebook.com/UNIT4BusinessSoftwareNV, visit the website at www.unit4.com.
Contacts:
UNIT4
Emma Keates
Group PR Manager
+44 (0)1423 537977
[email protected]
www.unit4.com


Copyright @ Marketwire
Page: 1
Related Keywords:
UNIT4 , Sales,Applications,Marketing,Sales & Marketing,Security,Database,Business Issues,Hardware,Cloud Computing,Other,Law & Regulations,application services,Management,Sales,Sales,Africa,Marketwire,IT (Information Technology),Security,Financial,Business,Other,
---