Symantec Announces Relationship With Tekmark Global Solutions and Centri Technology to Deliver Hosted, User-Defined Security Controls
(October 25, 2011)
CHICAGO, IL -- (Marketwire) -- 10/25/11 -- 4G World 2011 -- Symantec Corp. (NASDAQ: SYMC) today announced a strategic relationship with Tekmark® Global Solutions, LLC and Centri Technology, Inc. to deliver hosted, user-defined security controls that will enable communication service providers to offer their mobile subscribers the ability to improve their safety online, even when roaming across operator networks or using WiFi access. For families, user-defined controls can be configured for specific website access, inappropriate links or for time-of-day controls. For enterprises, global or departmental website controls and reporting are enabled.
Click to Tweet: Symantec to help parents and corporations control and monitor user experiences online across operator networks: http://bit.ly/pMKFFD
The hosted, user-defined security controls will be included in a solution called Symantec Accelerated Next Generation Network Protection (NGNP). Accelerated NGNP is designed to be able to be rapidly deployed without impacting the operator's network. As such, the online, operator-based service is planned to offer significant levels of granularity and flexibility by enabling multiple levels of configurability for content controls, such as identifying certain URLs or groups of URLs to allow or block, creating a walled garden and inspecting web downloads for malicious content. By working across operator networks, this solution will assure subscribers that individuals using the service will be able to connect to any IP access network and will continue to be regulated and protected. Parents, for example, can feel comfortable their children are being monitored regardless of their location.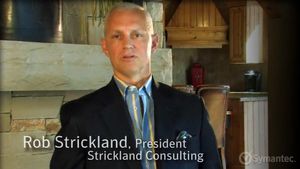 Accelerated NGNP plans to leverage the core Symantec NGNP platform for communications service providers, which was announced at 4G World last year. Tekmark Global Solutions will provide the managed service capabilities of this solution by hosting and maintaining the User Controls service in its carrier-grade data centers. Centri Technology will provide its BitSmart platform, a critical client and server component, that enables the security controls to go "over the top" of the service provider network and optimize the data transmission across the IP network. It helps by optimizing and encrypting network data to overcome latency issues, thus increasing mobile network speeds and providing network security management. Together, the solution plans to offer the core user control features that provide for an end-to-end solution ready for rapid deployment, allowing for immediate revenue recognition.
Please visit the Symantec booth #2015 at 4G World 2011 to view a demo of the offering. For more information, please visit http://go.symantec.com/accelerated-ngnp.
Quotes
"As mobile Internet usage continues to increase, it's vital to protect users from the many lurking dangers online and enhance the value of their experiences. We want to give communication service providers confidence that they can provide their subscribers with the necessary tools to set boundaries to protect users, regardless of the operator network. The sophisticated user controls provided with this new environment offer unique roaming controls that surpass anything that has been available to date in the market. Offering operators a choice to deploy in a hosted environment provides a significant competitive advantage and the confidence they're looking for."
-- Doug Havas, Vice President, Communications Industries, Symantec Corp.
"With the year-over-year exponential increase of mobile data traffic, there's also an increased desire for mobile solutions that offer security and control without sacrificing and complicating the end users' experience. Together, Centri, Symantec and Tekmark are providing users even greater control of their mobile computing environments while enhancing online security and trust."
-- Rob Strickland, President, Strickland Consulting LLC and formerly Sr. VP/CIO, T-Mobile USA
"Mobile operators are looking for ways to develop new revenue streams, bring new services to market quickly and control their costs. Centri understands these issues. Our BitSmart platform reduces deployment costs and enables over-the-top solutions, like Symantec's Accelerated NGNP, by expanding network capacity and performance, while addressing the security challenges that come with using mobile devices."
-- Vaughan Emery, CEO, Centri Technology
"This solution is a 'game-changer' in its ability to efficiently facilitate new revenue producing services by breaking down the barriers between providing customers what they need and the ability of the carriers network to quickly provide it. By deploying cost effective, full service, hosted operations that are carrier-grade, Tekmark believes it can, along with Symantec and Centri Technology, rapidly provide profitable security services for the mobile operator."
-- Guy DelGrande, CEO, Tekmark Global Solutions
Availability
Symantec Accelerated Next Generation Network Protection is expected to be available in the first half of 2012.
Related
Connect with Symantec
About Tekmark Global Solutions, LLC
Tekmark Global Solutions, LLC provides information technology, telecom services, and business solutions to a broad range of Fortune 100 and Fortune 500 companies worldwide. Tekmark's client list is comprised of top companies in the telecommunications, financial services, technology, insurance, health care, pharmaceutical, and logistics industries, as well as state and city government. Tekmark's expertise lies in developing and integrating information systems, operating and improving technology and business processes, and helping clients evolve to the next generation of technologies. As one of the largest privately held technology and telecom solutions providers, Tekmark delivers innovative, cost-effective, results-driven solutions to help clients excel in their market place. More information is available at www.tekmarkinc.com.
About Centri Technology, Inc.
Centri Technology, Inc. is an emerging leader in new wireless service technologies. Based on advanced data acceleration technologies, Centri developed its BitSmart solution that enables a better wireless user experience. This solution is critical for any wireless service, including cloud computing, mobile applications and online gaming; where increased speeds, low latency, instant error recovery, bidirectional performance, and lossless data reproduction are desirable and even critical. Find more information at www.centritechnology.com.
About Symantec
Symantec is a global leader in providing security, storage and systems management solutions to help consumers and organizations secure and manage their information-driven world. Our software and services protect against more risks at more points, more completely and efficiently, enabling confidence wherever information is used or stored. More information is available at www.symantec.com.
NOTE TO EDITORS: If you would like additional information on Symantec Corporation and its products, please visit the Symantec News Room at http://www.symantec.com/news. All prices noted are in U.S. dollars and are valid only in the United States.
Symantec and the Symantec Logo are trademarks or registered trademarks of Symantec Corporation or its affiliates in the U.S. and other countries. Other names may be trademarks of their respective owners.
FORWARD-LOOKING STATEMENTS: Any forward-looking indication of plans for products is preliminary and all future release dates are tentative and are subject to change. Any future release of the product or planned modifications to product capability, functionality, or feature are subject to ongoing evaluation by Symantec, and may or may not be implemented and should not be considered firm commitments by Symantec and should not be relied upon in making purchasing decisions.
Image Available: http://www2.marketwire.com/mw/frame_mw?attachid=1776522

Add to Digg Bookmark with del.icio.us Add to Newsvine
CONTACT:
Spencer Parkinson
Symantec Corporation
+1 801-995-7743
[email protected]

Nikole Evankovich
Connect Marketing
+1 801-373-7888
[email protected]


Copyright @ Marketwire
Page: 1
Related Keywords:
communication service providers, hosted user controls, user-defined security controls , Applications, Insurance, Health Care, Storage, Security, Internet, Business Issues, Cloud Computing, Services, Software, Misc, Networks, Security, Security, Internet Server Applications, Web Servers, Management, CEO/CFO, USA, Marketwire, Inc., , IT (Information Technology), Security, Financial, Communications Technology, Internet Technology, Medical, Computer Science, Business, Internet, Children, Parents, Other,
---