SwimOutlet.com Launches Mobile Site and Becomes First Retailer to Integrate Mobile Live Chat
(July 14, 2011)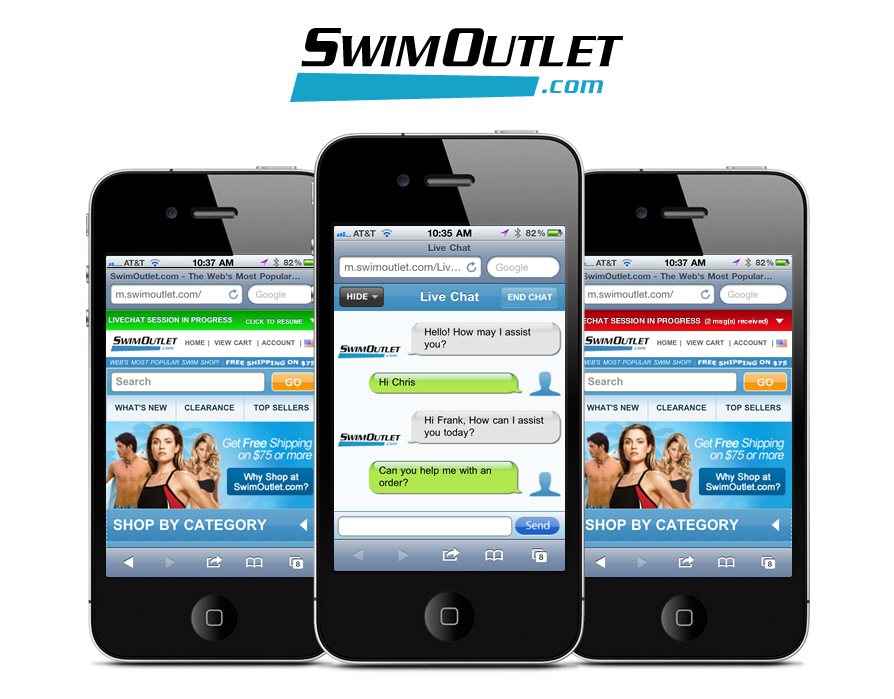 San Jose, CA (PRWEB) July 14, 2011
SwimOutlet.com, the webs most popular swim shop, has launched its mobile optimized site that enables users to browse and order all of the latest swimwear, swimming products and accessories right from their smartphones by going to http://www.SwimOutlet.com, which will redirect to the mobile site.
The mobile site also includes the integration of a live chat function in which customers can initiate a chat with a customer service representative within the browser, while continuing to shop and browse the site with the chat session open. SwimOutlet.com is the first online retailer to implement live chat on a mobile browser through the LivePerson platform.
A good segment of SwimOutlet.coms customers are parents many of whom are often on noisy pool decks waiting for their kids to finish practice or a competition, said SwimOutlet.com CMO Alexander Sienkiewicz. Getting on the phone with a customer service rep in a noisy environment can be inconvenient during those times, so we are pleased to have integrated mobile live chat functionality.
SwimOutlet.com has created one of the most advanced mobile shopping cart systems available today. To create the mobile platform, SwimOutlet.com created the front-end and back-end infrastructure entirely in-house unlike other online retailers, which have frequently used third-party providers for their mobile platforms. Among its many features, the platform uses cutting edge mobile technologies such as JQTouch and Jquery, advanced category filtering (by size and color), Live Customer Service Chat with LivePerson's API, and even gift wrapping functionality.
"SwimOutlet.com's move to launch mobile Live Chat demonstrates a strong commitment to customer satisfaction. By using LivePerson APIs to enable Mobile Chat, SwimOutlet.com can engage their customers through any mobile environment, providing customers with products and real-time support at anytime and anywhere," said LivePerson's VP of Mobile, Ethan Alexander. "SwimOutlet.com is the first customer to implement Live Chat on a mobile browser, and joins many leading companies leveraging LivePerson's platform to deliver a superior customer experience through multiple channels."
SwimOutlet.com's mobile site is compatible with the iPhone, Android, & BlackBerry. It allows for incredibly easy category and product navigation, and features an optimized and secure checkout system for users.
Rather than creating multiple mobile shopping applications for the various smartphone operating systems like iOS and Android, we chose to invest our efforts into doing all that we can with a smartphone web browser, said Sienkiewicz. We are extremely happy with the functionality we were able to achieve through a mobile browser, and question whether standalone applications are really necessary. In addition, as we approach the era of HTML5, we'll be able to do a lot more with the browser.
The mobile site is accessible now by going to http://m.swimoutlet.com through a smartphone.
About SwimOutlet.com
SwimOutlet.com is the largest online specialty store for aquatics in the United States. The online retail store grew out of a dedication to providing the best goods and services to anyone interested in aquatic activities and sports. SwimOutlet.com has the largest selection for swimming, water polo, fashion, beach and surf! In addition to having an extensive selection and the lowest prices, SwimOutlet.com offers phenomenal customer service and fast shipping. The company has won the hearts of over two million happy customers whove helped spread the word on where to find the best deals. It has quickly developed into the webs most popular swim shop! For more information, visit http://www.swimoutlet.com.
# # #
Read the full story at http://www.prweb.com/releases/2011/7/prweb8639017.htm.
Page: 1
Related Keywords:
health and beauty product, health, health treatment, health organisations, government health care, private health care, , health and safety at work, lifestyle and leisure, lifestyle (house and home), health insurance, sports organisations, sports event, sports disciplinary action, sports awards, economy, business and finance, financial and business service, business enterprises, public relation, business (general), work relations, public holiday, international relations, civil and public service, public officials, public employees, public finance, church and state relations,
---