Suzanne Somers Enters App World With the Launch of Suzanne Somers NAP26 App
Revolutionary Audio Sleep-Aid Program Provides the Benefits of Sleep With a Convenient, Non-Drug Solution
(April 27, 2011)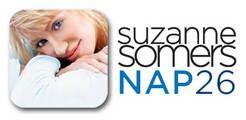 SEAL BEACH, CA -- (Marketwire) -- 04/27/11 -- Suzanne Somers, leading natural health and wellness advocate, will debut a new, non-drug solution for those struggling from fatigue or sleep deprivation, the Suzanne Somers NAP26 App. This new application helps restore energy and productivity with an audio-based, time-saving sequence that provides listeners the rest and rejuvenation of 3 hours of sleep in 26-minutes.
The Suzanne Somers NAP26 App for iPhone, iPad and Android platforms is now available from the Apple App Store and Android Marketplace. The Blackberry platform will follow by June 1, 2011.
"I am thrilled to announce my entrance into the app world with the new Suzanne Somers NAP26 App," says Suzanne Somers. "This new application allows me to grab a powernap with my phone or iPad and feel the benefits of 3 hours of sleep in just 26 minutes."
When she's on her lecture circuit, Somers says most every member of her audience complains of sleep deprivation. Many use caffeine to stay awake in the day and sleeping pills to get to sleep at night. Suzanne Somers NAP26 provides a healthier alternative to drugs or caffeine; using binaural pulses and beats that allow the listener to drift into a restful sleep without falling into "deep sleep." This prevents the user from waking up groggy. Somers was intrigued by NASA research on test pilots, which revealed 26 minutes as the optimal amount of napping time to boost productivity, increase focus and encourage a positive mood. The developers of NAP26 used this research to create the APP.
The Suzanne Somers NAP26 App guides listeners through the first two stages of sleep, where drowsiness and light sleep occur, and wakes them prior to the deep sleep stage with the gentle sound of birds. The slight difference in sound vibration between the right and left ears matches natural sleeping patterns and helps signal the brain to enter a more relaxed state or a higher level of alertness. At the end of the program, listeners feel refreshed and alert.
In her NY Times Bestseller, Breakthrough: Eight Steps to Wellness, Somers names Step 8: "Get Proper Sleep." She explains how our natural sleep cycle allows our bodies to heal and restore during this essential rest period. She cites numerous studies showing that lack of sleep can cause hormonal disruptions, weaken our immune system, affect decision-making, communication skills, memory and even cause weight gain. "It is essential to understand that proper sleep is as important to our health as supplementation, detoxification, good nutrition, and exercise," says Suzanne. "When I can't get the 8 hours of sleep I know my body needs, this application offers the most convenient way to take a restorative nap. As a multi-tasker with an extremely challenging schedule, the app allows me to catch up on my sleep in just 26 minutes -- anytime, anyplace and without feeling groggy. The soothing, pulsating sounds help me block out the world and enter a relaxed, regenerative state. I wake up charged and focused."
Students, 24/7 professionals, doctors, nurses, travelers, and new parents, as well as those experiencing fatigue or sleeplessness due to anxiety or medical conditions, will benefit from the natural, convenient and effective approach of this app. Suzanne Somers NAP26 App is the perfect natural alternative to over the counter or prescription sleep-aid remedies and will benefit those who sometimes need an extra boost of energy to make it through their busy days.
For more information on the Suzanne Somers NAP26 App, visit www.nap26.com or contact Kristina Godfrey of Junger-Godfrey PR at [email protected] or 949.720.7062.
ABOUT SUZANNE SOMERS: Suzanne Somers is one of America's most popular and beloved personalities. In a multifaceted career that has spanned nearly three decades, she has achieved extraordinary success as an actress, New York Times bestselling author, entrepreneur, singer, comedienne, and lecturer. Suzanne has authored 20 books, including 11 New York Times bestsellers and five #1 New York Times bestsellers. There are currently more than 25 million copies of Suzanne's books in print. As one of America's most informed and dedicated health care advocates, Suzanne has been acknowledged for her leading role in bringing information on today's groundbreaking anti-aging medical protocols, preventive care, long-term health and hormone replacement therapies to women and men across the country.
Add to Digg Bookmark with del.icio.us Add to Newsvine
Kristina Godfrey
Junger-Godfrey PR
949.720.7062
Email Contact


Copyright @ Marketwire
Page: 1
Related Keywords:
Suzanne Somers NAP26 App, Marketwire, Apple Computer, Medicine, Diet, Therapy, Surgery, Medication, Vitamins/Nutrition, Medical, Space Science, Parents, Men, Women,
---