SupportSave Completes Buyback Shares and Receives $175,000 From Image Entertainment
(December 22, 2011)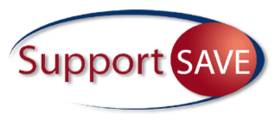 LOS ANGELES, CA -- (Marketwire) -- 12/22/11 -- SupportSave (OTCBB: SSVE) bought back and retired approximately 2,182,683 shares during the month of October and November of this year. This concludes our buyback initiative. The full details of the buyback will be disclosed in our upcoming 10-Q.
On December 19, 2011, SupportSave and its wholly-owned subsidiary SS Media Ventures, LLC received the initial payment of $175,000 with another $100,000 due by January 31, 2012. The $275,000 is an advance from Image Entertainment, a major film distributor. Additionally, there will be revenue sharing in perpetuity. "Division III: Football's Finest" is being heavily promoted in the media, with actor Andy Dick making appearances on ABC's The View, The Adam Carolla Show and Inside Edition, with more to follow. The film can be viewed on Video On Demand on most cable and satellite providers by searching part of its name -- "Division III: Football's Finest." The film features an ensemble cast of Andy Dick, Adam Carolla, Mo Collins, Will Sasso, Bryan Callen, and Michael Jace.
There will be a premier and red carpet event at the world famous Arclight Theatre in Hollywood, California on January 12, 2012. Shareholders and followers of SupportSave are invited to attend at no cost. Email: [email protected] to be added to the list.
http://www.imdb.com/title/tt1562849/
http://www.variety.com/article/VR1118043093
"While both the buyback and the film funding have been wildly successful initiatives, it is our intention to focus all of our resources on our core business for the foreseeable future. We need to build our cash reserves, strengthen our balance sheet and be prepared to expand our delivery capacity to meet increased demands," says Christopher Johns, President & CEO.
You can pre-order the DVD or Blueray on Amazon: http://www.amazon.com/Division-III-Footballs-Andy-Dick/dp/B005XN6OHW/ref=sr_1_1_det?ie=UTF8&qid=1324570723&sr=8-1#productPromotions
About SupportSave Solutions, Inc.
SupportSave Solutions, Inc. is the leading low-cost provider of outsourced customer care and back-office support. SupportSave operates American-managed delivery centers in the Philippines. SupportSave is headquartered in Los Angeles, CA. Visit http://www.SupportSave.com/ for more information.
Add to Digg Bookmark with del.icio.us Add to Newsvine
Chris Johns
323-448-4325
Email Contact


Copyright @ Marketwire
Page: 1
Related Keywords:
SupportSave Solutions, Inc., Marketwire, Inc., , Film, Business, Entertainment,
---