Sunbelt Software Announces VIPRE Antivirus + Antispyware
All-New Next-Generation Security Product Delivers Comprehensive Protection Against a Broad Range of Threats, With High Performance and Low System Resource Usage
(July 22, 2008)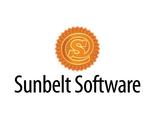 CLEARWATER, FL -- (MARKET WIRE) -- 07/22/08 -- As part of its ongoing efforts to address the rapidly evolving malware landscape facing PC users, Sunbelt Software today announced the release of its all-new security solution, VIPRE(TM) Antivirus + Antispyware. VIPRE is a completely new product that combines antivirus, antispyware, anti-rootkit and other technologies into a seamless, Tightly integrated product. Utilizing next-generation technology, the product provides powerful protection against today's highly complex malware threats, without the performance and resource headaches of many traditional antivirus products.
"With VIPRE, we wanted to create something that would leapfrog the industry in terms of system performance with the ability to deal with today's complex and blended threats," said Alex Eckelberry, CEO of Sunbelt Software. "We started with a blank slate, and the result is a clean, fast, and comprehensive anti-malware solution."
"An antivirus product is useless if the user uninstalls it due to frustration with high system resource usage, slow boot times, endless popups and, worse, an inability to deal effectively with certain types of malware," says Eric Sites, CTO of Sunbelt Software. "VIPRE is designed to be a high-performance product, with broad-ranging detection and remediation of viruses, trojans, worms, and spyware."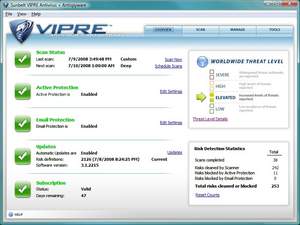 Proprietary antivirus and antispyware detection engine uses all-new technology
At VIPRE's core is an antivirus and antispyware engine that merges the detection of all types of malware into a single, efficient, and powerful system. The new technology was developed exclusively by Sunbelt, without building on older generation antivirus engines.
VIPRE uses multiple techniques to inspect the characteristics of all types of potentially threatening files. From simple signature-based detection to dynamic, sophisticated analysis of malware files, VIPRE quickly determines whether a file is good or bad -- enabling comprehensive detection of both existing and new unidentified threats.
VIPRE is Checkmark Anti-Virus Desktop certified by West Coast Labs and will receive additional certifications through other certifying bodies in the coming months.
High-performance with low impact on system resources
User surveys show the biggest frustration with existing anti-malware solutions is bloat and high resource usage. VIPRE addresses these concerns: Designed with the latest programming and architectural methodologies, it runs seamlessly without significantly impairing system performance. VIPRE is also designed for an unobtrusive user experience, keeping notification pop-ups and warnings to a minimum.
Advanced anti-rootkit technology
VIPRE's all-new anti-rootkit technology finds and disables malicious hidden processes, threats, modules, services, files, Alternate Data Streams (ADS), or registry keys on a user's system. Removing rootkits is supplemented by VIPRE's FirstScan(TM), which runs at the system's boot time. FirstScan bypasses the Windows operating system, to directly scan certain locations of the hard drive for malware, removing infections where found.
Real-time monitoring with Active Protection(TM)
VIPRE's Active Protection delivers real-time monitoring and protection against known and unknown malware threats. Active Protection works inside the Windows kernel (the core of the operating system), watching for malware and stopping it before it has a chance to execute on a user's system.
Active Protection incorporates three methods to protect the user: signature matching, comparing a file for an exact match against VIPRE's definition database; heuristic analysis, which looks at the internal characteristics of a file to determine the likelihood that it is malware; and behavioral analysis, observing the actual actions of a program to determine if it is possibly malware. The combination of these three techniques provides an extraordinarily powerful level of real-time protection to the user.
Full protection against email-borne threats
VIPRE includes comprehensive protection against viruses, with direct support for Outlook, Outlook Express and Windows Mail; and support for any email program that uses POP3 and SMTP (such as Thunderbird, IncrediMail, and Eudora).
Real-time live threat data integration with Sunbelt's research center
Uniquely, real-time live threat data information from Sunbelt's research center is integrated directly into VIPRE, using a dedicated window or "active space" in the product. This feature allows Sunbelt researchers to immediately warn customers of any major security outbreaks, and also provides users with a fast and simple way to provide feedback to Sunbelt without exiting the application.
Deep research intelligence a cornerstone to VIPRE's powerful threat protection
VIPRE's ability to provide powerful threat detection and remediation is supported by deep research intelligence from Sunbelt's Malware Research Labs (SMRL). SMRL includes some of the industry's leading malware experts, as well as broad capabilities in automated malware research and analysis. In addition to its proprietary research, SMRL works extensively within the security community, through cooperative relationships with other security companies and groups; and participation in VirusTotal, the largest online malware submission site. SMRL also provides technology to the security industry, with its Sunbelt CWSandbox and ThreatTrack threat data in use by some of the world's largest telecommunication, government, education, search engine, and security organizations.
Pricing, availability and system requirements
A 15-day fully functioning trial version of VIPRE Antivirus + Antispyware is available on Sunbelt Software's website at www.sunbeltsoftware.com.
VIPRE is the first security product to provide an unlimited home site license. For an annual subscription price of $49.95, all PCs in a single household can be protected with a single site license. A single user annual subscription is $29.95, and 3-user subscription is $39.95. Annual subscriptions include one year of threat definition updates, software upgrades, and live US-based toll-free technical support. Sunbelt will also be shipping an enterprise version of VIPRE in August.
An upgrade to VIPRE is available to all existing customers of CounterSpy who have a current subscription plan for $9.95.
VIPRE Antivirus + Antispyware works with Windows 2000 SP4 RU1, XP SP1, 2, and 3 (32 and 64 bit), and Vista (32 and 64 bit) and requires a minimum Internet connection speed of 56 Kbps. Minimum hardware requirements: IBM-compatible 400 MHZ computer with 128MB of RAM and 150MB of free hard disk space. Internet Explorer 6.0 or higher required. Installation of VIPRE Antivirus + Antispyware is not supported on Windows 95, 98, or Me, XP without Service Packs, Macintosh or Linux computers.
About Sunbelt Software
Headquartered in Tampa Bay (Clearwater), Fla., Sunbelt Software was founded in 1994 and is a leading provider of Windows security and management software with product solutions in the areas of antispam and antivirus, antispyware, and vulnerability assessment. Leading products include the CounterSpy product line, Ninja Email Security, Sunbelt Exchange Archiver, and endpoint firewall technologies. The company is part of Sunbelt International Group, based in Paris, France.
For more information about Sunbelt Software, please visit the company's website at: www.sunbeltsoftware.com. To learn more about current activities, products, and ideas at Sunbelt Software, please visit Sunbelt's corporate blog at www.sunbeltblog.com.
Copyright © 2008 Sunbelt Software. All rights reserved. All trademarks used are owned by their respective companies.
Image Available: http://www2.marketwire.com/mw/frame_mw?attachid=801997

Add to Digg Bookmark with del.icio.us Add to Newsvine
Contact:
Laurie Murrell
Sunbelt Software
727-562-0101
Email Contact

S&S Public Relations for Sunbelt Software
Kristin Miller
719-634-8292
Email Contact


Copyright @ Marketwire
Page: 1
Related Keywords:
Sunbelt Software, VIPRE Antivirus + Antispyware, antivirus software, antispyware software, spyware , Windows, Unix, Mac, Win95, Linux, France, Marketwire, Shipping, Environmental Technology, Internet Technology, Internet, Email, Other,
---