Storm8 on Kindle Fire With Amazon In-App Purchases
Mobile Social Gaming Pioneer Sees Single-Game Revenue Grow 1,000%+ With New Amazon Payment Service
(April 10, 2012)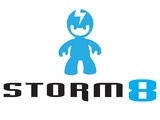 REDWOOD CITY, CA -- (Marketwire) -- 04/10/12 -- In-app purchases on Amazon's Appstore for Android are driving serious revenue for mobile social gaming leader Storm8. In its first integration with Amazon's in-app purchasing system, Storm8 saw sales of virtual goods on Amazon grow more than tenfold to over $700K in sales in the month of March alone, the company revealed today.
Amazon tapped Storm8 in late 2011 as one of the first developers to beta test its in-app purchasing feature, which Amazon officially released today. After seeing more than 10X revenue growth with its popular Farm Story game, Storm8 added six more titles to Amazon's Appstore. Two weeks later, Storm8 and Storm8's TeamLava studio held four of the five spots for the most popular free apps on Amazon.
"We've found the Amazon Appstore for Android to be a world-class service for marketing and merchandising," said Perry Tam, CEO of Storm8. "We were impressed with how quickly we were able to integrate our games with the Amazon Appstore, and we saw the revenue benefits immediately. Revenue for the first title we tested quickly grew more than 1,000% and the more recent titles have done even better. Amazon is incredibly effective at connecting their millions of customers with games they enjoy. In-app purchasing makes the gaming experience even more immersive, which translates to increased sales and better retention. Overall, Kindle Fire and the Amazon Appstore for Android make a powerful combination for social mobile gaming, and we'll be bringing much more of our catalog to Amazon in the near future."
Storm8 and Storm8's TeamLava studio currently offer 10 games total on the Amazon Appstore for Android, ranging from colorful, lighthearted titles like Pet Shop Story and Restaurant Story, to the winner-take-all team-strategy MMO World War and Kingdoms Live. All support in-app purchasing, and all are optimized for the dual-core processor and the 7-inch, 16-million color display of Amazon's Kindle Fire.
A pioneer of social mobile gaming on iOS and Android, Storm8 has a history of quickly adopting new mobile platforms and new platform features. In 2011 it brought HTML5 versions of its three most popular titles, iMobsters, World War and Vampires Live, to Facebook as a launch partner for Facebook's Mobile Web Platform. It was also one of the first to adopt the new turn-based gaming functionality in Apple's iOS5.
Storm8 and TeamLava titles on the Amazon Appstore for Android include:
Bakery Story
City Story
Farm Story
Fashion Story
Kingdoms Live
Nightclub Story
Pet Shop Story
Restaurant Story
World War
Zoo Story
About Storm8, Inc.
Storm8, Inc. is the leading developer of social games for iPhone and Android, with more than 210 million total downloads to date. It offers games under its own brand as well as the brand of TeamLava, an innovative studio owned by Storm8. Storm8's network of highly successful games includes iMobsters, World War, Vampires Live, Bakery Story, Restaurant Story, and Pet Shop Story. Storm8, Inc. is located in Redwood City, California. For more information, please visit www.storm8.com and www.teamlava.com.
Trademarks
Storm8, TeamLava and the Storm8 network games are trademarks of Storm8 and/or its affiliates. Other names may be trademarks of their respective owners.
Media contact:

Mark Karayan
LEWIS PR for Storm8
[email protected]
+1 (415) 992-4400


Copyright @ Marketwire
Page: 1
Related Keywords:
mobile, smartphone, ios, google play, amazon, android, mobile games, casual games, kindle fire, Displays,Internet,Communications,Digital Audio,Web,Smart Phone,iPods,iphone,Search,Google,Sales,Marketing,Sales & Marketing,Internet,Sales,Sales,Display,Marketwire, Inc., ,Apple Computer,Internet Technology,Game Technology,Other,
---