Storm8 Lands on Facebook Mobile Apps With a Bang
Blockbuster Mobile Games World War, iMobsters and Vampires Live Available Today on Facebook Mobile Apps and Site
(October 10, 2011)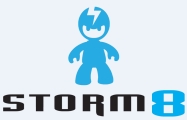 REDWOOD CITY, CA -- (Marketwire) -- 10/10/11 -- Storm8, the leading developer of social games for iPhone and Android, launched three of its most popular titles today on Facebook's mobile apps and mobile site. Players can now access World War, iMobsters and Vampires Live through the Facebook mobile app on Android, iOS and other HTML5-capable devices.
By joining forces with Facebook, Storm8 is able to leverage the powerful social features of the Facebook mobile apps and mobile site to achieve the same consumer reach enjoyed by traditional Facebook desktop app developers. Built in HTML5, Storm8's games for Facebook mobile also work seamlessly between devices, so players can easily pause a game on an iPhone, for example, and pick it up on an Android tablet.
Because users can now log into the Storm8 games directly from the Facebook mobile apps, players can now grow their alliances, mobs and clans by inviting their Facebook friends to participate. In addition, Storm8's integration with the newly announced Facebook Open Graph Custom Actions allows a player's in-game actions and successes to be shared with their friends via the Ticker stream.
"With more than 210 million downloads, we've proven the enormous demand for our massively multiplayer mobile social games," said Perry Tam, CEO, Storm8. "Now we're bringing that same excitement to mobile users on the world's largest social network. By hooking our hottest games into Facebook, we're opening them up to a much larger audience and making it even easier for players to get friends involved. While it's more fun for our players, it's also a huge growth opportunity for us."
Founded in 2009, Storm8 quickly shot to the top of the mobile gaming industry, celebrating its first "Million-Dollar Day" in June 2011. With an executive team gathered from companies such as Electronic Arts, Google and Facebook, Storm8 has accumulated more than 210 million downloads across more than 58 million devices, and counting...
About Storm8, Inc.
Storm8, Inc., is the leading developer of social games for iPhone and Android. It offers games under its own brand as well as the brand of TeamLava, a highly innovative studio owned by Storm8. Storm8's catalog includes such popular titles as iMobsters, World War, Vampires Live, Bakery Story, Restaurant Story and Fashion Story. Storm8, Inc., is located in Redwood City, California. For more information, please visit www.storm8.com and www.teamlava.com.
Storm8, TeamLava and the Storm8 network games are trademarks of Storm8 and/or its affiliates. Other names may be trademarks of their respective owners.
Media Contact
Mark Karayan
LEWIS PR for Storm8
mark.karayan@lewispr.com
818-521-9880


Copyright @ Marketwire
Page: 1
Related Keywords:
social games, mobile games, facebook games, iphone games, android games, ipad games, html5 games, Communications, Digital Audio, Web, iPods, iphone, iPad, Search, Google, Marketwire, Inc., Apple Computer, Lifestyle, Game Technology, Other,
---