StockTwits Introduces Direct Communications Channel for Public Companies to Reach Investors and Influencers
Company Launches StockTwits Direct; In Use Today by Fortune 500 Companies Including HP, Intel, Royal Dutch Shell and Yahoo
(December 08, 2011)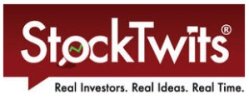 SAN DIEGO, CA -- (Marketwire) -- 12/08/11 -- StockTwits®, the leading communications platform for the financial community, today announced the availability of its StockTwits Direct offering for Investor Communications. The product is the first of its kind, and enables public companies to post company news and information directly to a module on their company's Yahoo! Finance Quote page. StockTwits Direct is currently being used by Fortune 500 companies including HP, Intel, Royal Dutch Shell and Yahoo to communicate directly with the investing community.
StockTwits Direct allows subscribing companies to publish their most important updates directly to a module on the main "Quote Summary" page on Yahoo! Finance for their ticker symbol. Companies can easily modify or change their updates at any time and access usage metrics through a simple web dashboard within their StockTwits account. According to comScore Media Metrix, Yahoo! Finance is the most trafficked financial site online, reaching 40 million unique monthly visitors and generating more than 1 billion monthly page views in the United States.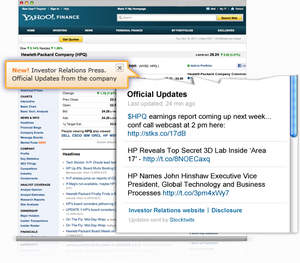 "New and expanding channels are increasingly shaping the discussions and decisions about investments among professional investors, analysts and consumers. Direct communication and engagement is important for all members of the investing community, especially the Investor Communications teams at public companies," said Howard Lindzon, co-founder and chief executive officer at StockTwits. "StockTwits Direct provides an important new tool to directly reach one of the largest audiences of investors online while providing those companies with actionable performance metrics."
StockTwits Solutions for Investor Communications
The StockTwits Direct service builds on the StockTwits Enterprise product -- which launched in September and is currently available to public companies in the U.S. and Canada. StockTwits Enterprise allows companies to take control of their presence via critical online distribution outlets including the StockTwits community, the most popular social networks, and top financial media outlets comprising the StockTwits Distribution Network -- while providing key compliance capabilities, analytics, monitoring and enterprise messaging features.
Pricing and Availability
StockTwits Direct subscriptions are available now to public companies in the U.S. and Canada for $1,599 per month. The subscription includes the ability to place three official company messages within the company module on Yahoo! Finance, unlimited updates and management of these messages through the subscriber's StockTwits account and access to performance metrics on viewership and click-through activity. StockTwits Enterprise accounts are $499 per month and provide a verified, official presence on the StockTwits network, customized ticker pages, analytics, monitoring, compliance capabilities and advanced messaging features.
Since launching StockTwits Enterprise accounts in June, more than 150 companies have signed up for an official account on the StockTwits network, including Hewlett Packard, Dell, BASF, eBay, PepsiCo, Royal Dutch Shell and LinkedIn. For more information or to schedule a demonstration of StockTwits solutions for Investor Communications please visit www.stocktwits.com/ir or contact the StockTwits team at [email protected].
About StockTwits
With offices in San Diego and New York, StockTwits is the leading communications platform for the financial community and the creator of the $(TICKER) tag for identifying and following investing ideas and information across the web. It provides a specialized environment created specifically for investors and market analysts where they can contribute and find and follow ideas, while reaching the broadest audience of viewers through StockTwit's integration with leading social networks and financial sites, including Twitter, Facebook, LinkedIn, Yahoo Finance!, CNN Money and Reuters. StockTwits provides premium services that allow public companies and professional market participants to monitor, manage and disseminate information over this network with advanced compliance, messaging and monitoring tools. The company was named "One of the Best Websites, 2010" by Time Magazine, and was listed as one of the "10 Most Innovative Companies on the Web" by Fast Company.
Image Available: http://www2.marketwire.com/mw/frame_mw?attachid=1824894

Media Contact:
Allison Vano
Mission PR for StockTwits
Email Contact
619-296-9121


Copyright @ Marketwire
Page: 1
Related Keywords:
StockTwits, Canada, USA, Marketwire, , HP, Financial, Internet Technology,
---