Springpad's App for Saving Anything, Anywhere Comes to Android
Springpad Extends Its Family of Web and Mobile Applications to Include Android Users
(May 19, 2010)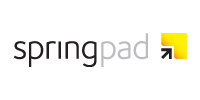 BOSTON, MA -- (Marketwire) -- 05/19/10 -- Springpad, the free Web application that helps users save and access anything they want to remember, today announced the launch of its mobile app for the Android community. Springpad's Android app builds upon the momentum of the company's successful Web service and iPhone app, launched in March of this year.
Springpad's Android app makes it easy for users to remember the ideas, places and things they encounter while on-the-go and want to save for later. The app syncs with Springpad's Web service that also helps users capture information and take action when they're ready. Through semantic detection, Springpad automatically organizes the information for easy retrieval and enhances it with useful links and offers to save time and money.
"Consumers can use Springpad's Android app to manage and organize their lives while they're out living them," said Jeff Janer, Springpad's CEO. "Say you're out and want to remember the wine you had for dinner or you're at the grocery store and need a recipe and your shopping list. Not only does Springpad's Android app make it quick and easy to save products, places and businesses, but it also gives you instant access to your notes, tasks and lists."
The Android app is optimized to easily save and access the things people typically want to remember:
Lists and Notes: Tired of fishing around for the notes you scribbled on bits of paper? Use the app to access calendars, grocery lists and task lists from Springpad so you can use your time wisely. The app's note-taking capabilities allow you to quickly set reminders and alerts no matter where you are.
Barcode: See an item you like while you're out and want to research it later? Scan the barcode and Springpad automatically adds relevant information about the item, including price comparison and product reviews.
Photo: No time to type a note to yourself? Take a photo instead. Rather than try to write about the great furniture display you saw while window shopping, take a photo so you can look into it when you're back home.
Geo-Location: Want to save a restaurant or business you come across? Springpad's geo-location technology gives you insight into business hours, directions and other relevant information that on-the-go folks don't have time to research themselves.
Browser and Cross-Application Sharing: See something you want to save on the Web or in another mobile app? Springpad makes it quick and easy to automatically save the note, product or place into your account.
The Android app complements Springpad's Web-based service. Since Springpad is cloud-based, anything that is saved or added from a phone or the Web app is instantly and universally accessible. Once users are ready to access the ideas and information they've saved with their mobile devices, Springpad's Web app functions like a personal assistant to proactively add relevant links and useful offers to help research, plan and take action.
For example, Springpad automatically optimizes what people save by adding directions, reviews, show times, menus, price comparisons and links to make purchases and reservations. Users can also choose to make anything they save public and easily shareable with friends and family through Facebook, Twitter or email. No matter where users are, Springpad improves productivity by providing a way to stay on top of everything.
"Mobile productivity options like Springpad are very appealing because they suit our on-the-go lifestyles," said Tim Bajarin, president of Creative Strategies, Inc. "With so much information coming at us all day long, it can be tough to keep track of the things we have to remember and the things we want to remember. Since we have our phones with us at all times, it makes sense to use mobile devices to make remembering easier."
For more information about Springpad, visit http://springpadit.com. To download the Android app, visit http://springpadit.com/android.
About Springpad
Springpad is a free Web application that helps people quickly save, access and share anything they want to remember and easily access it from anywhere. Springpad was developed by Spring Partners, a software company dedicated to harnessing the power of the Web to help simplify people's lives. Headquartered in Boston, the company was founded in 2008 and is venture backed.
Springpad Contact:
Jeff Janer
CEO and Co-Founder
Phone: (617) 242-4242 x301
Email: [email protected]

Media Contact:
Danielle Mancano
SHIFT Communications
Phone: (617) 779-1834
Email: [email protected]


Copyright @ Marketwire
Page: 1
Related Keywords:
Springpad, Marketwire, Inc.,Apple Computer,Internet Technology,Business,Outdoor Sports,Email,Family,Other,
---