Spigit Takes Innovation Management On-The-Go With the Launch of MobileSpigit
MobileSpigit Allows People to Collaborate and Innovate Directly From Their iPhones
(May 04, 2010)

PLEASANTON, CA -- (Marketwire) -- 05/04/10 -- Spigit, the leader in collective idea management software, today announced the availability of MobileSpigit™, an iPhone application that brings Spigit's industry leading innovation platform to its customers worldwide. The application provides users with a flexible platform that extends the capabilities of Spigit's enterprise software and ensures that ideas can be captured no matter when and where they emerge.
The reality is that innovation does not happen in isolation nor does it adhere to a schedule. Innovation is a social process that happens on the go as people are exposed to new stimuli and inputs and are able to integrate many seemingly disparate pieces of information into a new cohesive concept. Because innovation is a collaborative process that knows no borders, then the technology with which it is supported should be similarly flexible.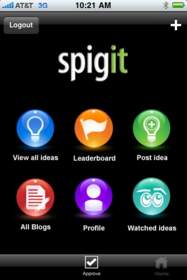 MobileSpigit enables users to collaborate by providing today's increasingly mobile workforce with a vehicle to capture and contribute new discoveries, participate in the building up of ideas, and craft companies' strategic insights that ultimately fuel the innovation pipeline. While the Spigit platform invites users to post, vote, connect and explore, the mobile version is specifically designed for the iPhone in order for the experience to be completely intuitive, inviting and fun to use.
"Creating ideas is something that doesn't just happen when you're sitting behind your desk in the office. People are on the go, discussing ideas and problems with co-workers, family and friends, gaining insight from the crowd and their surroundings," said Paul Pluschkell CEO and co-founder of Spigit. "We've seen this new mobile revolution and have leveraged our collective idea management platform to allow our customers to capture those innovative thoughts while away from their desk, making sure that no idea is wasted or forgotten."
Spigit is currently working to bring its innovation management solution to additional mobile platforms.
Features:
Connect to your innovation community from anywhere by viewing and engaging directly with your company's most promising ideas and people
Collaborate on the go by contributing and building on new discovery and insight with your company's community of thinkers
Stay informed by receiving automatic status updates on projects, ideas and proposals that you are currently developing
Outsmart the competition by jumping straight to the Leaderboard of top ranked ideas and hot spots of activity in order to access your community's most promising innovative thinking
Pricing and Availability
MobileSpigit is free to download from Apple iTunes via this link and works with version 3.0 and higher of the EnterpriseSpigit platform, using Spigit's mobile add-on. For more information about MobileSpigit, the mobile add-on and Spigit's other innovation products, please visit www.spigit.com.
About Spigit
Spigit is the leading provider of collective idea management software, connecting employees, customers and business partners for innovation and insight discovery. Using enterprise-grade social technology, Spigit's software taps into the collective intelligence of an organization and transforms it into actionable, predictive information. By incorporating incentives, idea graduation, idea trading and real-time analytics, Spigit allows companies to harness the social capital within. Our technologies are used by the largest and most innovative companies in the world including: Pfizer, AT&T, Southwest Airlines, Allstate, AAA, and Lloyds TSB. Spigit currently powers innovation projects at numerous Fortune 2000 companies and has been named Best of Software Interop 2008 and is listed on the AlwaysOn Global 250 list, the power list of the top 250 private global technology companies. For more information, visit www.spigit.com.
Image Available: http://www2.marketwire.com/mw/frame_mw?attachid=1242999
Youtube Video Available: http://www2.marketwire.com/mw/frame_mw?attachid=1242995

Add to Digg Bookmark with del.icio.us Add to Newsvine
MEDIA CONTACTS:
Melissa Chanslor
Text 100
415.593.8465
[email protected]

Richard L. Tso
Spigit
925.452.6529
[email protected]


Copyright @ Marketwire
Page: 1
Related Keywords:
Spigit, Innovation Management, Crowdsourcing, iPhone, MobileSpigit, Marketwire,Interop Attendees,Apple Computer,Business,Family,Other,
---