SourceRight Solutions Named a Leader in RPO by Everest Group PEAK Matrix
Company Also Recognized as a 2012 Star Performer Due to Its Market Success and Capability Advancements
(April 17, 2012)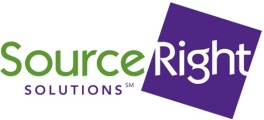 BOSTON, MA -- (Marketwire) -- 04/17/12 -- SourceRight Solutions, a Randstad company, announced today that it has been designated as a Leader and Star Performer in the Everest Group PEAK Matrix, published in the April 2012 Recruitment Process Outsourcing (RPO) - Service Provider Landscape and Capability Assessment Report. SourceRight earned this distinction based on the scale and scope of its RPO solutions as well as its strong market performance.
In determining the leaders of the RPO industry, Everest Group evaluated 22 RPO service providers, using its proprietary PEAK Matrix methodology. Measuring such factors as market performance, industry knowledge and abilities, the report categorizes providers into three groups -- Leaders, Major Contenders and Emerging Players. Due to its strong performance in the PEAK Matrix, SourceRight Solutions was named as a Leader. Additionally, as the company saw an exceptionally strong performance in the past calendar year, it was also recognized as a Star Performer for 2012.
The evaluation put SourceRight Solutions in the top quartile of the Everest Group PEAK Matrix, based on its total number of RPO clients, buyer satisfaction, total number of hires managed and its delivery capability. This high ranking signifies SourceRight's specialized and expanded set of services, scale of operations and its global delivery footprint. As a sign of the company's continuing growth, it was noted as one of the top three RPO providers in Latin America, based on the number of deals signed in that region in 2011.
"In evaluating the quality of offerings in the RPO provider landscape, SourceRight repeatedly ranked among the top across a number of criteria," said Rajesh Ranjan, vice president, Everest Group.
"We are very proud that SourceRight has been named as a leader in the RPO provider landscape," said Rebecca Callahan, president of SourceRight Solutions. "Everest Group is highly regarded throughout the industry, and it is quite an honor to be recognized in its latest RPO service provider assessment report. We are committed to providing RPO solutions that meet our clients' needs, and we are thrilled that Everest Group has recognized our industry-leading solutions."
About SourceRight Solutions
SourceRight Solutions is a leading provider of solutions for the acquisition and management of full-time, contingent and contract staff. Building on a 65-year history of success and innovation in staffing and talent acquisition, SourceRight is driving strategic results for top companies around the world.
Solutions from SourceRight span all facets of total talent acquisition. Strategic Talent Optimization provides integrated management of talent acquisition, encompassing both traditional employees and the contingent, free-agent workforce. Recruitment Process Outsourcing (RPO) provides a global recruitment solution to optimize candidate quality, control costs and deliver measurable results in performance and business impact. Managed Services, including Managed Services Provider (MSP) programs, improve engagement and management of the temporary workforce, increasing quality while reducing supplier costs; and Contingent Workforce Services enhance the engagement of free agent talent by improving access, containing costs and mitigating compliance risks.
SourceRight is consistently recognized for its leadership in RPO, MSP and talent acquisition innovation by industry organizations, such as Everest Group, HRO Today Magazine, NelsonHall, Bersin & Associates, and Staffing Industry Analysts. SourceRight is now a part of Randstad, a $22.5 billion global provider of HR services. To learn more about SourceRight, visit http://www.sourceright.com/.
About Randstad
Randstad is a $22.5 billion global provider of HR services and the second largest staffing organization in the world. From temporary staffing to permanent placement to in-house, professionals, search & selection, and HR Solutions, Randstad holds top positions around the world and has approximately 28,700 corporate employees working from its nearly 4,700 branches and in-house locations in 40 countries. Founded in 1960 and headquartered in Diemen, the Netherlands, Randstad Holding nv is listed on the NYSE Euronext Amsterdam (RAND.AS).
Learn more at http://www.randstadusa.com/.
Add to Digg Bookmark with del.icio.us Add to Newsvine
Copyright @ Marketwire
Page: 1
Related Keywords:
RPO, recruitment process outsourcing, Everest Group, PEAK, Latin America, performance, Marketwire, , Business,
---