SourceHOV and Kroger Team to Lead Session on Accounts Payable Automation at Fusion 2012
(April 30, 2012)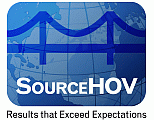 DALLAS, TX -- (Marketwire) -- 04/30/12 --

WHO:
Marc Baines, senior vice president of Finance and Accounting Solutions for SourceHOV, a business process solutions and knowledge process outsourcing firm that helps clients accelerate business performance, and Melissa Coomer, senior accounting manager for The Kroger Co.
WHAT:
Will deliver a case study presentation titled "Transitioning to Accounts Payable Automation: The Evolution and Outcomes of Kroger's Sourcing Strategy" at The Institute of Financial Operations' Fusion 2012 conference.
WHEN:
Fusion 2012 will be held from Sunday, May 13 - Thursday, May 17, 2012.
Baines and Coomer will present their session on Tuesday, May 15, 2012 from 4:15 p.m. - 5:15 p.m.
WHERE:
Fusion 2012
Gaylord Opryland Resort and Convention Center
2810 Opryland Drive
Nashville, Tenn.
DETAILS:
The Kroger Co., one of the nation's largest grocery retailers, recently decided to incorporate an outsourced accounts payable solution into its shared services organization to better serve its internal customers. Working alongside SourceHOV, Kroger was able to develop a shared services center that allowed the company to evolve its sourcing strategy. During this presentation, Marc Baines, senior vice president of Finance and Accounting Solutions for SourceHOV, and Melissa Coomer, senior accounting manager for Kroger, will examine the experiences, benefits and challenges the company faced in adopting and implementing workflow technology as part of its AP process.
Attendees of this case study presentation will gain an understanding of the importance of selecting a vendor that best fits with the unique philosophy and practices of their own AP teams. Conference attendees interested in learning how their organizations can improve their sourcing strategy by working with a business process outsourcing provider are encouraged to attend this session.
To learn more about Fusion 2012 and to register, please visit: http://www.financialops.org/web/conferences/fusion-2012
About SourceHOV
SourceHOV is one of the largest Business Process Solutions and Knowledge Process Outsourcing companies in the industry, serving customers in more than half of the Fortune 100® with deep domain expertise. SourceHOV provides end-to-end business process outsourcing solutions with highly customized services as well as specialized knowledge-based processing and/or consulting solutions. SourceHOV offers solutions to process, analyze and manage information in a cost efficient manner to clients in information-intensive industries such as financial services, healthcare, legal, retail, telecommunications, government, and transportation. SourceHOV also offers solutions to fulfill certain specialized knowledge-based processing and outsourcing requirements enabling these organizations to concentrate on their core competencies.
SourceHOV's solutions include healthcare claims processing, coding and abstraction of medical records; electronic content management and e-publishing; multisource data extraction; and integration with client operations, processing and administration of class action and related claims; economic and statistical analysis and investigation; specialized tax outsourcing and processing services; and evaluation and resolution of construction claims.
The company's 12,500 employees operate from approximately 94 offices in six countries including the U.S., Mexico, Canada, India, China and the Philippines.
Add to Digg Bookmark with del.icio.us Add to Newsvine
Copyright @ Marketwire
Page: 1
Related Keywords:
business process solutions, finance and accounting, F&A, accounts payable automation, Canada,USA,India,China,Marketwire, ,Financial,Biology,Business,china,india,mexico,
---