SourceHOV Helps Companies Comply With Health Care Reform Mandate
New White Paper Details the Benefits of Partnering With Experts for Medical Loss Ratio Reimbursement Planning
(February 28, 2012)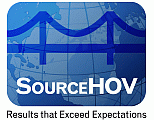 DALLAS, TX -- (Marketwire) -- 02/28/12 -- SourceHOV, a business process solutions and knowledge process outsourcing company that helps clients accelerate business performance, today announced the release of its latest white paper, "MLR Rebates: Reimbursement Planning and Strategy." The white paper, available for complimentary download for a limited time, details recently passed legislation affecting health insurance issuers and how working with an outsourcer can help these organizations to comply with the latest regulations.
The white paper highlights a recent government mandate on medical loss ratio (MLR) requirements for health insurance issuers. Aimed at putting greater focus on reducing administrative costs and increasing transparency and flexibility, the law, as discussed in greater detail in the white paper, requires that health insurance issuers spend 80 - 85 percent of the premium dollar on medical care and health care quality improvement, rather than overhead and marketing.
The MLR mandate also requires payers to remit rebates to plans and individuals purchasing insurance if the issuer does not spend a minimum amount of the premium on medical claims. Estimates indicate that up to 9 million Americans could be eligible for rebates. The new regulation requires that rebate calculations be reported by June 1, 2012 and rebates issued no later than August 1, 2012.
In light of these tight deadlines, health insurance issuers must quickly develop plans and processes to comply with the mandate, but such efforts can be labor intensive and involve significant hurdles. For instance, employee cost-sharing of health care premiums can complicate MLR rebate calculation, as payers need to determine how much each party contributed in order to issue the appropriate rebate. Also, since payers may not have information regarding the employee-employer premium split, additional processes and resources may be needed to obtain it.
An experienced business process solutions provider can help health care payers to lower their overhead, comply with the government mandate and effectively track, manage and distribute rebates. The right business process solutions provider can automate the processing of rebates and reduce the complexity associated with rebate management, while handling high volume transactions. Also, with electronic workflow processes to ease data collection activities, such events can be streamlined in order to help ensure that organizations meet compliance goals and all terms of the mandate.
"As health insurance issuers race to keep up with many simultaneous health care reform initiatives, it can be difficult for them to handle the MLR rebate process effectively and efficiently," said Michael H. Smith, senior director of Business Development for SourceHOV and author of the white paper. "Organizations that partner with a trusted business process solutions provider, such as SourceHOV, can benefit from automated processing and proven end-to-end solutions to help them achieve compliance. This way, they can focus less on tedious data collecting tasks and devote more time and effort to the revenue generating activities that give them a competitive edge."
The white paper will be available for complimentary download for a limited time at: http://www.sourcehov.com/MLR_Rebate.
About SourceHOV
SourceHOV is one of the largest Business Process Solutions and Knowledge Process Outsourcing companies in the industry, serving customers in more than half of the Fortune 100® with deep domain expertise. SourceHOV provides end-to-end business process outsourcing solutions with highly customized services as well as specialized knowledge-based processing and/or consulting solutions. SourceHOV offers solutions to process, analyze and manage information in a cost efficient manner to clients in information-intensive industries such as financial services, healthcare, legal, retail, telecommunications, government, and transportation. SourceHOV also offers solutions to fulfill certain specialized knowledge-based processing and outsourcing requirements enabling these organizations to concentrate on their core competencies.
SourceHOV's solutions include healthcare claims processing, coding and abstraction of medical records; electronic content management and e-publishing; multisource data extraction; and integration with client operations, processing and administration of class action and related claims; economic and statistical analysis and investigation; specialized tax outsourcing and processing services; and evaluation and resolution of construction claims.
The company's 12,500 employees operate from approximately 94 offices in six countries including the U.S., Mexico, Canada, India, China and the Philippines.
Add to Digg Bookmark with del.icio.us Add to Newsvine
Copyright @ Marketwire
Page: 1
Related Keywords:
health care, medical loss ratio, reimbursement, business process solutions, outsourcing, white paper, Canada, USA, India, China, Marketwire, , Insurance, healthcare, Surgery, Insurance Companies, Financial, Medical, Business, china, india, mexico,
---