Sonoa Introduces Service to Speed Up iPhone, Android and Other Mobile Applications
Mobile App Acceleration Service Helps Smartphone Apps Improve Optimization and User Experience
(December 03, 2009)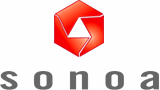 SANTA CLARA, CA -- (Marketwire) -- 12/03/09 -- Sonoa Systems, Inc., the leading provider of solutions for visibility, control and scale of cloud services and APIs, today announced an on-demand service that dramatically improves the performance, scalability and battery life of iPhone, Android and other mobile smartphone applications.
Sonoa's Mobile App Acceleration service provides intelligent caching, compression, pagination and other network services optimizations to dramatically accelerate performance, reduce battery drain and improve consumer satisfaction for API and data intensive mobile apps. Sonoa leverages Amazon EC2 to enable mobile application operators to quickly and efficiently scale their apps to millions of consumers.
One Sonoa customer, Roundbox, the leading provider of mobile broadcast convergence software, is using Mobile App Accelerator to enable scalability and performance of TV listings applications for smartphones and the mobile Web. These apps aggregate large amounts of data and therefore needed a robust solution that would help with caching, compression, optimization and scalability. Sonoa's Mobile App Acceleration service helped Roundbox easily and cost-effectively cache and optimize large quantities of data in order to accelerate the application's data download times.
"Due to the wide variety of television-related data we publish, a typical application session might consume 25MB of data or more. To deliver a compelling user experience, we recognized that we needed high speed caching and data delivery as integral components of the app," said Doug Dominiak, vice president, product management at Roundbox. "Sonoa's off-the-shelf solution helped us assure that all our apps can seamlessly scale as millions of new subscribers download and use our applications."
"As this cloud economy matures, more developers and companies of all sizes are bringing their services to the mobile cloud arena," said Chet Kapoor, CEO of Sonoa Systems. "Roundbox has shown that consumers are tuned in to this growing space and are accessing data and operating in a mobile format on a daily basis. At Sonoa, we're looking forward to helping shape the future of mobile apps by helping companies to manage scale issues and deliver more robust, quicker applications."
Sonoa's Mobile App Accelerator service is available as an on-demand service subscription for $3-5k per month. Find out how much Sonoa can speed and scale up your iPhone app with a demo video and more information on the Sonoa Web site at http://www.sonoasystems.com/mobile.
Sonoa offers solutions for companies of all sizes -- from large enterprises to independent Web application developers -- to monitor, control and optimize their services in the open cloud. Providers of mobile applications use Sonoa's API management technology to ensure that their services run smoothly and provide consumers with data at a lightening fast speed.
About Sonoa Systems
Sonoa provides visibility, control, and scalability solutions for APIs and cloud services. Over 70 leading enterprise, SaaS, and media companies such as MTV Networks, MySpace and Guardian Life Insurance use Sonoa to create new revenue channels, reduce costs and innovate faster. The company is based in Santa Clara, CA, privately held, and backed by leading investors including Norwest Venture Partners, Bay Partners, Third Point Ventures and SAP Ventures. For more see www.sonoasystems.com.
All other trademarks are the property of their respective owners.
Contact:
Melissa Biles
LaunchSquad
+1-415-625-8555
[email protected]


Copyright @ Marketwire
Page: 1
Related Keywords:
cloud computing, mobile, mobile apps, mobile applications, iPhone, Android, app store, iPhone apps, Internet,Digital Media Software,Communications,Digital Audio,Web,Smart Phone,iPods,iphone,Applications,Video,Applications,Insurance,Internet,Internet Server Applications,Management,CEO/CFO,Broadcast,Management,Prosumer/Consumer,Handheld PC/PDA,Broadcast Technology,Broadcast,Software,Marketwire, Inc.,Apple Computer,Television,Internet Technology,Other,
---