Solarflare's Industry-Leading, Highest-Performance Adapter Now Available in Dell Mezzanine Form Factor
Dell PowerEdge C Servers Deliver Breakthrough Performance, Powered by Solarflare
(September 11, 2012)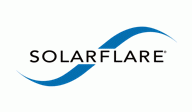 IRVINE, CA -- (Marketwire) -- 09/11/12 -- Solarflare, the leader in application-intelligent 10 Gigabit Ethernet (10GbE) networking software and hardware, announced today the release of its 10GbE mezzanine adapter based on its latest generation of branded 10GbE products, optimized to accelerate Dell's PowerEdge C6220 servers. Solarflare's SFN6832F dual-port server adapter delivers industry-leading 10GbE performance, offering the lowest application-to-application latency of 2.3µs and the highest message rate of 20 million packets per second (MPPS) with full TCP and UDP compatibility.
Solarflare's most powerful server adapter optimizes Dell PowerEdge C server performance for high performance computing (HPC), Web 2.0, hosting, and cloud computing, in addition to high frequency trading (HFT) applications.
"By extending its industry-leading performance to the PowerEdge C server mezzanine form factor, Solarflare's latest server adapter provides Dell solutions a unique and powerful combination of lowest latency and 100% application compatibility," says Mike Smith, Vice President and General Manager, Host Solutions at Solarflare. "This enables Dell PowerEdge C server customers to attain the highest performance without the need to rewrite host applications."
Driven by customer demand, Solarflare and Dell developed this ultra-low latency server adapter that provides Solarflare's advanced networking technology for Dell PowerEdge C servers. "Solarflare's award-winning adapter in PowerEdge C servers delivers the ultra-low latency and application compatibility required by financial services and other latency-sensitive markets," says Christina Austin Tiner, Director of PowerEdge C Marketing at Dell.
Solarflare's SFN6832F features driver support for leading operating system environments, including Microsoft Windows, Red Hat RHEL, Novell SLES, Solaris, OS X, VMWare ESX, Microsoft Hyper-V, Red Hat KVM and Citrix XenServer.
Solarflare's latest server adapter consumes fewer than 6 watts -- half the power of competing solutions -- increasing the power efficiency of the network and helping to save thousands of dollars of operating costs for a typical data center. It also supports Solarflare's open source network stack OpenOnload® that accelerates application performance and is fully POSIX compatible.
Availability
SFN6832F-C62 for PowerEdge C6220 servers and SFN6832F-C61 for C6100 servers are now generally available. For more information, please contact sales@solarflare.com.
About Solarflare
Solarflare is the leading provider of application-intelligent networking I/O products that bridge the gap between applications and the network, delivering improved performance, increased scalability, and higher return on investment. The company's solutions are widely used in scale-out server environments such as high-frequency trading, high performance computing, cloud, virtualization and big data. Solarflare's products are available from leading distributors and value-added resellers, as well as from Dell, IBM, and HP. Solarflare is headquartered in Irvine, California and operates an R&D facility in Cambridge, UK.
For more information, please visit www.solarflare.com
All product and company names herein may be trademarks of their registered owners.
Add to Digg Bookmark with del.icio.us Add to Newsvine
Copyright @ Marketwire
Page: 1
Related Keywords:
Solarflare, Mezzanine Adapter, Dell, 10GbE, virtualization, cloud computing, 10 Gigabit Ethernet, Applications, Sales & Marketing, Networking, Internet, Business Issues, Hardware, Cloud Computing, Server Hardware, Server Computers, Internet Server Applications, Web Servers, Mac, OSX, Marketwire, HP, Financial, Internet Technology, Web 2.0, Other,
---