Solarflare Unveils the ApplicationOnload Engine, New Platform Executes On-the-Fly Processing of Network Data
New Class of Application Accelerator Transforms the Way Compute-Intensive Applications Use Network Data to Greatly Improve Performance
(February 07, 2012)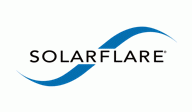 IRVINE, CA -- (Marketwire) -- 02/07/12 -- Solarflare, the leader in application-intelligent 10 Gigabit Ethernet (10GbE) networking software and hardware, announced today its ApplicationOnload™ Engine (AOE), a new platform that moves application processing into the network adapter for applications that rely on real-time, high-performance network data. Solarflare's AOE combines a fully featured 10GbE server adapter with a state-of-the-art FPGA (field-programmable gate array) that provides a seamless, low-latency network interface to the host server and application processing. It is an open platform that utilizes applications developed by Solarflare, Solarflare's customers or third-party developers.
The AOE was developed using a system-level approach, combining software and hardware into a single, plug-and-play solution that brings applications closer to the network to improve system performance. This architecture allows users to determine which portions of code benefit most from hardware processing, and which portions are most effectively processed in software on the host server. This approach allows users to optimize their compute and network infrastructure for their application processing. A wide range of applications can benefit from AOE, including those in financial services, oil and gas exploration, Internet, network security and video processing.
"Our new ApplicationOnload Engine is a new class of product that results directly from interaction with our end-user customers. Our engineers have worked closely with these customers to create a platform that leverages OpenOnload's proven framework for creating a direct path from applications to the network, and incorporates on-the-fly processing of real-time network data," said Russell Stern, CEO at Solarflare. "This solution provides not only the lowest latency and highest message rate network I/O performance, but achieves an unparalleled boost in application performance, all while maintaining a seamless, compatible interface with our existing server adapter products."
Solarflare is the industry's fastest-growing 10GbE server adapter company according to Dell'Oro, and now has over 500 customers worldwide, including three of the world's largest securities exchanges, major commercial banks, trading firms and hedge funds. Additionally, Solarflare products are deployed in major research institutions, oil and gas exploration, big data applications and virtualized data centers. Solarflare is working closely with a number of these companies on the development and deployment of AOE.
Solarflare is developing applications that will be offered as part of the AOE product portfolio. Additionally, the company is providing customers and partners with a firmware development kit (FDK), which includes application programming interface (API), libraries, documentation and support, enabling the development of third-party applications. AOE will be available to customers beginning in calendar Q2, 2012.
For pricing information and more details, contact sales@solarflare.com.
About Solarflare
Solarflare develops network interface software and hardware to transform the way applications use networks, providing industry-leading application acceleration for the most demanding scale-out compute environments. Solarflare's products are available from leading distributors and value-added resellers, as well as Dell, IBM and HP. Solarflare is headquartered in Irvine, California and operates an R&D facility in Cambridge, UK.
All product and company names herein may be trademarks of their registered owners.
For more information, please visit www.solarflare.com
Add to Digg Bookmark with del.icio.us Add to Newsvine
Katelyn Perkins / Brittney Wolff
LEWIS PR for Solarflare
619-677-2700
Email Contact

Scott Woolsey
Solarflare Communications
949-581-6830
Email Contact


Copyright @ Marketwire
Page: 1
Related Keywords:
10GbE server adapter, AOE, application acceleration, network hardware, network software, network I/O, Applications, Security, Networking, Internet, Business Issues, Hardware, Server Hardware, Server Computers, Architecture, Security, Internet Server Applications, Web Servers, Marketwire, , IT (Information Technology), Networking, Security, HP, Financial, Internet Technology, Internet,
---