Solarflare Partners With Hyve Solutions, Demonstrates Leading 10GbE Hardware and Software at SC11
10GbE Low-Latency Leader Meets Performance Demands of Scale-Out Big Data Appliances
(November 16, 2011)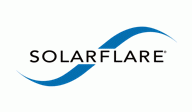 SEATTLE, WA -- (Marketwire) -- 11/16/11 -- SC11 (booth #5210) -- Solarflare, a leader in application-intelligent 10 Gigabit Ethernet (10GbE) networking hardware and software, today announced a partnership with Hyve Solutions, a division of business process services company SYNNEX Corporation (NYSE: SNX), to deliver a fully-integrated big data solution to address enterprises' growing workloads and network demands.
Hyve Solutions' bigD Series 8 appliance, a big data platform offering based on Hadoop, integrated with Solarflare's application-intelligent I/O products, will be showcased at SC11, November 12-18 at the Washington State Convention Center. SC11 is the International Conference for high performance computing, networking, storage and analysis. The joint solution, to be sold through Hyve Solutions, will help customers maximize the value of their data and realize faster return on investment.
The bigD Series 8 platform enables customers to analyze more data, more quickly, and in a smaller footprint. In benchmark tests, a 5-node cluster completed a 1 TB Terasort workload in approximately 30 minutes and 16 seconds. The solution's user interface by Zettaset, a provider of easy-to-scale, secure solutions for big data aggregation and analysis, has safeguards that provide service management, failover and restart options. Customers will have the flexibility to grow their infrastructure according to their needs, while reducing associated power, cooling and data center sprawl.
"We're excited to partner with Solarflare, as the company's high-performance products align nicely with our solutions to address growing data demands across high-performance networks," said Steve Ichinaga, Senior Vice President and General Manager, Hyve Solutions. "Our customers desire customized solutions to address their unique workload and data center environments, which have varied limitations around software, physical space, racks, power and product lifecycles. Hyve Solutions' bigD Series 8 appliance, combined with Solarflare application-intelligent 10GbE solutions, delivers unprecedented performance for scale-out computing environments."
Designed to support high-performance, low-latency, cut-through application performance, Solarflare's 10GbE adapter and software solutions dramatically improve network I/O performance. The company's updated OpenOnload® middleware is specifically designed for high-performance networks and bypasses the OS kernel, enabling applications to increase their network load, thereby increasing performance and lowering application latency.
"The availability of high-performance servers, low latency 10GbE switches and scale-out storage are driving the trend toward big data," said Bruce Tolley, vice president of solutions marketing at Solarflare. "Solarflare's 10GbE hardware and software solutions are uniquely designed to handle the server I/O network requirements of big data and unlock the power of multi-socket, multi-core servers. Our partnership with Hyve Solutions is another key step in this direction, as they offer a critical big data platform that further improves big data performance and Hadoop analytics for our common customers."
To learn more about the bigD Series 8 appliance and Solarflare's complete line of 10GbE products, contact [email protected] to schedule a meeting at booth #5210.
To receive an RSS feed for all of Solarflare's news, please visit http://live.lewispr.com/solarflaresd/ and click on subscribe.
About Solarflare
Solarflare is a leading provider of application-intelligent networking I/O products that bridge the gap between applications and the network, delivering improved performance, increased scalability, and higher return on investment. The company's solutions are widely used in scale-out server environments such as high frequency trading, high performance computing, cloud, virtualization and big data. Solarflare's products are available from leading distributors and value-added resellers, as well as from Dell, IBM, and HP. Solarflare is headquartered in Irvine, California and has an R&D site in Cambridge, UK.
For more information, please visit www.solarflare.com
All product and company names herein may be trademarks of their registered owners.
Katelyn Perkins / Brittney Wolff
LEWIS PR for Solarflare
619-677-2700
Email Contact

Nicole E. Martin
Solarflare Communications
415-860-9194
Email Contact


Copyright @ Marketwire
Page: 1
Related Keywords:
solarflare, hyve solutions, synnex, bigD series 8, sc'11, 10GbE, 10 gigabit ethernet, big data, hadoop, Applications, Sales & Marketing, Storage, Networking, Business Issues, Hardware, Services, Software, Misc, Networks, Racks and Cabinets, Server Hardware, Server Computers, Switches, Management, Marketwire, , HP, Appliances,
---