Solarflare Launches Next-Generation 10 Gigabit Ethernet Networking Products for Compute-Intensive Environments
New Ultra-Low Latency 10GbE Dual-Port Server Adapter Delivers Breakthrough Application Performance
(January 31, 2012)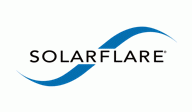 IRVINE, CA -- (Marketwire) -- 01/31/12 -- Solarflare, the leader in application-intelligent 10 Gigabit Ethernet (10GbE) networking software and hardware, announced today the next-generation of its family of branded 10GbE products. Solarflare's SFN6122F dual-port 10GbE server adapter delivers significantly lower latency and higher message rates compared to both prior Solarflare versions and competitive products, making it ideal for handling mission-critical, compute-intensive tasks in high performance, cloud computing and big data environments. The new server adapter features the industry's first and only field-hardened, full-featured user-level TCP/UDP stack.
Leveraging Sandy Bridge I/O integration using PCIe 2.0, Solarflare's SFN6122F delivers over a microsecond lower latency and a 100 percent increase in message rate over prior generations. The server adapter also features hypervisor bypass using SR-IOV to accelerate guest applications and alleviate network I/O bottlenecks. Demonstrating proven UDP/TCP acceleration at customer sites for over four years, Solarflare features a rich set of stateless offload for efficient acceleration of the most demanding network protocol tasks, including iSCSI and RSS. Further differentiating its family of 10GbE products from competing solutions, Solarflare also provides:
Network acceleration with full POSIX compatibility, requiring no application modifications
Support for common system calls (e.g. exec, fork), demonstrating mature and robust experience in multi-threading, large connection-counts and mixed file descriptors
Support for VLAN, teaming, failover and MLAG for redundant links and increased bandwidth, common features used in customer networks
Hybrid kernel / user space processing, maintaining consistent context between user level stack and kernel
Transparent control plane, requiring no manual intervention or new network configurations
Best performance in STAC M2 tests, delivering lowest latency at high message rates, plus sub-microsecond jitter
"The SFN6122F is a perfect fit for the new Sandy Bridge servers rolling out this quarter, and works great with PCIe 3.0," said Mike Smith, vice president and general manager of host solutions at Solarflare. "In fact, customers should expect to see an improvement in latency of up to 30 percent or more and doubling of message rate versus what they've seen today using our SFN5122F on existing Westmere platforms."
The SFN6122F features driver support for popular operating system environments, including Microsoft Windows, Red Hat RHEL, Novell SLES, Microsoft Windows, Solaris, Mac OS-X, Red Hat KVM, VMWare and Citrix XenServer. The server adapter consumes less than half the power of leading competitors' NICs at 5 watts, and in addition meets Energy Star® requirements. It also supports Solarflare's open source network stack OpenOnload® that accelerates application performance and is fully POSIX compatible. Solarflare delivers a comprehensive solution set that addresses critical bottlenecks, moving applications closer to the network for improved performance.
Solarflare's SFN6122F is currently sampling and will be generally available in February. A companion product -- the SFN6322F dual-port server adapter -- combines the high-performance features of the SFN6122F server adapter with precision time synchronization and will be available in the third quarter of this year. For pricing information and more details, please contact [email protected].
About Solarflare
Solarflare develops network interface software and hardware to transform the way applications use networks, providing industry-leading application acceleration for the most demanding scale-out compute environments. Solarflare's products are available from leading distributors and value-added resellers, as well as Dell, IBM and HP. Solarflare is headquartered in Irvine, California and operates an R&D facility in Cambridge, UK.
All product and company names herein may be trademarks of their registered owners.
For more information, please visit www.solarflare.com
Add to Digg Bookmark with del.icio.us Add to Newsvine
Katelyn Perkins / Brittney Wolff
LEWIS PR for Solarflare
619-677-2700
Email Contact

Scott Woolsey
Solarflare Communications
949-581-6830
Email Contact


Copyright @ Marketwire
Page: 1
Related Keywords:
10GbE server adapter, application acceleration, network hardware, network software, network I/O, Applications, Networking, Business Issues, Hardware, Cloud Computing, Server Hardware, Server Computers, Mac, OS9, OSX, Marketwire, , HP, Family,
---