SolarWinds Reboots thwack, Its IT Pro Community, With Social, Gaming and Design Boost
With Over 100,000 Members and Growing, thwack Relaunches With a Renewed Investment to Deliver Unmatched Value to the IT Management Community as the Central Hub for Industry Insight, Camaraderie, Questions and Answers, and More
(April 25, 2012)
AUSTIN, TX -- (Marketwire) -- 04/25/12 -- SolarWinds® Inc. (NYSE: SWI), a leading provider of powerful and affordable IT management software, today unveiled a major refresh of thwack, the company's online community for IT professionals.
thwack was one of the very first online destinations designed specifically for IT managers when it was launched in 2003 as a customer message board. With over 100,000 registered IT pros, it quickly became one of the most popular communities for IT managers to share information, find tips from company experts, and get peer-to-peer support and perspectives on SolarWinds' products.
Today, thwack aims to serve as the go-to resource for all IT professionals. The relaunch incorporates several elements to improve user experience and encourage user engagement, including:
Gamification - Point system recognizing members through participation and content sharing
Crowdsourcing - Help determine upcoming SolarWinds' product features by "like"-ing a request
Ambassador Program - Enlists top industry experts to engage with the community through timely and thought-provoking posts
Social Groups - Ability for users to create new groups to gather and focus on a specific topic or area
@thwack - Follow the community on Twitter for real-time updates on the latest in thwack
Intuitive navigation and improved intelligent search functionality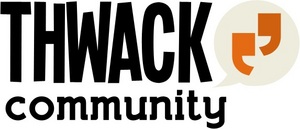 For SolarWinds' customers, thwack continues to be an extension of the company's IT management suite of offerings.
"Today's IT professional is looking to achieve more with their solutions than ever before. When a customer downloads and purchases a SolarWinds product, they're not just getting the powerful and easy-to-use features that are ready to go out-of-the-box, they're also getting valuable information, tools, and resources shared by experienced peers on thwack," said Sanjay Castelino, VP & market leader, SolarWinds.
thwack's community benefits:
100,000+ IT professionals at the user's disposal to ask questions, share information and establish camaraderie.
MVP program. SolarWinds recognizes "top talkers" who add value in the community by designating them MVPs. thwack members can easily identify their most active IT peers by the MVP badge.
Insight into product use cases and upcoming product road maps.
Real-time Q&A and detailed product how-tos save user time. A member posted a question to the Forum and had multiple responses from fellow thwack members and a verified solution.
Free downloadlable product plug-ins, custom scripts and templates extend product value and save user time. The Content Exchange section alone offers nearly 1,400 free reports, templates and custom items, which are downloaded on average 7,000 times a month. Some of the more popular items like the New to Networking Volume 2 -- Basics of IP SLA has been downloaded close to 6,000 times, followed closely by the Prep Guide for the SCP exam, which has been downloaded nearly 5,500 times.
Benchmark, compare and learn from experienced members, extending the investment value and empowering the user.
Discover the "nitty gritty" details of a product and its features direct from the product's manager. Read about how to set up Twitter alerts for network events on the Orion blog.
Community speaks, SolarWinds listens. SolarWinds delivers product updates much faster by leveraging the clear feedback and direction from the community. For a recent SolarWinds Network Performance Monitor release, the product manager outlines product feature requests made by thwack members that made it into the solution.
Product tweaks and fixes. On a recent release of SolarWinds Log & Event Manager, a thwack member notified SolarWinds of a bug. SolarWinds responded within hours of the post and issued a resolution to all customers in a matter of a few days.
"I've learned so many tricks over the years to solve many IT management problems, all thanks to the thwack community," said Eric Van Tol, Atlantech Online, Inc., network engineer and thwack member since 2003. "The experience of the users, both the MVPs and non-MVPs, who use the software every day who can lend help, offer suggestions, and give honest opinions is a great value. Through a simple search, I can find solutions to help me do my job better."
"Members learn from us, from one another, and, in turn, we learn from them. It's through our close ties to the community that we are able to develop superior products faster so that our customers can do their jobs better," said Castelino.
About SolarWinds
SolarWinds (NYSE: SWI) provides powerful and affordable IT management software to customers worldwide -- from Fortune 500 enterprises to small businesses. We work to put our users first and remove the obstacles that have become "status quo" in traditional enterprise software. SolarWinds products are downloadable, easy to use and maintain, and provide the power, scale, and flexibility needed to address users' management priorities. Our online user community, thwack, is a gathering-place where tens of thousands of IT pros solve problems, share technology, and participate in product development for all of SolarWinds' products. Learn more today at solarwinds.com/.
SolarWinds and SolarWinds.com are registered trademarks of SolarWinds. All other company and product names mentioned are used only for identification purposes and may be trademarks or registered trademarks of their respective companies.
Image Available: http://www2.marketwire.com/mw/frame_mw?attachid=1960077

Add to Digg Bookmark with del.icio.us Add to Newsvine
MEDIA CONTACTS:
Grace Pai-Leonard
Text100
Phone: 212.871.5194
[email protected]

Tiffany Nels
SolarWinds
Phone: 512.682.9545
[email protected]


Copyright @ Marketwire
Page: 1
Related Keywords:
thwack, community, IT professionals, IT forum, SolarWinds, IT experts, online community, Networking,Management,IT Professionals,IT Managers,Marketwire, Inc., ,Engineering,Other,
---