SolarWinds Application Performance Monitor Now Available
(January 19, 2011)

AUSTIN, TX -- (Marketwire) -- 01/19/11 -- SolarWinds® Inc. (NYSE: SWI), a leading provider of powerful and affordable IT management software to more than 97,000 customers worldwide, today announced the availability of its new, comprehensive application and server management product -- SolarWinds Application Performance Monitor (APM). SolarWinds APM offers deep visibility into the performance of critical IT services, the underlying application components, the operating system, and the Windows, Unix and Linux server resources on which they run.
Unlike traditional application and server management framework solutions that can be difficult to deploy, cumbersome to use, and expensive to maintain, SolarWinds APM is designed to ensure ease of use and powerful functionality at a reasonable price. In less than an hour, IT managers can begin monitoring their applications.
SolarWinds Application Performance Monitor Features and Functionality:
Define and monitor critical business applications and their underlying infrastructure to get app-centric, top-down views of IT services such as Microsoft Active Directory®, Exchange, SQL Server®, IIS, Windows®, Linux® and more
Perform root-cause analysis across apps and physical and virtual servers
Gain at-a-glance insight into the health of the physical and virtual applications and server infrastructure -- all through a single pane of glass
Monitor virtually any application using 50+ out-of-the-box monitors or custom templates developed by other users on the thwack Community Content Exchange
Quickly and easily deploy Orion APM in less than an hour using a powerful Application Discovery Engine and out-of-the-box dashboards, alerts and reports -- no expensive training or consultants required
Quickly pinpoint the source of performance issues using an intuitive and interactive LUCID™ interface
Take control over alerting by configuring alerts and escalation sequences based on correlated events, sustained conditions, complex combinations of states, and more
Eliminate unnecessary disruptions by configuring intelligent alerts that recognize application and server dependencies
Keep an eye on the complex, multi-tier application architectures that are commonly used or unique by aggregating views of server and application groups by service (such as email), location, or department
Migrate from open-source solutions such as Nagios® with the Open Source Script Processor
Simulate the performance end-users experience using out-of-the-box user experience monitors for popular applications and core IT services such as email and HTTP
Monitor application and server performance from popular mobile web browsers, including iPhone, BlackBerry and Android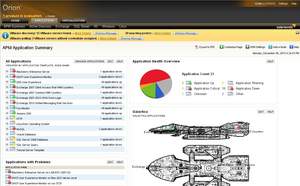 Supporting Quotes
"SolarWinds APM has proven to be a valuable and flexible app and server monitoring solution, making several aspects of our job easier and subsequently opening the door for additional insight into our operations," said Jeppie Sumpter, lead network engineer at Western Kentucky University. "Features such as the ever-increasing list of built-in templates and user-experience monitors as well as the ability to integrate the product with Orion NPM, make APM a cost-effective and capable solution that any IT shop should investigate."
"SolarWinds APM is really powerful; we rely on it to help manage the bulk of the application-layer and device monitoring," said a Sr. Manager, Capacity Planning and Infrastructure Engineering at a nationwide healthcare provider. "The Dynamic Service Groups feature allows us to dynamically build groups, simplifying alerts and the process to view limitations for the things we're monitoring with Orion NPM. We're anxious to put all the features to work."
Additional Resources
Video: SolarWinds Application Performance Monitor: Head Geek's Tour
Video: Virtualization Monitoring using SolarWinds APM
Video: SolarWinds Application Performance Monitor: Dynamic Service Groups
Microsite: Geeks like Me
Pricing and Availability
SolarWinds Application Performance Monitor is available now and pricing starts at $2,495, with the first year of maintenance included. For more information, visit the SolarWinds website, download a free 30-day evaluation, or call 866.530.8100.
About SolarWinds
SolarWinds (NYSE: SWI) provides powerful and affordable IT management software to more than 97,000 customers worldwide -- from Fortune 500 enterprises to small businesses. We work to put our users first and remove the obstacles that have become "status quo" in traditional enterprise software. SolarWinds products are downloadable, easy to use and maintain, and provide the power, scale, and flexibility needed to address users' management priorities. Our online user community, thwack, is a gathering-place where tens of thousands of IT pros solve problems, share technology, and participate in product development for all of SolarWinds' products. Learn more today at http://www.solarwinds.com.
SolarWinds, SolarWinds.com, and Orion are registered trademarks of SolarWinds. All other company and product names mentioned are used only for identification purposes and may be trademarks or registered trademarks of their respective companies.
Image Available: http://www2.marketwire.com/mw/frame_mw?attachid=1484563
Embedded Video Available: http://www2.marketwire.com/mw/frame_mw?attachid=1484586
Embedded Video Available: http://www2.marketwire.com/mw/frame_mw?attachid=1484587

Add to Digg Bookmark with del.icio.us Add to Newsvine
MEDIA CONTACTS:
Kenn Durrence
The Hoffman Agency
Phone: 408.975.3097
Email Contact

Tiffany Nels
SolarWinds
Phone: 512.682.9545
Email Contact


Copyright @ Marketwire
Page: 1
Related Keywords:
SolarWinds, application performance monitor, Nagios, APM, IT management, LUCID , Applications, Internet, Business Issues, Internet Server Applications, E-mail, Web Servers, IT Management, Management, IT Managers, Unix, Unix, Linux, Marketwire, Inc., Apple Computer, healthcare, Internet Technology, Engineering, Business, Email, Other,
---