Softmart Partners With Yousendit to Provide Enterprises With Business-to-Business Content Collaboration Solutions
Workstream by YouSendIt(TM) Chosen for Its Deep Integration With Microsoft Products Transforming How Customers Securely Share Content Beyond the Firewall
(April 17, 2012)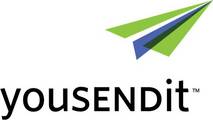 CAMPBELL, CA -- (Marketwire) -- 04/17/12 -- YouSendIt, Inc., the leading provider of extended enterprise collaboration services, today announced a reseller partnership with Softmart, one of Microsoft's top six Large Account Resellers. Softmart has chosen to resell Workstream by YouSendIt™ because of its deep integration with Microsoft products, making it easy for enterprise IT to deploy and manage thousands of users. Workstream is a business content collaboration solution tailored specifically for enterprises that transforms how users securely sync, share, send, sign and store content beyond the firewall and across mobile devices, desktops and the Web.
Maximizes Microsoft Investment, Empowers Users, Integrates with the Tools They Use Today
Workstream provides the most secure cloud-based content collaboration platform for Microsoft environments and is smartly integrated with Outlook for email solutions and SharePoint for content management.
Seamless Sharing - Integrates with Outlook so it fits right into existing email workflows. It eliminates the need to adopt new workflows so Softmart customers don't have to switch between multiple applications to share critical content.
Extended Collaboration - Enables Outlook, Office 365 and SharePoint users to be more efficient and effective. It easily, securely extends content collaboration outside the firewall so users don't have to learn a new system and Softmart's customers' Microsoft investments are protected.
Secure and Scalable - Allows Softmart customers to collaborate from any device or location while maintaining stringent security controls for IT so data is protected. Additionally, Workstream plugs into Activity Directory to support users at scale, in groups and across the enterprise.
"Workstream is a natural complement to the solutions that our customers need," said Sean Jacobsohn, vice president of Worldwide Alliances, YouSendIt. "Our customers don't want to rip and replace. They don't want to start over with a new content management solution. They just want to easily collaborate with vendors, partners and customers outside their firewalls. With Workstream, they can extend their existing Microsoft investment and enjoy business content collaboration benefits such as sending large files and sharing, syncing and storing documents easily with zero learning curve."
Empowers Users, Protects Enterprise Data with Smart Policies Across Applications
Workstream empowers users to collaborate on critical business content while meeting the requirement for a reliable, highly accessible, secure and scalable service for enterprises of all sizes. Its smart policies and user management capabilities provide support for large groups of users that is consistently applied across all applications -- iPhone, iPad, Android, desktop (Mac and Windows) and the Web.
Workstream also provides robust policy settings for white and black listing domains from file sharing and the ability to provision and de-provision users through integration with Microsoft Active Directory. It also enforces encryption on mobile devices and provides policies such as mobile application passcode enforcement and remote wipe of application data. The encryption feature is essential for protecting sensitive information from unauthorized users and is required to achieve compliance with industry regulations and internal policies. For more information, visit http://workstream.yousendit.com.
Resellers interested in becoming a YouSendIt partner can visit the company's partner page at http://www.yousendit.com/partners/reseller. The program, which launched in November 2011, includes extensive technical, marketing and sales support, including free sales and technical staff training as well as marketing and sales materials.
Connect with Workstream
About Softmart
Founded in 1982, Softmart is a leading global resource for software, hardware and IT services. It is the 6th largest Microsoft reseller. The company is a main source of IT hardware and software products and a major provider of volume license programs, such as Microsoft Enterprise and Select Agreements, Adobe CLP agreements, Symantec Reward Agreements, VMware ELA agreements and more. Additionally, Softmart is a leader in IT asset management, assisting enterprise organizations with developing and managing an optimized IT environment that matches purchases with usage. The company is headquartered in Downingtown, Pennsylvania, just outside of Philadelphia.
About YouSendIt
YouSendIt, Inc. is the leading provider of extended enterprise collaboration services, with millions of registered users in 193 countries across 98 percent of the Fortune 500. The company's online services span from simple file sharing to a comprehensive content collaboration suite of services that allow users across an entire organization to securely share content, sign documents, and access files from any mobile device or PC. Workstream by YouSendIt™, the company's flagship enterprise content collaboration offering, allows professionals to collaborate on content with users both inside and outside their organization while providing IT with centralized security policy and administrative controls to manage the flow of work across the entire extended enterprise. Headquartered in Campbell, CA, YouSendIt is a privately held company backed by venture capital firms Adams Street Partners, Alloy Ventures, Emergence Capital Partners, Sevin Rosen Funds and Sigma Partners. For more information, please visit www.yousendit.com.
Media Contacts:

Lori Shen
YouSendIt, Inc.
408-429-7132
Email Contact

Erin Lumley
Trainer Communications
925-271-8229
Email Contact


Copyright @ Marketwire
Page: 1
Related Keywords:
business content collaboration services, YouSendIt, enterprise, Sales, Applications, Marketing, Sales & Marketing, asset management, Security, Internet, Business Issues, Hardware, Security, Internet Server Applications, E-mail, IT Management, Law & Regulations, Management, Sales, Sales, Marketwire, , Apple Computer, Internet Technology, Business, Email,
---