SocialNuggets Smartphone Rankings: HTC Dominates iPhone 4 in March 2011
New SocialNuggets Index Tracks Top20 Smartphones by Analyzing Over 1,000,000 Social Media Conversations
(April 14, 2011)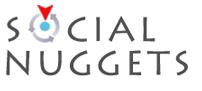 SANTA CLARA, CA -- (Marketwire) -- 04/14/11 -- SocialNuggets, a provider of real-time market intelligence for fast moving industries, today announced that HTC handsets dominated the iPhone in social media buzz, according to the March 2011 SocialNuggets Index. In fact, the iPhone 4 was ranked tenth, while the HTC ThunderBolt was first with two other HTC phones joining it in the top three handsets for the month. The SocialNuggets Top20 Smartphone Index can be found at http://bit.ly/gsfSKE.
SocialNuggets is the first company to use social media for market research. Today, most consumers express their opinions voluntarily on various forums, blogs, review sites and social networking sites. Analyzing over 1,000,000 conversations quarterly on social media and forums related to smartphones, SocialNuggets Index tracks the top smartphones -- among other industry trends -- and makes them available in bite size, ready-to-consume, intelligently tabulated Infographics called Nuggets.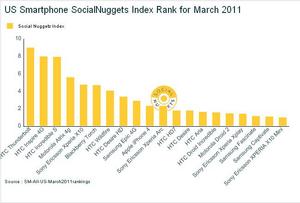 The SocialNuggets Index combines the Net Perception (positive vs. negative) and Share of Voice to create one comprehensive index which provides a better way to compare different products/brands.
Most Talked About: The ThunderBolt and the iPhone 4 werer the top two phones in terms of Share of Voice (most talked about) as indicated in this Infographic: http://bit.ly/i0m9DU.
iPhone's Poor Perception: However, the perception of the iPhone 4 adversely affected its ranking. In fact, the iPhone 4 ranked lowest among the Top20 Smartphones as indicated in the following Infographic: http://bit.ly/ftTsce. This chart measures perception netting positive and negative. The negative perception of the iPhone was caused by the fact the iPhone has not been updated, especially as compared to the newer HTC Android phones, some of which have 4G capabilities.
HTC Rising: The HTC Incredible S received the highest rankings in net perception powering it to 3rd place overall. While not among the top in Net Perception, the HTC ThunderBolt received a high enough score to achieve the top spot in the Social Nuggets Index.
Additional findings from SocialNuggets Top20 smartphone index:
1) Apple and RIM lost one of the spots in the Top20 index as both had 2 handsets in the last month rankings
2) HTC continues to dominate the list with 9 handsets followed by Sony Ericsson with 4
3) 17 Android handsets made SocialNuggets Top20 index
4) Windows Phone is making progress to have one handset in SocialNuggets Top20 index
"The majority of market research companies' today use surveys and focus groups to obtain research data, which are both expensive and not timely," said Paul Singh, CEO and co-founder of SocialNuggets. "By accelerating the collection and analysis steps, we are democratizing the research landscape, making data available at widely affordable cost points. In turn, this type of analysis can be utilized by industry professionals and applied to real-time research of brands, products and features."
For more information about:
1. The Social Nugget Index and how it's calculated: http://socialnuggets.net/company/socialnuggets-and-net-perception-scores-how-do-we-calculate-them
2. How SocialNuggets disrupts market research: http://mobilepov.wordpress.com/
About Social Nuggets:
SocialNuggets technology delivers real-time market intelligence for fast moving industries by analyzing data from various social media sources with a mission to liberate social media data and sentiment analysis for use in real-time research of brands, products and features. Industry insights are available in bite size, ready-to-consume, intelligently tabulated infographics we call Nuggets, arming professionals with detailed information to make intelligent decisions and forecasts. SocialNuggets was founded in 2011 with headquarters in Santa Clara, CA. For more information, please visit www.SocialNuggets.net.
Image Available: http://www2.marketwire.com/mw/frame_mw?attachid=1578462

Press Contact
Katie Lister
Vantage Communications for SocialNuggets
Office: 407.767.0452 ext. 229
Email Contact


Copyright @ Marketwire
Page: 1
Related Keywords:
SocialNuggets, Communications, Digital Audio, Web, Smart Phone, iPods, iphone, Research, Blogs/videoblogs, Social Media, Networking, Business Issues, Marketwire, Sony, Apple Computer, Social Networking, Other,
---