Social iQ Networks Launches First Solution to Manage and Control Enterprise Social Networking Sprawl
Social iQ Networks Pioneers Social Infrastructure Optimization and Governance for Organizations to Enable Safe and Productive Social Networking
(April 24, 2012)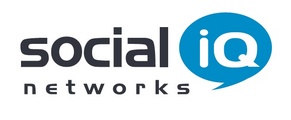 SAN FRANCISCO, CA -- (Marketwire) -- 04/24/12 -- Social iQ Networks, Inc., the pioneer in social infrastructure optimization for the enterprise, today unveiled the industry's first cloud-based Enterprise Suite that allows organizations to discover, optimize and protect their social networking investments. Social iQ Networks Enterprise Suite helps organizations discover what accounts they have representing the brand and put in place processes to safeguard the company's investments while giving new visibility to stakeholders in marketing, IT, risk, and compliance into how these accounts are used.
Social media has quickly become a critical communication channel for all corners of the modern enterprise. Marketing, sales, support, human relations, and many other business units leverage social networking to give competitive advantage to the business. However, with this rapid adoption, CMOs, CIOs, and CISOs struggle to govern and enable an ever-increasing sprawl of social accounts and properties created by departments, employees, and partners. With increasing regulations, corporate risk, and compliance initiatives along with the need to make each account a safe place for brands and audiences to communicate, enterprises need more visibility. Enterprises are requiring more oversight of external social communications, and organizations cannot afford to be unaware of each account professing to represent the company.
Social iQ Networks Enterprise Suite helps organizations to better set up a coordinated, integrated and protected social property strategy to enable individuals throughout the organization to be empowered to represent the brand, while mitigating risk. The Enterprise Suite also helps identify the multiple third-party applications that publish to social platforms, allowing the organization to bring multiple licenses and various operational silos into enterprise-level agreements and a single, governed infrastructure.
The Social iQ Networks Enterprise Suite includes three cloud-based modules:
SocialDiscover™ allows an enterprise to quickly find all of its social accounts, audit posted content, organize accounts into a persistent view based on their relationship and relevance to the business, and track its surface area for changes, including finding new accounts as they emerge.


SocialSight™ provides a unique dashboard and reporting capability for visualizing all aspects of an enterprise's social presence. This includes reports detailing the distribution as well as the categorization of accounts across multiple social networks. It also includes reports for benchmarking, comparative reach and engagement across accounts and competitors, as well as views into the content and tools in use and visibility into enterprise governance and risk.


SocialPatrol™, and its ProfileLock™ capability, allows the enterprise to create account access policies to monitor and remedy account tampering, hacking, and misuse. SocialPatrol also allows the organization to choose, customize, and apply prebuilt security, compliance, and acceptable use content policies to address issues with more active enterprise accounts, without costly, resource intensive, and inaccurate manual moderation and error-prone keyword filtering.


The Social iQ Networks Enterprise Suite and its individual modules are available today via subscription, including a free trial, which can be registered for at: http://soiq.net/I4DVqM.
Quotes:
According to a leading analyst report, "As social media spreads beyond corporate communications and marketing, business groups are deploying social media without a standardized process. In fact, enterprise class corporations (those with over 1,000 employees) have an average of 178 social media accounts and this number will only grow if left unchecked. Companies that don't control these accounts are at risk of having abandoned accounts, lack of consistent experience, or untrained employees creating a crisis," Altimeter Group, A Strategy for Managing Social Media Proliferation, January 5, 2012.


"We leverage Social Media channels heavily in our online marketing efforts and have many tools and products to drive activity and mine the data from our presence," said Eric Ludwig, VP & GM US Consumer, Rosetta Stone. "What's been missing is an automated way to keep track of this new system of accounts and tools, protect the integrity of those accounts from content and access issues, and even track those 3rd party accounts that are hijacking our efforts. Social iQ Networks provides a solution to address those challenges."


"We are excited to unveil Social iQ Networks -- an innovative new solution that fills a critical gap in today's social media infrastructure," said Devin Redmond, Co-Founder and CEO of Social iQ Networks. "Nearly every enterprise has existing layers of products designed to monitor and listen to social data and publish and engage its followers. Until now, however, none have had the required complement -- a solution to discover and manage this new external infrastructure of accounts and 3rd party products. Social iQ Networks helps organizations scale their social infrastructure efficiently by managing social account and tool sprawl, centralizing benchmarking, protecting account access, and moderating content for security, compliance, and acceptable use policy. With Social iQ Networks, CMOs, CIOs, and CISOs can safely and reliably optimize their social infrastructure."


More Information:
To learn more visit www.socialiqnetworks.com, and register for the webinar on How to Discover & Protect your Social Presence to Improve Social Returns on May 16, 2012 with Social iQ Networks Co-founder and CEO, Devin Redmond, and Vice President & General Manager, US Consumer for Rosetta Stone, Eric Ludwig.
Resources:
About Social iQ Networks, Inc.
Founded in May of 2011 with Angel funding, Social iQ Networks is focused on enabling businesses to safely and effectively use the Social Web for business. Social iQ Networks helps some of the leading enterprises in Financial Services, Internet Security, Manufacturing, Media & Entertainment, and Retail discover, optimize and protect their infrastructure of social accounts and applications. With multiple provisional patents already in place, Social iQ networks is pioneering the reality of Social Networks as an evolving and largely externalized communication infrastructure for enterprises.
Copyright © 2012 Social iQ Networks, Inc. All rights reserved. Social iQ Networks, its logo, and other marks are registered trademarks of Social iQ Networks. All other trademarks are the property of their respective owners.
Add to Digg Bookmark with del.icio.us Add to Newsvine
Copyright @ Marketwire
Page: 1
Related Keywords:
Social Media Governance, Social Account Discovery, Twitter Hacking, Facebook Security, Social Media, Manufacturing,Sales,Applications,Distribution,Manufacturing/Production,Marketing,Manufacturing,Sales & Marketing,Security,Networking,Internet,Business Issues,Security,Social Media,Internet Server Applications,Law & Regulations,Sales,Sales,Marketwire, Inc., ,Financial,Internet Technology,Business,Entertainment,Internet,Social Networking,Internet Security,Other,
---