Social Media Costs Make Outsourcing a Viable Option
Social Ally Releases Cost of Social Media in the US
(February 16, 2012)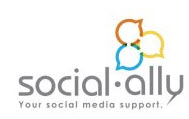 ALTADENA, CA -- (Marketwire) -- 02/16/12 -- Social media is often touted as being free. While many of the tools such as Facebook and Twitter are free, social media is time and labor intensive. The cost of devising and implementing a successful social media strategy that gets results is anything but free. Social Ally, a new social media support service led by Sally Falkow and Chris Abraham, has released figures that show what social media can actually cost.
Social media is fast becoming more than just a part of the marketing and PR mix. Companies are realizing they need to integrate social engagement into employee relations, hiring, customer service, risk management and product development. This means hiring social media savvy people in many roles across the organization, or putting a dedicated social media team in place to manage the integration.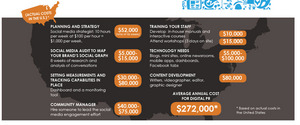 To plan and effectively implement a social media strategy would require the services of a social media strategist. Most social media strategy consultants charge between $100 and $300 an hour. If one were hired full time a company would probably have to pay between $50,000 and $100,000 a year. A community manager will cost between $50,000 and $75,000 a year. EConsultancy Social Media Salary Guide in the top 20 US markets
Successful engagement across the organization means staff have to be trained. An in-house social media manual and online training course would be around $10,000 and hiring a trainer for on-site workshops will cost anywhere from $1500 - $10,000 a day, depending on who is hired.
Dashboard and monitoring tools could be another $30,000 - $80,000 a year. Technology costs -- blogs, mini sites, video equipment, custom Facebook tabs and apps, online newsroom and mobile apps could be anywhere from as little as $5,000 to as much as $100,000.
Take it all into account and a company could be looking at a quarter of a million dollars a year! Yes, many successful programs have been done for much less, but when calculating ROI it's wise to look at the big picture and include all the hidden time and labor costs, in order to get the real cost of investment and see the actual return.
"These figures make outsourcing some of the social media support activities an attractive proposition," says Falkow. "Engagement and conversation has to be done by people in the company. That's what social media is all about -- conversations between the people in a company and their stakeholders. But engagement is the tip of the social media iceberg: 75% of the work is in the research, monitoring and content creation -- and that can be outsourced."
Social Ally is a group of experienced social media experts with a team of designers, developers, writers, researchers and analysts who are well-versed in social media support activities. With the right social media support team behind you it is possible to maintain successful results with a lean and mean in-house social media team and keep the costs down.
About Social Ally
The Social Ally team is led by Sally Falkow and Chris Abraham, who are both Digital PR and social media veterans. Sally Falkow, named PR Trainer of the Year for her social media and Digital PR classes, was one of the first Digital PR and social media evagelists in the US. She started her Digital PR consultancy in 2000. Chris Abraham, listed as the #3 social media influencer in the US in 2011, has been active in this field even longer. Chris has both technical and marketing/PR knowledge and is known for his innovative blogger outreach and social intelligence research. The outsource team is headed up by Jamella Santos who has been operating outsourcing operations for many years and has the process and project management systems down cold. To find out more about the Social Ally team and how we can support your social media efforts visit www.social-ally.com
Download the pdf
https://socialally.basecamphq.com/projects/8675660/file/110618189/Version%202.pdf
Image Available: http://www2.marketwire.com/mw/frame_mw?attachid=1889679

Add to Digg Bookmark with del.icio.us Add to Newsvine
Contact:
Sally Falkow
Email Contact
626-676-6419

Chris Abraham
Email Contact
202-352-5051


Copyright @ Marketwire
Page: 1
Related Keywords:
social media, costs, facebook, twitter, strategy, content, engagement, outsourcing, Social Ally , Marketwire, ,
---