Social Media Breakfast Calgary #7: Connecting the Calgary Online and Social Media Community Through Networking, Coffee and Breakfast
(June 14, 2010)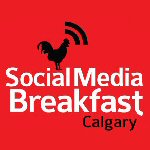 CALGARY, ALBERTA -- (Marketwire) -- 06/14/10 -- This month's Social Media Breakfast will host three guest speakers on Friday, June 25 at 8:30 a.m. in the Jayman Homes Theatre. June's guest speakers are Christian MacLean, President of Association, Tish Bell, Team-preneur at BizBOXTV and John Bardos, world traveller.
While the breakfast's don't tend to run a monthly theme, June's speakers will each touch on the role technology plays in social media, from building a mobile application, using video to tell a story and its importance in both connecting and distracting your business strategy.
Come early and plan to stay after the presentation to meet others and share new ideas of understanding and using social media. Marketers, PR pros, entrepreneurs, bloggers, podcasters, new-media fanatics and online social networkers are all welcome to attend.
Event Information:
Where: Jayman Homes Theatre
When: 8:30-10:30 a.m., Friday, June 25, 2010
Registration and Cost: To register, visit http://smbyyc7.eventbrite.com
There is no cost to attend this event.
About the Guest Speakers
Christian MacLean
Christian MacLean loves to create new stuff. MacLean discovered technology at a young age and settled into a career in IT consulting. After working with clients in a wide range of industries, MacLean gathered a talented team together to form Association. Part IT consultancy, part start-up, Association works with smart clients and clever consultants on interesting projects. MacLean is currently an active consultant, responsible for business development for Association, on the Board of Advisors for Chaordix and when time allows, a developer on Cardinal.
In its start-up capacity, Association has released an iPhone product named Cardinal- Your Music Is The Message. MacLean will be presenting a look at the challenges of creating, maintaining and growing a mobile application that relies on social media and some of the tools and strategies they've employed to date.
Tish Bell
A media and video passion-ista, Tish Bell has spent the last 12 years developing her skills in-front and behind the television camera lens. Her experience ranges from sports reporter and hockey colour commentator to videographer, editor, executive producer and weather anchor at one of the major networks in Calgary. Today she likes to be known as a professional storyteller, using her reporting skills to find the story within every business and business owner.
Bell will present on video storytelling in business and how the power of good video, combined with the human element and the reach of the internet, will help drive loyalty and sales.
John Bardos
John Bardos has been living abroad for more than 13 years, traveling regularly through Asia, Europe and North America. After selling his business, home and possessions to begin a nomadic lifestyle, Bardos credits advances in social media and technology as the reason he's been able to build relationships around the world. Bardos' two passions are exploring new ways of living and working on his JetSetCitizen.com and IdeaEconomy.net blogs.
Bardos offers his perspective on how social media is changing business and the world. While technology is allows us to connect and collaborate in unprecedented ways, Bardos proposes shifting away from the technology focus to appreciate the real opportunities in engaging and building relationships on a global scale.
About SMBYYC
The SMBYYC houses an open environment to share today's best and worst examples of social media, as practiced by individuals, industries and organizations in Calgary and around the world. Guest speakers share their experience and expertise of social media use, followed by an opportunity to network with a community of like-minded individuals.
The SMB was founded by Bryan Person in August 2007 as an event for social media newbies and experts to come together to eat, meet, share and learn. The breakfast series began in Boston and has now spread to more than a dozen cities around the world. The Calgary chapter of the SMB was started by Scott Baird of McQ Design Strategies as a place for social media enthusiasts to discuss effective practices and new techniques.
We thank Jayman Homes, Podium Participation Funds and Marketwire for their support of SMBYYC.
Contacts:
McQ Design Strategies
Scott Baird
Creative Integrated Marketing Manager
C: 403-561-1133
[email protected]


Copyright @ Marketwire
Page: 1
Related Keywords:
Social Media Breakfast, Jayman Homes Theatre, Christian MacLean, Tish Bell, John Bardos, Sales,Marketing,Sales & Marketing,Networking,Internet,Social Media,Sales,Sales,Marketwire,Apple Computer,Television,Music,Lifestyle,Internet Technology,Business,Internet,Sports,Hockey,
---