Social Consumers Show Broad Activity on Mobile Devices
iPhones Lead and Facebook Dominant
(January 10, 2012)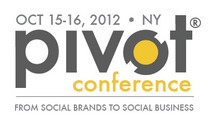 NEW YORK, NY -- (Marketwire) -- 01/10/12 -- Consumers who are active in Social networks include their mobile devices broadly in their Social activities, according to a study released today by the Pivot Conference.
The research included responses from more than 500 consumers who indicated high activity in Social networking. Consumers were drawn from the Crowdtap online consumer panels and responded between October 6-13, 2011. An initial version of these research findings were shown at Pivot 2011 in New York on October 17-18, 2011.
Overall, this research indicates a close correlation between Social and mobile among consumers. "They are two sides of the same coin," said Mike Edelhart, President of The Tomorrow Project, LLC, producers of Pivot. "Smartphones and other mobile devices provide one more, uniquely geographically enhanced, access point into the Social stream. Social activities represent a strong thrust for app usage on mobile devices. While the research did not specifically delve into this question directly, we see the interplay between mobile and Social growing ever closer and deeper in the months ahead. Taken together, they represent, in our view, the essential thrust of technology development for consumers."
Key findings from the research include:
The iPhone is the most common mobile platform for accessing Social apps at 44 percent, with Android at 30 percent; no other platform showed significant numbers.
Facebook Mobile dominates mobile-Social apps, with 83 percent using it. Notably, local apps such as Foursquare and Gowalla showed significant usage, possibly indicating the value of geo services for Social Consumers.
Zynga is the most common games platform on mobile at 61 percent access. However, the three challengers -- World of Warcraft, ngmoco and Playdom -- taken together equal Zynga's presence. Zynga's dominance may come under pressure in 2012.
The most commonly shared information among consumers is music and video, with location check-ins trailing just behind. Surprisingly, 31 percent of respondents indicated that they don't share information and want most of their Social activity kept private.
Consumers made it clear they expect something special from brands in exchange for their Social activities. They want deals, socially oriented loyalty programs, special product benefits and content and access to enhanced support.
"Social is clearly permeating into all communication channels with consumers," said Brandon Evans, CEO and Founder of Crowdtap. "Marketers will continue to need to maintain closer and more real-time relationships with their consumers to keep pace with the speed and frequency of communications."
The full report can be accessed at http://2012.pivotcon.com/research/.
For more information: Mike Edelhart, President, Pivot Conference, [email protected]
About The Pivot Conference
The Pivot Conference is a uniquely powerful marketing conference, held October 15-16, 2012 at the Crowne Plaze in NYC, singularly focused on helping brand marketers and their agencies bridge the gap between themselves and the Social Consumer. At Pivot, brand marketers will gain essential confidence in their power to inhabit the culture, conventions, and conversations of the emerging Social Construct. Now in its third year, Pivot is limited to 500 of the top minds from major brands and agencies to ensure the most powerful possible interaction and sold out in 2011. Visit www.pivotcon.com for more information or to secure your place.
About Crowdtap
Crowdtap is the Influencer Marketing platform, enabling leading brands to easily identify, activate and manage their influential consumers for real-time insights and measurable online and offline peer-to-peer marketing. Brands launch actions to Crowdtap's member base of over 200,000 "Crowdtappers" as well as integrate their own existing communities from Facebook, Twitter, and CRM databases to drive marketing-specific activities. For consumers, Crowdtap is a fun, social game that lets them gain VIP status, access exclusive content and products, while earning perks and rewards for collaborating with their favorite brands. Crowdtap was named Mashable's Up and Coming Social Media Service of the Year in late 2011 and clients include leading brands such as American Express, Microsoft, Old Navy and Diageo. Headquartered in New York, Crowdtap is funded by The Foundry Group and Tribeca Venture Partners. Visit Crowdtap.com for more information.
Add to Digg Bookmark with del.icio.us Add to Newsvine
CONTACT:
Mike Edelhart
President, The Tomorrow Project
Phone: 415-699-7646
E-mail: [email protected]


Copyright @ Marketwire
Page: 1
Related Keywords:
Pivot Conference, Sales & Marketing, Networking, Business Issues, Marketwire, , Apple Computer, Music, Military, Social Networking, Other,
---