So Long Stranger in a Strange Land - MyCityWay Makes Everyone a Local With Its Mobile City Apps Platform
Internet Veterans Unite to Take Handheld Content and the City Experience to the Next Level (Team Scores Funding From FirstMark Capital and IA Ventures, AND Gets the Nod From Mayor Bloomberg)
(August 06, 2010)

NEW YORK, NY -- (Marketwire) -- 08/06/10 -- MyCityWay announced today that it has raised $1MM in financing from leading venture capital firms, FirstMark Capital and IA Ventures. This raise follows on the heels of Mayor Bloomberg and FirstMark announcing MyCityWay as the first company to gain seed capital from the NYC Entrepreneurial Fund: the first ever city-sponsored seed fund located outside of Silicon Valley.
Who says you have to spend your whole life living in a neighborhood to navigate it like a local?
How many lifetime residents can honestly say they take advantage of all the benefits and resources provided by their cities? From the cleanest bathrooms to the best places to enjoy a BYOB special, a summer sale, or a spontaneous dinner for 6, you don't need much to know just about everything about where you're standing right now. According to three ex-Wall Streeters and a handful of NYC heavyweights -- all you need is your smartphone and ONE city app from MyCityWay.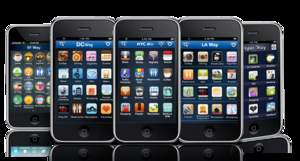 MyCityWay is your personalized city apps bible, delivering one-stop access to the content that's relevant not just to who you are, but to where you are and what you want to do. Forget about planning ahead, MyCityWay helps you make decisions in the moment, from your iPhone apps, Android apps or iPad apps, you can research restaurants and make reservations (check health inspection scores while you're at it), or find the nearest Wi-Fi, Zip Car or juice bar location. You can also find out about local, daily specials, last minute deals, and receive walking or subway directions to your next destination. You can even find out why the Empire State Building is lit up a particular color!
The company was launched with the release NYC Way (available on iTunes App Store and in the Android for free) in November and already has generated more than 500,000 downloads prompting MyCityWay to expand its location-aware city platform into new markets. It has since launched applications in 12 major cities and is available for the iPhone, iPad, and Android. With 40 cities set to be rolled out over the next 12 months, MyCityWay provides a comprehensive toolkit, arming you with everything you need to optimize your time spent in any major city worldwide. Imagine: the same platform that makes you an expert at home but with all the information you need about a city you've never been to. Spend your time living and discovering new places, not researching on your computer or with your nose stuck in a guidebook. In the near future, you will just have to learn your home city app and then you can intuitively master 40 cities.
It's easy to see why Mayor Bloomberg's administration was so excited about investing with this founding team, who believes that they can make your life better and your city smarter. Finally the Bloomberg administration has a platform that enables citizens to access all the resources and services provided by the city, such as recycling, emergency facilities and free concerts/ events. Additionally, like most New Yorkers, the Mayor takes the subway. MyCityWay users receive transit alerts, so when their train is running late, they can stop for an iced coffee before heading down to the congested, overheated platform.
It's not all about play.
Lawrence D. Lenihan, Managing Director at FirstMark Capital, says: "MyCityWay will revolutionize the way people live, work, play and visit cities around the world."
Roger Ehrenberg, Managing Partner of IA Venture Strategies, sees MyCityWay as much more than a guidebook: "MyCityWay is driving the Government 2.0 movement. By aggregating municipal information and commercial data, MyCityWay will help revitalize local economies by drawing people to local businesses they might otherwise not know about. There is no city, business or individual that couldn't benefit from MyCityWay's platform."
Next stop: your city!
This round of funding will enable MyCityWay to create more innovative features and functions, while facilitating the expansion to 40 cities. MyCityWay will soon provide personalized local recommendations based on user profile, past activity, and location. While the app and majority of services are free to consumers, premium features will let users plan a day in the city and provide seamless integration with various social networks like Facebook and Foursquare -- allowing users to collaborate and share experiences in real-time with friends, family and colleagues.
About MyCityWay
Founders and good friends, Archana Patchirajan, Puneet Mehta and Sonpreet Bhatia, left their jobs on Wall Street to develop the original mobile application for Mayor Bloomberg's NYC Big Apps Competition. After winning three awards including Popular Choice and Investors' Choice, they were invited to the 'State of the City 2010' event by the Mayor and honored on stage as contributors to the society and the economy. The MyCityWay team along with FirstMark Capital and NYCEDC were also invited to ring the closing bell at NASDAQ.
Local residents, businesses and visitors of Atlanta, Boston, Chicago, Las Vegas, Los Angeles, New York, Philadelphia, Portland, San Francisco, Seattle, Washington, D.C. and London, can now enjoy the most useful city specific information from 50 localized resources and apps. MyCityWay plans to grow rapidly, eventually gifting you with the ability to intuitively master any city -- whether it's the one you've lived in for years or your first time in an unfamiliar place.
Visit the iTunes App Store or www.mycityway.com to download the free app today.
About FirstMark Capital
Based in New York City, FirstMark Capital invests in groundbreaking companies that are creating new markets with innovative technology solutions or fundamentally changing existing markets by applying a fresh approach and new business model. A venture leader with nearly $2BN in capital commitments, FirstMark's team of investment and operations professionals have decades of real-world experience and leadership in core technology markets, making the firm uniquely qualified to offer industry insight, relationships and the operational expertise to build lasting businesses. Select historical investments include: Netgear, Inc.; First Advantage Corp. (Acquired by First American Corporation); StubHub, Inc (Acquired by eBay, Inc.); Netegrity, Inc. (Acquired by CA Inc); Flarion, Inc. (Acquired by Qualcomm, Inc); OutlookSoft Inc. (Acquired by SAP AG); Vallent (Acquired by IBM) and Navic (Acquired by Microsoft). Current investments include: SecondMarket, Riot Games, Dovetail, Knewton, Conductor, Clickable and Lumos Labs. For more information, please visit http://www.firstmarkcap.com.
About IA Venture Partners
IA Ventures invests in early-stage companies developing breakthrough tools and technologies for managing and extracting value from Big Data. Most data generated today is simply treated as exhaust -- lost forever along with the valuable insights held in it. This is purely because all but the most sophisticated organizations are overwhelmed by the massive datasets that are now commonplace. And this is just structured data. Messy unstructured data is everywhere and goes largely unexplored. Unlocking even a small amount of the information held within it will transform entire industries.
Current investments include: CrowdSpot, FLuidInfo, Metamarkets, TraceVector, Recorded Future and The Trade Desk. For more information, please visit http://www.iaventurepartners.com/.
Image Available: http://www2.marketwire.com/mw/frame_mw?attachid=1326810

Add to Digg Bookmark with del.icio.us Add to Newsvine
Copyright @ Marketwire
Page: 1
Related Keywords:
iPhone, iPhone Apps, City Apps, City Platform, iPhone mobile Platform, Mobile Application, Android, mobile, Home,Family,Internet,Family,Communications,WiFi,Digital Audio,Web,Smart Phone,iPods,iTunes,iphone,iPad,Applications,Family,Research,Applications,Internet,Administration,Internet Server Applications,Post/Production,Director,Internet/Web,Business,Internet,PDA/Smartphone,Marketwire, Inc.,Apple Computer,Restaurants,Environmental Technology,Internet Technology,Green Technology,Business,Internet,Outdoor Sports,Family,
---