Snipi, Inc. Launches New System for Social Shopping
Unique Platform Offers Simple Way to Organize, Discover and Share the Internet
(May 11, 2009)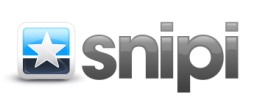 PHILADELPHIA, PA -- (Marketwire) -- 05/11/09 -- Snipi, Inc. (http://www.snipi.com) today announced the launch of a new online system for social shopping that empowers the individual's shopping experience. Consisting of Snipi.com, the Snipi Toolbar (a free Firefox add-on), and the Snipi iPhone application, this system makes it easy for users to organize products, photos and videos and instantly share them with friends and family via Snipi.com, Twitter, Facebook, Wordpress and other social networks.
Most shopping sites are destination only. In these cases, the user must navigate away from the retailer's site, forcing the user to move back and forth between the retailer and the social shopping network. The key component of Snipi is its unparalleled drag and drop Toolbar technology. The Toolbar enables shoppers to literally drag and drop products from any retailer's website while having access to compare and share functionalities, all without leaving the webpage they are on.
"There is so much information on the Internet and no simple way to organize it," said Andre Golsorkhi, CEO and founder of Snipi, Inc. "We created this solution as a way to give consumers an easy way to organize, discover and share their shopping experiences."
The Toolbar also allows users to capture, organize and share photos as well as videos from Youtube and Vimeo using the same drag and drop technology used for products. All content captured in the Toolbar is also stored on Snipi.com and can be optionally "Tweeted," sent to Facebook and Wordpress, and viewed through the Snipi iPhone application.
"We wanted to extend the drag and drop features of Snipi to enable consumers to engage in other organizing and sharing activities, beyond just shopping," said Golsorkhi. "This provides a unique and complementary service to our users while creating more distribution opportunities for Snipi."
As users drag and drop products, photos and videos, the Toolbar automatically captures and unifies content, leaving less manual work for the user. Users can also drag and drop text directly into the Toolbar, eliminating the need to copy and paste details and descriptions.
With the free iPhone application, users can easily carry product information and price comparisons directly to retailers, eliminating the line between online and offline shopping and giving even more power to the on-the-go shopper. The iPhone application also provides access to the photos and videos that were dragged into the Toolbar and saved on Snipi.com.
By joining the Snipi community, users can receive product and product list suggestions based on the individual consumer's tastes and the network's activity. However, users don't have to socialize with other members to enjoy the benefits.
"The focus here is on product discovery rather than people discovery," added Golsorkhi. "When people snip, it empowers them to control and organize their own, personal shopping experience.
"Empowering the consumer goes beyond just helping individuals organize, share, and discover content, it also entails helping retailers and publishers tailor and distribute their content by individual interests. Ultimately, we want interaction with Snipi to translate into more personalized shopping experiences for online and offline shoppers."
About Snipi, Inc.
Snipi, Inc. is the developer of a patent-pending system for social shopping in the online retail market which includes Snipi.com, the Snipi Toolbar and the Snipi iPhone app. Founded in 2007, Snipi, Inc. empowers the individual's shopping experience and will become the leading Internet platform brand for all stakeholders: the consumer, the retailer and the advertiser. For more information, visit www.snipi.com.
CONTACT:
Neil Simpkins
LevLane Public Relations
(215) 825-9625
[email protected]


Copyright @ Marketwire
Page: 1
Related Keywords:
Snipi.com, Marketwire, Inc., Apple Computer, Internet Technology, Internet, Family, Other,
---