Smartphone Users Recall 'In-App' Ads More Than Mobile Web Ads
iPhone Owners Are Especially Tuned Into In-App Ads
(June 16, 2011)

BOSTON, MA -- (Marketwire) -- 06/16/11 -- Kantar Media's Compete, today released research showing that smartphone users have better recall of in-app ads than ads they view while browsing the web using their mobile browser. The findings, part of Compete's Q1 2011 Smartphone Intelligence survey, show that 52 percent of all smartphone owners recall ads they encounter in mobile apps. That number drops to 40 percent when asked about ads encountered while surfing the mobile web. And the disparity is even greater among iPhone users, with 65 percent recalling in-app ads and only 33 percent recalling mobile browser ads.
Overall, considering both in-app and mobile browser ads, Android users have the highest mobile advertising recall, with 55 percent reporting they've seen some form of mobile advertising. For iPhone users, that number drops slightly to 51 percent. Only 22 percent of BlackBerry owners recall some form of mobile device advertising.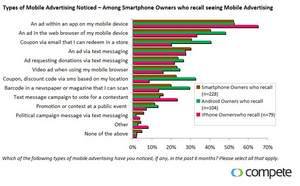 Recall of text messaging/SMS ads is lower still among smartphone users. Just over one quarter (27 percent) of iPhone and Android users recall receiving a text message/SMS ad.
In addition to trends in mobile advertising recall, Compete's research reports that the most downloaded app categories are games (55 percent), weather (44 percent), social networking (39 percent), entertainment (38 percent) and maps/navigation (36 percent). Notably, social networking apps, which were #5 in the Q1 2010 survey, have now climbed to #3.
"This data is important as advertisers and app developers, among others, contemplate the evolving mobile advertising opportunity," said Danielle Nohe, director, technology and entertainment for Compete. "If the behaviors of iPhone and Android users, who have more experience interacting with different forms of mobile advertising, are indicative of where the industry is headed, we're starting to see what forms of advertising could be most effective moving forward."
*Editor's Note: In-app ads are ads found within a downloadable application, usually on the top or bottom of the application.
About Smartphone Intelligence
Compete's Smartphone Intelligence combines consumer insights (through surveys) with behavioral data (through online click stream data) to reveal how smartphone owners are using their phones, the sites they visit on the mobile Web and what they like and dislike about their phone and experiences. Smartphone Intelligence subscribers will receive comprehensive quarterly reports with fresh data about smartphone use and behavior, as well as actionable recommendations tailored to their business.
Smartphone Intelligence also enables clients to go deeper with custom research addressing specific business questions relevant to unique segments of smartphone owners. Only Compete can bring in the online behavior of millions of consumers through click stream data to help answer these questions. To learn more, visit: http://compete.com/custom_/telecomSmartphone/.
About Compete
Compete, a Kantar Media company, helps the world's top brands improve their marketing based on the online behavior of millions of consumers. Leading advertisers, agencies and publishers rely on Compete's products and services to create engaging online experiences and highly profitable advertising campaigns. Compete's online panel -- the largest in the industry -- makes the web as ingrained in marketing as it is in people's lives. Compete is located in Boston, MA, with offices throughout the U.S. For more information, please visit http://www.compete.com/.
About Kantar Media
Established in more than 50 countries, Kantar Media helps clients master the world's multimedia momentum through analysis of print, radio, TV, internet, cinema, mobile, social media, and outdoor worldwide. Kantar Media offers a full range of media insights and audience measurement services through its global business sectors -- Intelligence, Audiences, TGI and Custom. Kantar Media companies also include Compete, Cymfony and SRDS. Drawing upon the deepest expertise in the industry, Kantar Media tracks more than 3 million brands and delivers insight to more than 22,000 customers worldwide. www.KantarMediaNA.com
Image Available: http://www2.marketwire.com/mw/frame_mw?attachid=1646872

Add to Digg Bookmark with del.icio.us Add to Newsvine
Contact details:
Anne Norris
Greenough Communications
617-275-6521
Email Contact


Copyright @ Marketwire
Page: 1
Related Keywords:
smartphone, mobile, ad, advertising, iphone, web, app, in-app, browser, recall, android, SMS, QR, Internet, Communications, Digital Audio, Web, Smart Phone, PDA, iPods, iphone, Research, browser, Social Media, Sales, Advertising, Marketing, Shipping & Receiving, Sales & Marketing, Networking, Internet, Social Media, Internet/Web, Prosumer/Consumer, Business, Internet, Web, Social Media, Phone OS, Phone, Handheld PC/PDA, Marketing, PDA/Smartphone, USA, Marketwire, Apple Computer, Television, Internet Technology, Business, Entertainment, Internet, Social Networking,
---